Nikhila Henry, author of `The Ferment: Youth Unrest in India': She was in Goa for an interactive discussion on the subject of students' protests in India which her book details. She is a journalist working for the Huffington Post India covering news from South Indian states
MAYBE I should have bought Nikhila Henry's book The Ferment: Youth Unrest in India' (recently published hardcover,500 something)! But I'm not into buying books anymore my dears, seeing how many are already piled and piling up constantly all around me at home and I don't know what to do with them once they're read and written about. At the same time don't tell me to part with them please! Over my dead body or something like that I will part with them. But this is to say that was an interesting and cheering talk by Huffington Post journalist Nikhila Henry (who has worked several years with Times of India and The Hindu) in the Kitaab series of the International Centre Goa on July 13, 2019.
Henry has been covering the story of young adults in colleges and universities as a reporter's beat for several years and has her finger on their pulse, the take home message is the country is alive and kicking as long as there are protesters against wrongdoing in a democratic country! If student movements are united in diversity in one voice it is the voice of the majority…after all, take stock of the all the youth movements we have seen in India.
Many of today's politicians too started off in yesteryear youth movements even if in power today they may like to trample and muzzle youth power on campus! As in think like the government of the day does or else… something dreadful will happen to you. Hey, have we come to such a sorry pass, it's a scary moment to realize that.
Clearly Nikhila Henry has been powerfully moved by the tragedy of the suicide of student activist Rohit Vemula. If you recall Vemula was the young PhD student at University of Hyderabad who had objected to Akhil Bharatiya Vidyarthi Parishad students throwing their weight around on campus and targeting Dalit/scheduled caste students. It's a shameful story to recount and remember if you're asking me. Eventually Rohit committed suicide in despair leaving behind a poignant note in which he asked if students of a lesser god may not dream of a better quality of life on equal terms in their own country? His suicide stirred up a hornet's nest of protests across academic campuses and quite rightly, considering all the lies being traded around in recent years.
Vemula was not even a Dalit in the first place, says Nikita, although he was portrayed as such and for the record he did not take advantage of any Dalit or Scheduled Caste benefits; and even if he did so what, he was entitled to. Such high caste-low caste issues are clearly being exploited broadly by ignorant or half-baked, vendetta-seeking politicised groups…well, you may read Nikita Henry's book for more answers to the dilemmas which are plaguing our academic campuses currently.
Repeated unchecked premises, contexts and lies can play such a pernicious, horrible role in a young person's mind…the question arises, how many students must commit suicide before an establishment accepts that they are not "anti-national" but just seeking more enlightened understanding and options?
Since when did protests, agitations, marches, questions being asked by anyone — become anti-national? Considering that thus far this country has lived, thrived, grown taller, evolved into something sane…courtesy many a youth agitation of the past? Well, you think about it and come to your own conclusions about what is happening to stress out student life in our educational institutions. I'm sure Nikita Henry's book is very insightful in giving us a picture of what kind of a future we as a country are heading into… as far as she is concerned, the more youth agitations ferment into new life, offering new horizons for a better dawn tomorrow, the better!
Please don't knock the spirit of questioning anything and everything in life and not every change is bad. As it is, more and more young people are facing a tough challenge with fewer jobs available to match their educational qualifications — so they're doing unskilled jobs like earning 50,000 delivering hot meals for Swiggy or Zomato! Is that what we want? Doctors, engineers, teachers, reduced to selling pakoda and chai? EUROPEAN FILM FESTIVAL TO move on to another topic I must say rainy days are ideal days to catch a film or two and I always think I don't mind saying goodbye cruel world while watching a film! This is to say the European Film Festival was in town again with the best of contemporary European cinema — I wasn't able to catch too many films but the ones I did offered lots of food for thought. I made it to the ESG's Macquinez Palace even if dripping wet after getting caught in the tail end of an evening shower! The PortugueseDiamantino' was the opening film (a most shocking film about a gentle footballer whose brilliant genes were the target for cloning); next I saw Of Time and the Sea' (very picturesquely filmed on Malta but with a surreal storyline I couldn't quite make sense of for it was so heavily layered);King of the Belgians' is a hilarious treat of a film offering insight into how even a royal mind can be aroused to be human.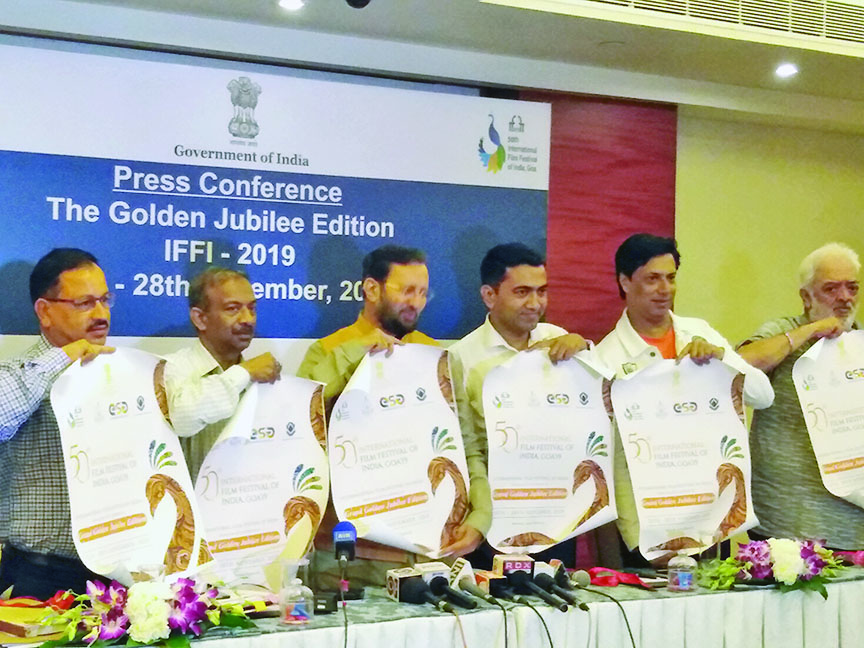 Laugh or Die' is an exquisite finely cut film portraying a theatre group taken prisoners of war on an island of death near Helsinki….Parrika, the funniest man in Iceland, gets a chance to stage a comedy, and if his troupe succeeded in making a visiting German commander laugh — they would get their freedom. Truly a grim laugh-or-die story with exquisite, unforgettable touches.Ashes in the Snow' is another war-affected film but this time it is a riveting true life story of a Lithunian artist and her family deported to Siberia during Stalin's brutal dismantling of the Baltic region in the early 1940s. It's a heart-wrenching film about how the human spirit endures and survives on a flicker of hope and prayer.
Most of us out in India and the East may not be aware of how the two world wars took such a toll of little European countries and their proud people as they struggled to stay alive or die with dignity at the mercy of brutal, petty, absurd tyrannies… this genre of war films are some of my favourite and invaluable eye-openers and education for us in India I should think!
The Spanish film `Maria (and Everybody Else)' is a fine study in contrast of what can happen to young people when they don't put themselves first in their life in the best sense of the word. So we have this beautiful, liberated Maria stepping voluntarily into her mother's role to take care of father, extended family — then her ailing father while undergoing chemotherapy goes and falls for his nurse and announces he's getting married to her, selling of the family restaurant.
Overnight the implications dawn on 35-year-old Maria as she realizes she and her services will become redundant, and she has no life of her own to anchor her….all she has done so far is make sacrifices and waste good sex on a father of two children who is happy to string her along but unlikely to marry her! Maria dreams of being a writer, putting down the sorry story of life's frustrations on paper…the film also etches the low-key simmering of sensitivities and hypocrisies of a contemporary family, struggling to stay together yet falling out, unsure of how their lives will change with the marriage of their father.
Maria has little to hang on to except her rusticating dreams….in panic she starts running and that's the loveliest last leitmotif of a still young woman who has failed to find love in marriage. While, ironically, an older couple is doing better!
GOLDEN JUBILEE IFFI COMING
MORE films coming up. The dapper Union Minister Prakash Javadekar was in Goa to announce the golden jubilee edition of The International Film Festival of India from November 20 to 28 later this year. Goa Chief Minister Pramod Sawant has promised to roll out the red carpet for a better, bigger and more entertaining IFFI and while Goa takes care of hospitality the Directorate of Film Festivals will do the rest with its usual expertise…this time expect more films and filmi folk to turn up from the sound of it. Never mind that film folk can be very difficult to please when arrangements go haywire!
IFFI was a gift to Goa by the late Chief Minister Manohar Parrikar and there'll be a special tribute for him at the golden jubilee IFFI edition, along with another tribute to Mahatma Gandhi on his 150th birth anniversary….all this and presumably much more will add on as the countdown begins. I hate to say it and much though I'm in love with films forever after, Panaji has some way to go yet before it becomes a happy enough venue for big-time IFFI. IFFI in small town Panaji can be quite a jamboree …and I hope all potholes big and small down roads, streets and lanes will be competently smoothed out by the time IFFI arrives!
Which is not to say everybody does not love to come to Goa to breathe in the air, wine, dine and snooze away in between seeing films. On that note it's avjo, poiteverem, selamat datang, au revoir, arrivedecci and vachun yetta here for now.
— Mme Butterfly