Minister for Social Welfare, Milind Naik Inaugurating 'Swayam Day Care Centre at Sanjay Centre for Special Education, Porvorim on August 20, 2019. Also seen are Chairman, Sanjay Centre for Special Education, Guruprasad Pawaskar, Member Secretary, Sanjay Centre for Special Education, Sheru Shirodkar and others.
AMIT SHAH IN GOA FOR 24TH MEETING OF THE WESTERN ZONAL COUNCIL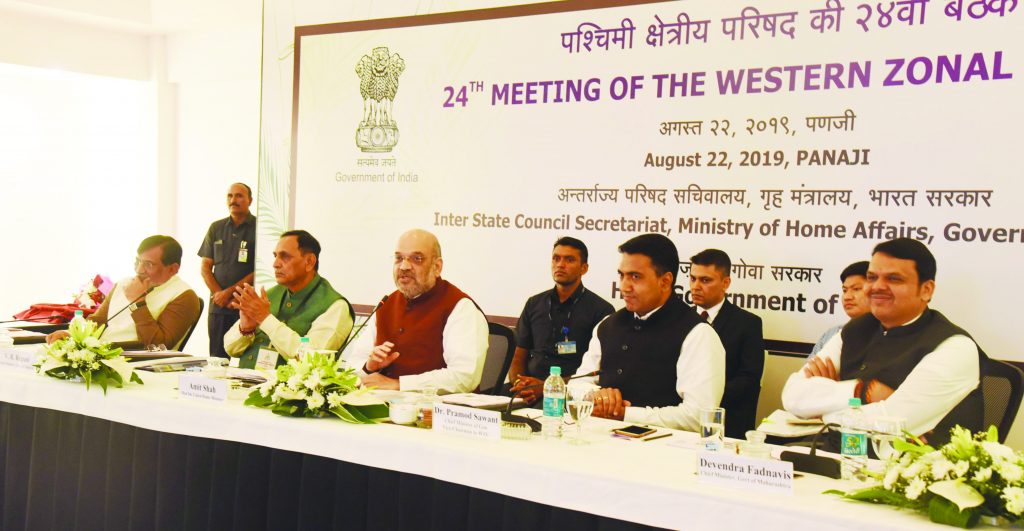 The 24th meeting of the Western Zonal Council was held at Panaji on August 22, 2019, under the Chairmanship of Union Home Minister Amit Shah. The meeting was attended by Goa CM Pramod Sawant, Maharashtra CM Shri Devendra Fadnavis, Gujarat CM VR Rupani and Administrator of the Union Territories of Daman & Diu and Dadra & Nagar Haveli Deputy Prafula Patel along with other Ministers, senior officers from the Central and State Governments including Chief Secretaries and Secretaries to Government of India.
Welcoming all the members, the Union Home Minister said the meeting would be instrumental in resolving the issues having Centre-State and inter-State ramifications with consensus. He lauded the States in the Western Zone and then expressed his deep concern for the flood victims in the States of Gujarat, Maharashtra and Goa and requested the States to quickly assess the damage caused by the floods and send their requirement to the Government of India.
The Council also reviewed the progress of implementation of the recommendations made at the last meeting. They discussed utilization of surplus salt pan land for rehabilitation of slum dwellers, coverage of villages without any banking facilities within 5 km radial distance by a Bank/India Post Payments Service, enhancement of DBT Portal to include scheme/village-wise details by collecting real-time information from respective portals of beneficiary-oriented schemes, and innovative solutions of encrypted QR Code on Aadhaar card for verifying antecedents of marine fishermen.
Detailed monitoring of mechanism to ensure that investigation and trial of sexual offenses/rape against women below 12 years of age must be completed within two months and Chief Secretary must personally monitor periodically adherence to legal provisions of completing investigation & trial, the Minister said.
Forests, roads, over bridges, defense services were some of the other topics discussed in the meeting.
AAP PROTESTS WATER SHORTAGE OUTSIDE CM'S ALTINHO RESIDENCE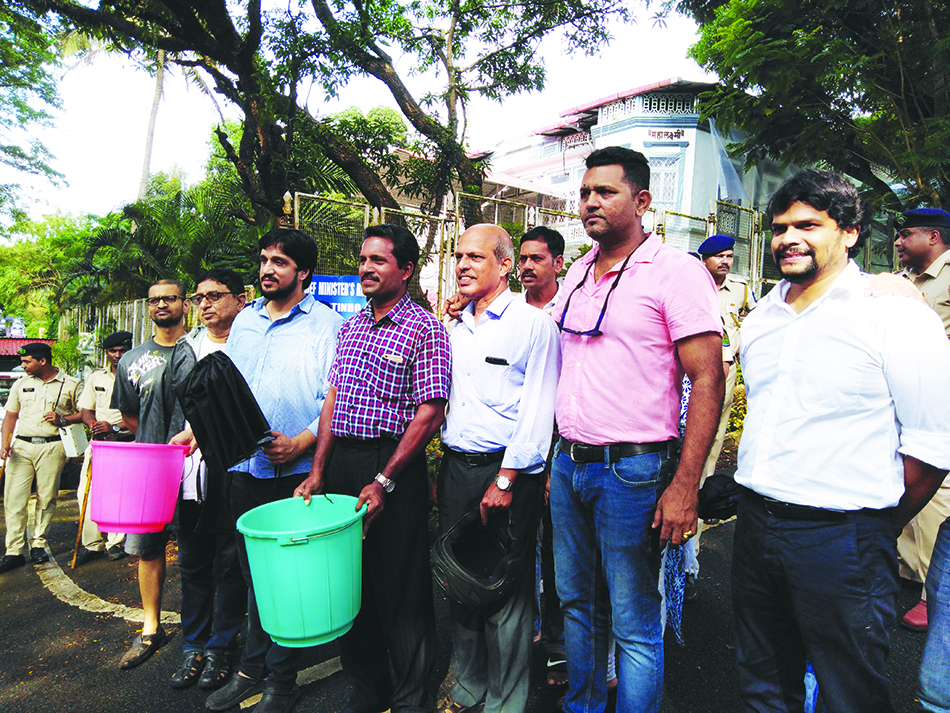 PROTEST: Aggrieved Ponjekars suffering for want of water because of the water pipeline breakage at Curti, gathered outside the CM's bungalow 'Mahalaxmi' at Altinho, on August 21, 2019, to register their protest. AAP leaders Valmiki Naik, Pradeep Padgaonkar and others called for transparency and accountability of the critical water situation. Unfortunately, CM Pramod Sawant stayed away, leaving the police to deal with the protestors!
MAINTENANCE & WELFARE OF PARENTS AND SENIOR CITIZENS
A senior citizen, including a parent who is unable to maintain herself or himself from his/her own earning or out of the property owned by her/him is entitled to make an maintenance application.
The application has to be filed before the Maintenance Tribunal constituted by the State Govt, at every Sub-Division presided by the respective Deputy Collector (Sub-Divisional Officer) for adjudicating and deciding upon the order for maintenance.
An application may be made by a senior citizen/parent or, if he/she is incapable, by any other person or registered organization authorized by applicant, or the tribunal can take cognizance suo motto.
The applicant can be represented by a Maintenance Officer (MO) appointed by the State Government, if they so desire. The Asst Director (Welfare of Differently Abled) of Social Welfare Dept is the MO for South and Asst Director (SC & OBC) of Social Welfare Dept is the MO for North.
WORLD PHOTOGRAPHY DAY CELEBRATED!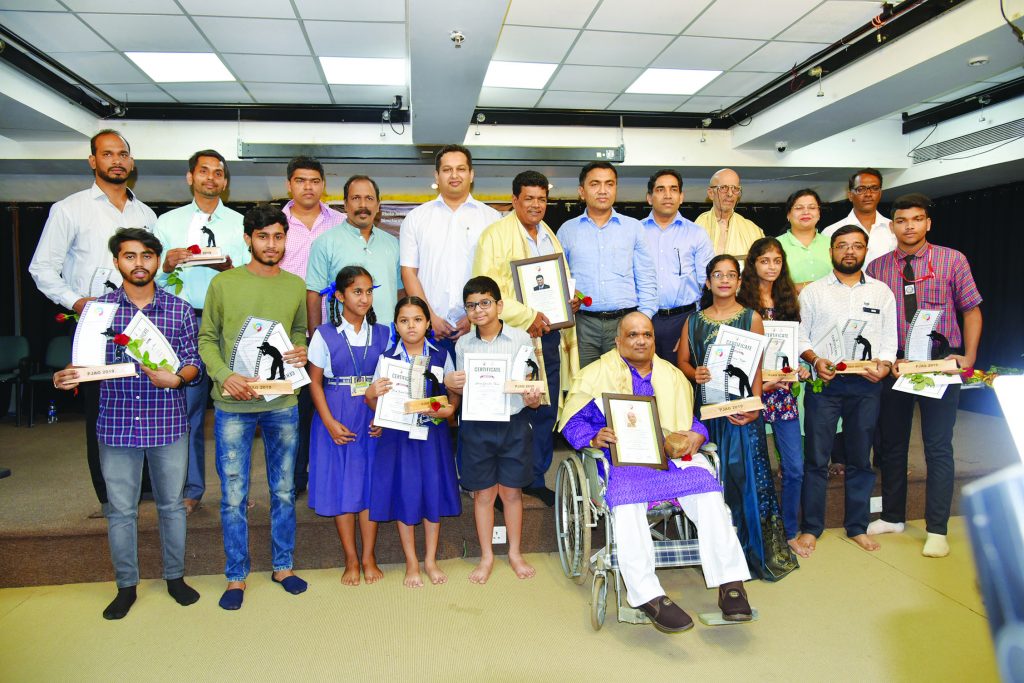 PJAG: CM Pramod Sawant along with Minister for Art & Culture, Govind Gaude, Director of Information & Publicity, Meghana Shetgaonkar and Utpal Parrikar (son of late CM Manohar Parrikar) attended the celebrations of "World Photography Day" & the 12th Anniversary of PJAG organised by Photo Journalists' Association of Goa (PJAG) at Sanskruti Bhavan – Patto, Panaji on August 19, 2019. On the occasion three veteran photojournalists/photographers, Prashant Yelekar, Lourenco Fernandes and Makarand Barve were presented with the "Lifetime Achievement Award"