shourie: A foremost champion of the Freedom of Speech, Arun Shourie has spoken out against the reign of terror unleashed in Kashmir by Amit Shah. Shourie ironically was a staunch supporter of the RSS and BJP
Arun Shourie — former Indian Express editor and former minister for disinvestment — joined veteran journalists and eminent jurist Fali Nariman at an event at the Press Club of India to condemn the government's reign of terror and defend press freedom. His speech is reproduced below…
My dear friends, I want to first begin by expressing my deep gratitude to Narendra Modi, he has brought so many friends together!
And as a return favour, I want to read him a couplet:
Tujhse pehle jo yahaan takht nashin tha,
usko bhi apne khuda hone ka utna hi yakeen tha
(He who was occupying this throne before you
believed, just like you do, that he too was god)
And this is from a Pakistani poet! I just want to protect myself, by reading from the Granth,
Ram gayo, ravan gayo, jako bahu parivaar.
Yeh bhi jaayenge. They too will go.
So we must have that confidence. There is no fact that needs to be added, no point in law needs to be added after the person who has made the shield of freedom in India – Fali Nariman – has given us such a good exposition.
I will address the question which Nihal Singh sahab proposed. Which is, "What should we do?" And Kuldip Nayar said that it wasn't necessary to answer this question at the time of the Emergency, but the fact of the matter is, every generation is taught the lesson of freedom. So this time, once again this lesson has begun. So the first thing we must do is recognise, that a new phase has begun. Because thus far, the government was using two instruments, one was to stuff the mouth of the media with the bribe of advertisements.
There's a Zulu proverb that says, "A dog with a bone in his mouth can't bark." So they were converting the media into a dog with advertisements in its mouth that cannot bark at them. The second point was, they were controlling and managing the media by the subterranean spreading of fear.
"Tum jaante nahi ho? Modi sab sun raha hai. Uske paas saari team hai. Yeh hai woh hai. Amit Shah CBI ko control karta hai, kal tumhaare saath yeh hoga" . ('Don't you know? Modi is listening to everything. Amit Shah controls the CBI. Tomorrow, it can go after you').
Arrey yaar. yeh ho gaya hai. Phir bhi aadmi zinda hai. Phir bhi channel chal rahe hain. (Well, my friend, that has happened. And yet the man is alive. And yet the channel is broadcasting).
So you see now, they have got what they could from those two instruments. Now they are using the third instrument, which is overt pressure. And they are using NDTV, as an example of that. This will intensify in the coming months, I believe. One, because of the nature of the regime. The nature of the regime, its genes, are totalitarian. What does 'totalitarian' mean? Total domination.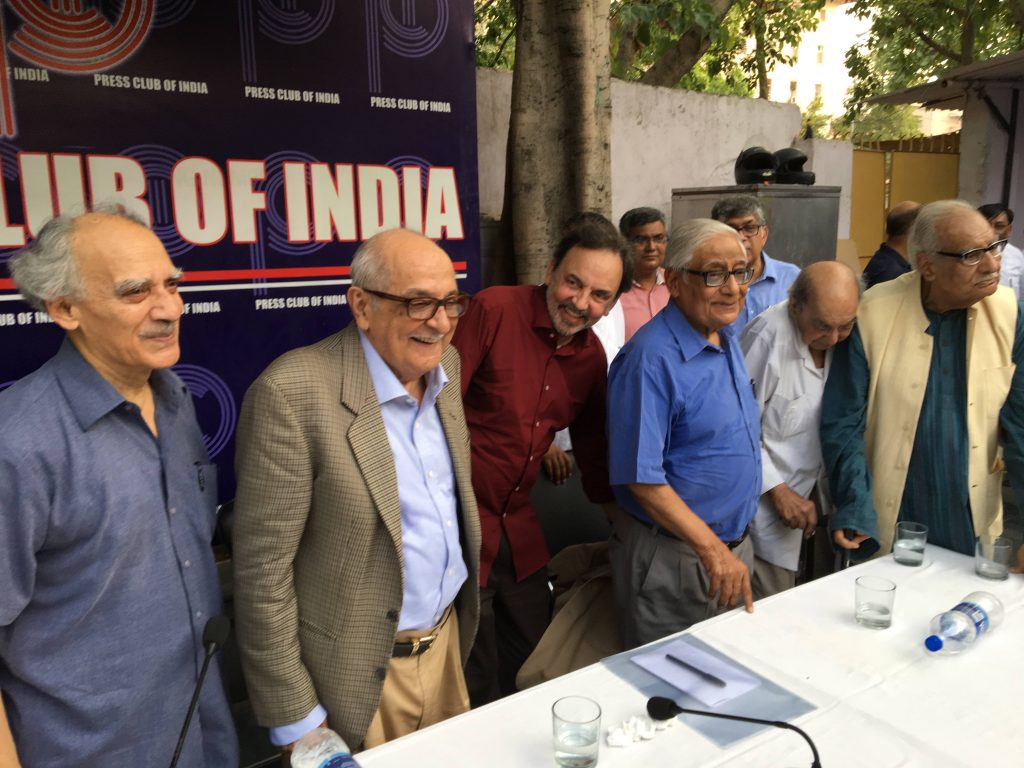 In the entire geography of India, in every sphere of life, in all fora, they must dominate. So they are extending it step by step, if you look at the pattern.
The gap between what they claim in their advertisements and speeches, and what the people are feeling on the ground in their lives, whether you're a farmer or a person who is losing his job, that is so wide already, but that will become wider in the next two years as investment doesn't revive and so on. And when that happens they will take to not only managing, but suppressing, voices of dissent. That's the first thing to realise.
The second is that we must proceed with the full faith, as Fali Nariman reminded us, throughout his life, anyone who has raised their hands against the press, against the media, has had that hand burned, and has had to withdraw it. Jagannath Mishra, Rajiv Gandhi, Mrs Gandhi taking over the Indian Express, removing Ramnath ji and putting a pseudo-board there, everybody, who raised their hand against the media, had it burned and had to withdraw it.
HK Dua was just reminding us that at the time of defamation, we should have had a meeting here, but you and I both know, that at that time, we didn't have this many persons as we have today.
Now, on this [case], the facts are clear, Nariman has put them out, NDTV has put them out, the CBI has not been able to answer those facts. There is a story in The Wire today about what happened to the complaints that were filed, by not just private individuals, but also the Directorate of Revenue Intelligence, against two of the biggest houses for defrauding the country of `30,000 crores and causing a loss, and how the CBI has not acted on that.
Eight ways the media can resist
So the facts are irrefutable, but I want to suggest something else. This is not the time to sit in judgment of each other. I say this from the experience of my personal life. When you have to serve, your service must be absolutely non-judgmental. Because the mind suggests so many reasons as to why I need not help him. "Arrey yaar woh cigarette saari umar peeta tha, uska cancer hona hi tha, ('Don't you know, he smoked cigarettes all his life, now let him suffer')."
Stand by each other
No. That's not the time to sit in judgment. You must be of support and help and assistance and service of your friend. Because they will try to divide the press by insinuating such things. And they will use you, they will use the existing media to blame the rest of the media. So please do not become instruments in that.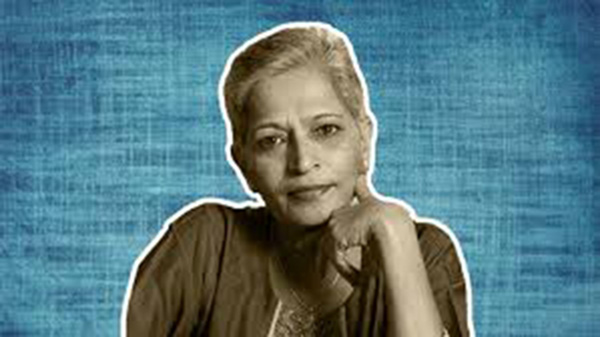 So stand by each other. Because I can assure you that nothing demoralises persons as much as the fact that their peers have not stood by them. I've seen this in the civil service. Among civil servants, when the last three CBI enquiries were instituted into the decisions that were taken under me, I told the CBI, I wrote to them, saying [the civil servants] are not responsible for anything, I am the one who took those decisions. But the fact that the rest of the civil service did not stand by those civil servants really demoralised them. So we must stand by each other in this.
Fali Nariman quoted the very famous lines of a Lutheran pastor who opposed what Hitler called the coordination of churches. But there's an even older — 2000 year old — saying by Rabbi Hillel,
"If I am not for myself, who will be for me?
If I don't fight for myself, who will be for me,
If I am for myself alone, who am I?
If not now, when?"
And I tell you, it is my grievance against my colleagues in the press that we have not been vigilant in this cause. Last year by accident, I happened to be called to Jaipur for a journalists' meet, and it was there I learnt of the harassment and financial loss which had been inflicted upon the Rajasthan Patrika. But as an average reader of New Delhi newspapers, I did not know of that at all.
Use social media, foreign media to counter pressure
So we must be on the lookout for any attempt — not only on a very prominent person like Prannoy, but everyone — because that is how fear is spread in the country. And the reason for that is that governments watch reactions. You can be absolutely certain that the fact that so many people have gathered here is being watched by the government.
And I can tell you, they are very sensitive, even through the social media. Poori team hai unki. Woh dekhti hai, Twitter pe kya chal raha hai, Facebook pe kya chal raha hai. Toh jab woh dekhenge ki itne log ikatha huye hai, Ravish Kumar jaise nidar log ikatha huy hain, toh woh jaanenge ki unhone ek galat step liya hai ('They have a whole team, they watch what is trending on Twitter and Facebook. And when they see that so many people have gathered here, that brave people like Ravish Kumar are here, then they will realise that they made a mistake'). And they have to find ways to retreat.
I feel that the government is using social media to spread lies and abuse against anyone it does not like. So some of you should counter that and be as active on the social media, because Modi has a whole team — in the Prime Minister's office, headed by a boy called Hiren Joshi whom many of you may have encountered — whose only job is to watch social media and keep the PM informed. So he is sensitive to that. That's his weakness. And specially what is happening in foreign media. So, use social media to inform the foreign media of everything that is happening here, and use social media to inform the government, which is watching, that you are watching.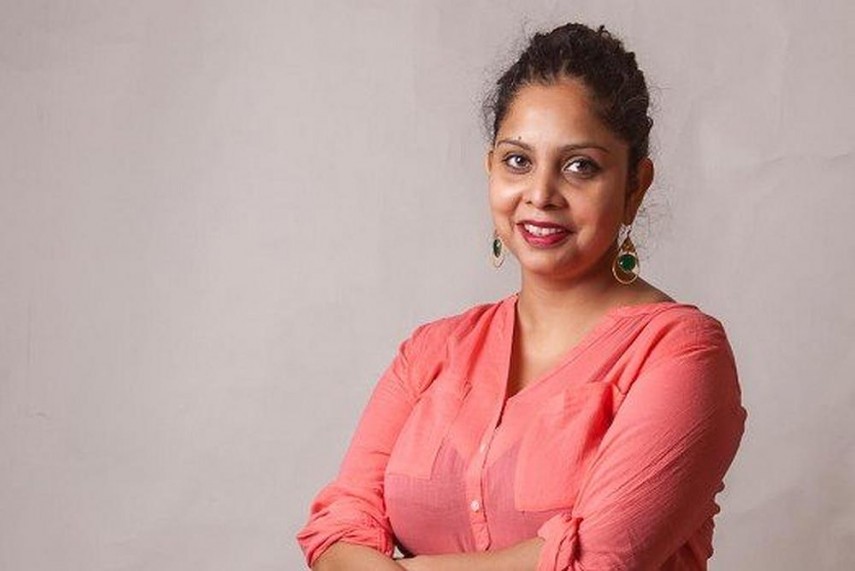 Beware of false 'neutrality'
But there is a way in which we help governments. The easiest cop out of journalists is, what they call, to tell 'both sides of the story.' Go to Prannoy Roy and ask, "Sir what are the facts?", then go to the CBI and ask, "Sir what are the facts".
This method of 'neutrality', of perfect neutrality, between the man who sets fire and the firefighter, this is the way the governments will use you. So you must resist it. Therefore, go beyond this, and watch out for even the least step which is being taken to stop the free flow of free information.
Resist dilution of RTI
It is a very sad thing that we have not reacted as a community to the way the RTI is being choked. Raj Kamal Jha [of the Indian Express] was telling me they are doing excellent work, Kuldeep ji, Nihal Singh, they have been editors there, so they have been doing excellent work, on using the RTI for excavating information from the government. But Raj was saying, almost every request is turned down in the first round. And it is only at the appeals stage, where if you persist for many months, maybe you will get some distorted or partial information. But we in the press are not broadcasting this fact. And yet it is one of the most precious rights that we have.
I would urge that any encroachment on the flow of information, not just on the freedom of speech — just a reminder, Justice Bhagwati has said, "I can speak only if I have information," — so the freedom to acquire information, receive information, flows from the freedom of speech.
Don't think appeasement will buy the media peace
One important point that I want to make that I have noticed in the last 3-4 years and many journalists have succumbed to this.
Never delude yourself into believing that a little concession will buy you peace. Many of you think that if you give prominence to the articles of some of these ministers or if you give them air time, they will help you in a crisis.
Mera dost hai Venkaiah Naidu, humaare apne paper mein, Indian Express mein uske ¾ of a page – Kuldeep ji ne mujhe bhi nahi di utni space – utna Venkaiah Naidu ka article hai. Usko again 3rd class ki notebook dijiye, (Venkaiah Naidu is my friend, he is being given three-quarters of a page in the Indian Express. Kuldeep Nayar never gave me as much space as Venkaiah Naidu's articles use. Now he should be given a Class 3 notebook) and ask him to fill one page coherently, he can't.
Magar aap uske article chaape ja rahe ho? (So why are you publishing his articles?) When you know that he cannot write! Because you think that by giving them that space, that airtime, you are buying peace. No, when an assault comes on you, none of them will help you.
Baat yeh hogi ki yahaan minister ka koi hai nahi. Dhai aadmiyon ki sarkaar hai. Toh yeh bechaare toh jo Swami Agnivesh ke bandhua mazdoor hain, woh help woh aapko uss tarah nahi kar sakte. (The fact is that this is a government run by two-and-a-half people and ministers have no clout. They cannot help you. They are like bonded workers).
So in fact what they will be doing is if one of them is a friend of Prannoy Roy, he will be fearing that "Modi will think I am a friend of Prannoy Roy, toh isse door raho (so I should stay far away from him)"
So don't think that you can buy peace by making concessions. Instead of buying peace with concessions, I would urge non-cooperation, boycott.
Use boycott as a weapon
One of the most effective instruments we used at the time of the Defamation Bill was by telephoning editors all over the country. We said, please do one thing, if a minister of Rajiv Gandhi comes to your city, first please ask him, "are you for or against the Defamation Bill?"
If he does not answer, or if he gives an ambiguous answer, or if he says yes, just get up and leave.
Publicity is the oxygen of terrorists, it is the oxygen of these bonded workers also. Woh dikhaana chahte hain Modi ko ki unhone itni acchi takreer di, itni coverage huyi. (They want to show Modi what a great speech they gave, what great coverage they got). So just deny them that. Just boycott their press conferences. Never call to your meetings, to your conferences, someone whom you would not call but for the fact that he is a minister. Just (show) that little bit of non-cooperation and see the effect.
I can't think of any country in the world in which official announcements are given as much space and prominence as in India. You should publish them in the classified advertisements page, and instead you should republish what altnews.in, sites like Factcheck are excavating. When they are comparing the claims of the government with the facts and excavating. Why leave it there?
Today papers republish tweets of Sharad Yadav, Narendra Modi, and so on. What's in them? Use that space to tell your readers the latest truth that altnews has revealed.
And by now you know their techniques, their technique is, if something inconvenient happens today, start another story just now. So the first thing is, don't become instruments in distracting your viewers and readers. Keep them focused on the main story. Make sure that you don't do their work.
Focus on the real stories
(At the same time you should) redouble the work that is annoying the government. The guarantee to you that you are on the right track is that the government is annoyed with what you are finding out. Aroon Purie used to have a slogan that said, "News is what the government wants to hide, everything else is propaganda."
You should excavate that.
In the end please remember that we have only three protections. One is our solidarity. Second is the courts. Therefore give great prominence to every step by the government to undermine the judiciary, it is very necessary. And the third is the protection of our very own readers and viewers. So use Twitter to inform the governments, but do not become Twitter handles yourself.
You must go into the depth of facts of those issues which are of life and death to the reader. So that when the hand is raised against you, the reader feels the hand is raised against them.
Learn to bypass state controls, censorship
And finally, I believe that a year will not pass now that it will become almost impossible to acquire and disseminate information through mainstream channels or media. Therefore, it is very important that all of us turn to the youngsters who have the mastery of hacking, of bypassing government censors, of using the Internet creatively to acquire and disseminate information. If the Chinese can bypass the Chinese state, then certainly we should be able to do it. So set up some groups of Indians here or abroad to bypass the censorship of the government.
And if finally, they are able to control everything, don't despair. Because as I said, firstly, everything passes, but also, when they control the media completely, then the people will see the great difference between what they are being made to swallow and what is happening in their own lives. And this government which worships cows will be left holding dead cowls.
Thank you very much and the best to you in your fight.
Courtesy: The Wire