Saukhyam eco-store glimpses… find here lots of fit-for-life goodies for the organic soul from microgreens to veggies to fruit, health-friendly snacks and condiments, probiotic drinks, health supplements, something you may be seeking but can't find anywhere else! The store is run by brother-sister duo Somin and Simran Mahatme who source their organic and environment friendly products from the country and world over
BY TARA NARAYAN
Eating is Fun / Eating is Yuck! – A variety food column
IT'S good news of course! Organic farming is catching root in Goa and more and more folk are thinking let me grow my own food at home in my balcony, terrace or whatever little space I have. That means people are now conscious of what and how they eat contributes to the quality of health they enjoy or suffer. Panaji still offers lots of open spaces for urban organic farming to make a difference to the quality of life, don't let more so called development and progress of the concrete high rise urbanization kind creep in through the front, back or side doors and if Chief Minister Pramod Sawant's government has any conscience and common sense it would immediately insist that all new constructions in Goa come with solar, water harvesting, wet waste composting systems in place!
I said hello to the inimitable Michael Lobo at the Governor Mridula Sinha's August 15 Independence Day tea party at the Raj Bhavan and he was all excited about taking care of Goa's mammoth garbage problem (being Waste Management Minister amongst other things). Tried to impress upon him that wet kitchen waste is no problem at all and he should insist everyone from householders to hotels and hospitals take care of their own wet garbage by investing in domestic or larger composter facilities (there are several kinds in the market now). Wet waste should never be a problem at all for it degrades naturally even if parked in a public garden corner!
That leaves the government powers-that-be only the more deadly gargantuan dry waste put out in the CCP's dry black bins to take care of.
This is the mega headache of our times, the plastics, food packages, toothbrushes, plastic cutlery, detergent bottles, pet bottles, caps, tubes, plastics here, plastics there, plastics everywhere…choking, contaminating, bleeding in landfills, water bodies, and there're the plastic bags full of non-biodegradable garbage lying all around town like bizarre artwork, and gutters packed to their gills with kachrapati…triggering of disease, inviting vermin we can do without. Who is guilty? We are individually and collectively.
Wet garbage is something we should all invest in taking care off. Let the government handle dry garbage with recycling platforms, incinerators and whatever else in place. Michael Lobo has great plans lined up, so watch him my friends and co-operate with him and the new Sanjit Rodrigues who is CCP commissioner now.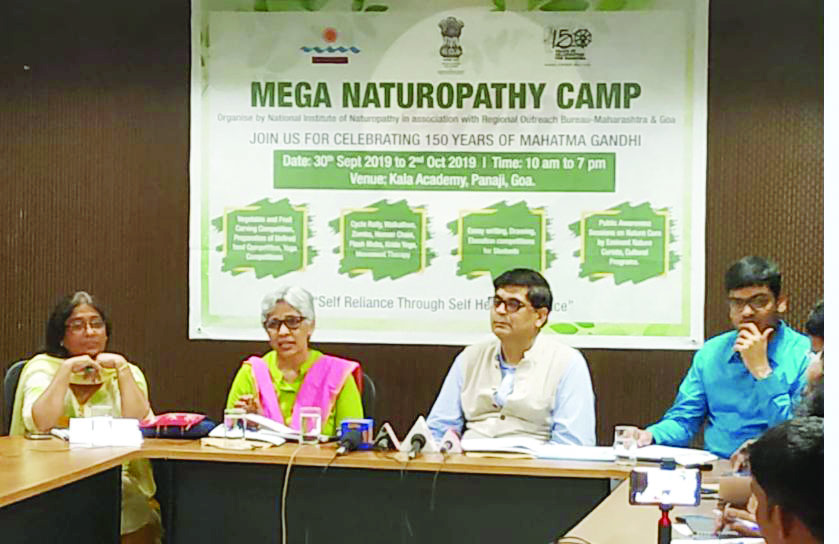 BUT to return to the importance of organic farming in urban areas, it is one way to keep our public places free from concrete invasion … open spaces are where Mother Earth breathes and our green lungs, if the only way to hang on to them is to do organic cultivation — just do it. There's lots of hope for Panaji retaining its last open spaces courtesy a boost-up for organic farming. Nowadays there are young-at-heart farmers, doctors, engineers, businessmen ready to guide you, to name a few familiar names there're Peter Fernandes, Nestor Rangel, Darryl D'Souza, the octogenarian Dr Marie D'Souza who's inspired so many other aspiring farmers, Yogita Mehra and Karan Manral, Ashok Dande, Rozenda Mendonsa and other seniors. Indeed, Goa has many young farmers now, just ask the Botanical Society of Goa's evergreen Miguel Braganza, or any of the BSG's members Daniel D'Souza (recently elected vice-president at the annual general meeting), president Dr Sangram Das Keshari, Alvito D'Silva, Akshatra Pracy Fernandes, Priyanka Parab, Dr KG Hiremath, Neeno Kaul, Nifa Fernandes. There is the Premanand Mahambrey of the Chorao Farmers Club, Ajay Naik and many more, it's an ever growing list of young farmers committed to organic farming now in Goa.
And nowadays there are many takers for organic produce. You may see this local farmers' produce at least in half-a-dozen organic bazaars which take place routinely offering an organic lifestyle, supporting more and more folk doing their organic kitchen veggies gardens in urban homes — personal consumption first, then give away or sell off excess produce. Organic produce consumers are ever on the increase. (Sigh) Organic is not as economical as I'd like it to be but maybe as markets come into play prices will come down to more friendly levels, so that rich and poor benefit alike.
LAST week I finally rode out to the newest organic store of them all called Saukhyam, (meaning "well being" in Sanskrit) it is out at Porvorim, next to Mall de Goa, can't miss it. And this one has to be Goa's first daily organic store getting things from the world over or so I hear. It's open from 10 am onwards daily. It was a treat to feast my eyes on all the "basic, native, raw" foodstuff to intrigue the mind. I dare say Saukhyan is the first really organized organic market of them all. Here are all kinds of artisanal and handcrafted things, natural and healthy foods, holistic, vegan, gluten-free, without artificial preservatives…sustainable and responsible — except that, alas, much of it still comes in plastic packaging. Like I always say if you really care about Mother Earth, be organic, also be eco-friendly, for the two go hand in hand and make the big collective difference to our environment.
I mean, we never put away foodstuff in plastics or medicines or anything else for that matter in plastic packaging barely a hundred years ago and lived very well, why can't we do it now in memory of our grandparents and our children??? Saukhyam is more complete in the sense that it has veggies, fruit, microgreens of a very tempting kind, also snacks of a wholesome kind…granola and energy bars, cold pressed oils, nut and seed butters, preserves, jams and spreads of a higher order, wild floral honey, also look at the body, hair and skin care products, even agarbattis, health supplements, home care items and well, one may end up buying the children ice popsicles while you sip coffee or tea yourself or better still one of the cultured kefir drinks of MO…all-natural, delicious, silky smooth yogurt drink. The Middle Eastern kefir curd is said to have 90 times more good bacteria than our home grown dairy milk curd…making it a magical probiotic to make any rotten tummy feel good. Helps build immunity, reduce allergies.
I bought tomatoes, beets, sweet limes, red capsicum, some most seductive Thai spinach greens…and decided to come another day with more time at hand to hang around happily. One of these days go and discover Saukhyam!
Everyone in the know about organics these days is discussing Himalayan hemp health and nutrition as in hemp hearts v/s flax seeds. Don't forget flax seeds but check out hemp seeds or hearts as they are more evocatively called! If you have a choice go for hemp seeds, hemp seed oil, hemp seed snacks…the story is hemp in its various avatar "boosts immunity, assists in weight loss, acts as an anti-inflammatory, maintains hormonal balance, nourishes hair and skin, enhances immunity, maintains heart health, improves vision, builds lean muscle, aids digestive health, improves energy level, boosts fat metabolism…makes any meal nutritious."
My very rich friend with the sometimes tart tongue has given up flax seeds, olive oil and whey protein for hemp hearts, hemp seed oil, hemp protein and on top of that she tells me like I don't know, "The rich are different you know!" The rich are different. Most times in bad ways, sometimes in good ways!
WHEN it comes to fighting fit health I always say Naturopathy first, Ayurveda second for any kind of preventive healthcare to grow up with. Allopathy for trauma emergencies, serious viral infections, surgeries and organ transplants if required to save life or give it a new lease! But this is to tell you not to miss the Mega Naturopathy Camp coming up at the Kala Academy's Darya Sangam premises from Sept 30 to Oct 3, 2019.
AYUSH Minister Shripad Naik and the National Institute of Naturopathy (Pune) are celebrating the 150th birth anniversary of Mahatma Gandhi with a Naturopathy camp — because Gandhiji was a great advocate of Naturopathy for himself and others! Went on two historical 21-day fasts if you remember…anyway, the mega event was announced at a press conference where NIM's ever gracious director Dr K Satya Lakshmi was present. She told media people to seek solutions for their health problems in Naturopathy! It is drugless, won't enslave us to drugs, it relies mainly on fresh air, water, sunshine (presumably also unqualified love and TLC), mud baths, fasting, walking on pebbles, also the use of ozone, acupuncture and acupressure and other therapies with no side effects of the long term sabotaging kind. You heal on utterly natural therapies, not forgetting the best part — the poushtik khana-peena of sprouts, fruit, salad veggies and greens, millet flour ladoo and roti, fresh chutneys of all kinds….organic, nutritious, to bring a dying heart back to life again!
Well, I've spend time at some Gandhian naturopathy places and will swear by their good principle of slow and steady….if you have patience and time to spare to get into shape anew. Meaning, wholistically, holistically or happily. See you at the Mega Naturopathy Camp at the Kala Academy in Panaji on Monday, Sept 30. There will be film screenings on Mahatma Gandhi, exhibition and stalls, free consultation with "nature curists" whatever that means. The motto this time around is "Self Reliance Through Self Health Reliance"…sounds a little garbled, no?