Plant Utsav 2019
The annual festival of plants organized by the Botanical Society of Goa together with the Corporation of the City of Panaji was inaugurated by Taleigao MLA Jennifer Monserrate on Friday, Nov15, morning. Not to be missed. Highlights include Daniel D'Souza's amazing bonsai collection as also exhibits of begonia and much else your green soul and fingers may be seeking from the world of gardening and garden proud owners. Buy compost soils, potting soil, gardening tools, seeds of spinach, dill green, cluster beans and other veggies for as little as `2 a packet (at Department of Agriculture stall) and much else for eco-friendly 'lifestylers'. Not to be missed! Venue: Garcia da Orta, Panaji. Date: Ongoing from Friday/Saturday/Sunday Nov15/16/17. Time: 10am to 8pm.
Surashree Kesarbai Kerkar Sangeet Samoroha-2019: The much loved mega festival of Indian music is hosted by Kala Academy and the Ministry of Art & Culture, annually. This year there's a symposium on `Contribution of Jaipur-Atrauli Gharana to Indian Classical Music' at 10.30 am , Goan vocalist Samiksha Kakodkar will be performing at 5.15pm followed by other performances, including Mohanveena instrumental concert by Pt Vishwamohan Bhatt. Venue: Master Dattaram Natyagraha Rajiv Gandhi Kala Mandir, Ponda-Goa. Date: Nov 15/16/17. Time: 10am onwards.
EVENTS
Ladies Week: Features quiz and dumb charades programs, a fashion evening with Ninoshka (Nov 16) and a barbecue, plus a sing-a-long (Nov17). Venue: Saligao Institute's Arrarim premises, Saligao. Date: Sat/Sun, Nov16/17. Time: 5pm onwards. Open to all.
TALKS
Life on a Skateboard: In the MOG Sunday series come and listen to what skateboarder Anveer Mehta has to say about a sport to cause social change. Interact with members of the skating community in Goa, and there will skateboard around for those who would like to try out the sport first hand. Venue: Museum of Goa, Pilerne Industrial Estate, Pilerne. Date: Sunday/Nov17. Time: 11.30am onwards. Details: 7722089666
Environmental Ethics of Fishing Practices in the Case of Goa: A environment talk by doctoral candidate Sebastian Rodrigues (Department of Humanities & Social Sciences, Birla Institute for Science & Technology, Pilani). Venue: Bookwork, Mala Panaji. Date: Saturday/Nov16. Time: 4pm to 6pm. Details: 9823222665
REST&RECREATION
Vegan Cooking Workshop: Let Gemini Zettigar teach you some amazing vegan recipes, the world is going vegan for reasons of eco-friendliness! The vegan demo will be accompanied by a documentary screening and vegan potluck. Pre-registration is compulsory. Venue: Saukhyam, near Mall de Goa, Porvorim. Date: Nov 17. Time: 11am onwards to 12.30pm.. Details: 9146101218
YUVA All-Goa Drawing Competition: Here is the third edition of YUVA's annual State-level drawing competition for children and adults. According to YUVA founder Raghuvir Mahale the competition offers youngsters a chance to be creative because everyone is an artist at heart and art is for all to enjoy. The topics for the competition will be as per age group – Group A upto class 4 topic is open, Group B class 5 to 7 is Festivals of Goa', for Group C class 8 to 10 isNature in Danger/Dream India' and Group D has `What is Independence to you?' Group D is an open category wherein youth as well as parents may participate. Paper will be provided but carry your own drawing material. Registrations for competition open between 8.30am to 9.30am and competition commences at 9.30am. There is a zumba session at 11.30am. No entry fee. Venue: Shree Mahalaxmi Temple, Panaji; Date: Sunday/Nov17. Time: 9.30am to 12 noon. Details: 9545622528/9420595013
HEALTH
Hydrotherapy and its benefits: A talk by Dr Nandini Sadasivam. Venue: International Centre Goa, Dona Paula, Panaji. Date: Sat/Nov 16. Time: 4:30 pm to 6.00 pm. Free entry. Details: 7775065292 to register.
NEW WAVE CLASSICS TOO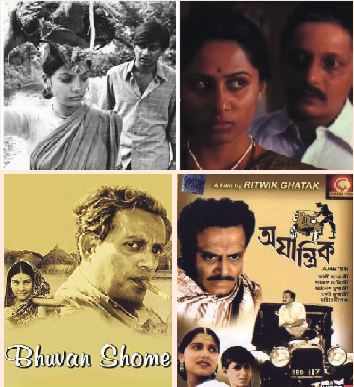 IFFI count down continues. IFFI 2019 celebrates the golden jubilee of The International Festival of India in Goa. With over 200 films from 76 countries, apart from 26 feature films and 15 non-feature films in the Indian Panorama section, the festival will roll out the red carpet of action from Nov 20 to 28 in Panaji. IFFI this year will show case the New Wave classics of Indian cinema, meaning the films of modern-day legendary filmmakers like Shyam Benegal, Ritwik Ghatak, Mrinal Sen, Adoor Gopalakrishnan, Manui Kaul, Kumar Shahani, John
Abraham, G Aravindan and others. See films like Benegal's Bhumika' andAnkur', also films Ajantrik' (1958/Ritwik Ghatak),Meghe Dhaka Tara' (1960/Ritwik Ghatak), Bhuvan Shome' (1969/Mrinal Sen),Swayamvaram' (1972/Adoor Gopalakrishnan), Thampu',Uski Roti', Duvidha' ((1973/Manui Kaul),Tarang' and Agraharathil Kazhuthai'(1978/G aravindan),Uttarayanam (1975/G Aravindan).