At Golden Jubilee IFFI 2019: Indian cinema icons Amitabh Bachchan and Rajinikanth (Shivaji Rao Gaekwad) being felicitated, flanked by Union I&B Minister Prakash Javadekar and Goa Chief Minister Pramod Sawant and Manoj Tiwari; (below) at the frontline glamourous line-up of film and political personalities at the ceremonial inauguration…recognise some or all of them.
By Our Special Correspondent
IT is time to celebrate cinema again. India's golden jubilee International Film Festival got of a smooth start with pomp and ceremony as the red carpet unrolled to global film star icons Rajnikant and Amitabh Bachchan. Along with them were other stars of the filmi and political duniya at the Dr Shyama Mukherjee Stadium at capital city Panaji's Bambolim plateau on November 20, 2019. The evening of colourful laser beams presentation and evocative music reiterated the role films and film stars have played and continue to play in our life, igniting many dreams and aspirations for aam aadmi and khaas aadmi alike!
Our best films very definitely unite us in a world where the ground reality is one of a sad world being torn apart with civil wars and scenes of mass terror, migration, religious tyrannies and whatever else which makes life on earth a hellish experience. I would say more than all the awards, tributes, arousing musical concerts which filled up this year's IFFI inauguration, it is the video-recorded message of the 85-year-old English filmmaker Ken Loach which kept ringing in the mind long after the show was over. The two-time Palme d'Or winner, whose films focus on issues of poverty and homelessness, offered his solidarity and friendship in sustaining the planet and had this message, "We're a people divided by classes in a world with different interests, what unites us far bigger than what divides us." Meaning films are one uniting factor in our lives in the very best sense of the word and that's why we celebrate the best films at film festivals.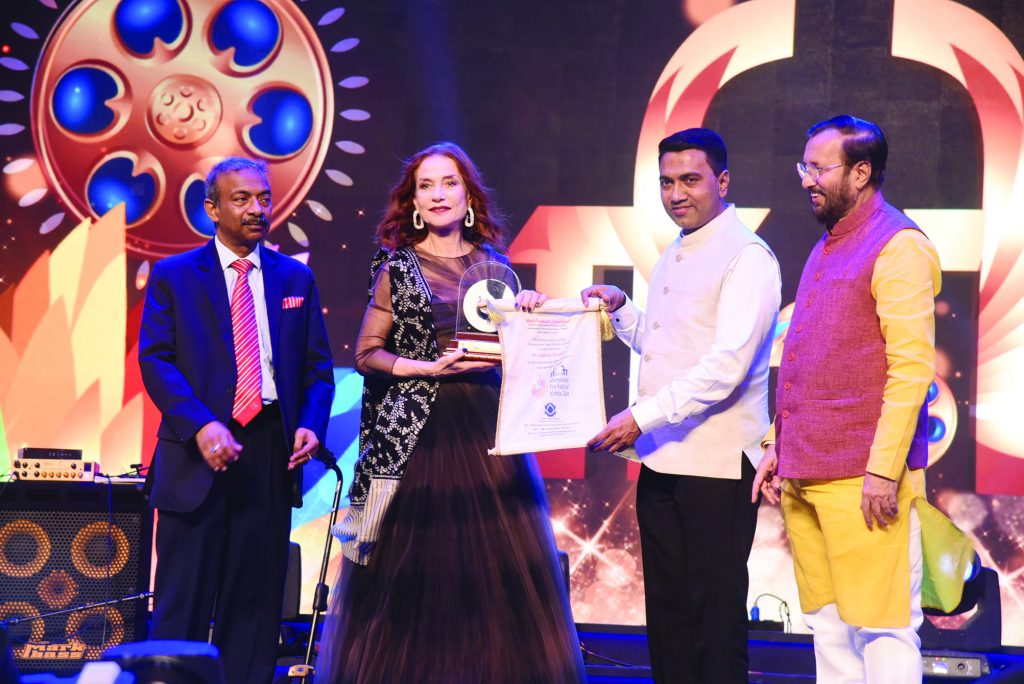 Ken Loach's films are being showcased in the Retrospective Section at this year's golden jubilee IFFI and are not to be missed. The highlight of the evening which had the audience on its feet was the felicitation of south India's mega star Rajinikanth and north India's fabulous Amitabh Bachchan — some may remember that Rajinikanth is actually a northerner, a Maratha who made it good in the films of the South Indian film industry, a rags to riches story like no other. His fans reverently call him "Thailavar" which accords him a status not less than divinity. Rajinikanth was honoured with the 'Icon of the Golden Jubilee' Award and accepting it he humbly bent down in a gesture to touch Amitabh Bachchan's feet for reportedly they're the best of friends. Hindi cinema favourite icon Amitabh Bachchan was also felicitated as the chief guest for IFFI's golden jubilee.
The function started off on a nostalgic note with the screening of a seven-minute documentary paying tribute to the late Chief Minister of Goa, Manohar Parrikar, who was instrumental in bringing IFFI to Goa. Present on stage for the presentation of various awards was Chief Minister of Goa Pramod Sawant (looking so natty that the compere described him as the "most handsome chief minister of Goa") who in his brief speech said he would be promoting Goa as a film tourism destination and his government will be looking into creating better infrastructure for IFFI in the years to come. Endorsing his sentiments were Union Minister for I & B and MoEF Prakash Javdekar with IFFI, DFF officials and other dignitaries.
The inimitable filmmaker Karan Johar conducted the evening's events of tracing the history of IFFI and filmmaking in India, giving away awards, felicitating various personalities of the cinema industry, introducing this year's international jury for the Competition Section and the rest of what was scheduled. For entertainment music makers Shankar Mahadevan and Louis Banks mesmerized the audience — it was a breathtaking performance which had most everyone tapping feet, fingers and lost in a world of magical music.
Only one unscheduled happening marred the evening's glamorous affair. No sooner Union Minister Javadekar got up to give his address a commotion coming from the back gallaries invited everyone's attention — furious protestors started shouting "Amka Mhadei, Amka Zai" and for a moment the audience didn't know whether to listen to them or to the minister (Javadekar is also Union environment minister) who ignored the entire disruption and continued with his speech.
The Mhadei activists, protesting against the Kalasa-Banduri project diverting water from the river Mhadei, were quickly hustled out by police personnel on duty. But the Mhadei protesters had made their point — IFFI or no IFFI, no self-respecting Goan would swallow the diversion of the river Mhadei's waters to Karnataka for political expediency and at the expense of Goa's own water needs and long-term wellbeing.