TO THE SOUND OF DRUMBEATS: The 10th anniversary edition of the Goa Arts & Literature Festival started off to vibrating drumbeats, a thrilling performance presented by Konkani Lok Dhoon at the open-air ampitheatre of Laran lawns at the International Centre Goa at Bambolim plateau.
BY TARA NARAYAN
THE 10th edition of the Goa Arts and Literature Festival (GALF) is not only making way for younger audiences but also speaking up for freedom of speech in a country rapidly inviting the throes of anarchy. This Goa literary festival is much loved by many delegates for its small cosy Goan ambience in the holiday state of Goa and this year it was in a celebratory mood as were long-time curators of the festival Damodar Mauzo and Vivek Menezes. Both have worked together to put past and present festivals together as conceptualized, organized and hosted by the International Centre of Goa with the help of sponsorship partners the Directorate of Art & Culture (Government of Goa) and others for the cause of promoting Goa as a hub for artistic and literary endeavor.


Small-scaled, compact GALF set amidst a lush green Goan ambience had already made a name for itself as a niche festival with much to offer by way of being a friendly, ideal venue for interaction of the arts and contemporary literature. As Damodar Mauzo put it, although the times are troubling creative folk "belong to that tribe that is always hopeful, we believe in cultural diversity, not fragmentation of diversity but harmony of contrast, finding common grounds, unity of diversity…different ways of belonging is our aim at this festival." The festival remains small because it chooses to be small.
That organizer and curators have the courage of their convictions is heartening, as witnessed by the fact that this year's keynote address was by former Asian Age journalist Priya Ramani, one of several women who have accused powerful BJP Union Minister M J Akbar (former editor, author and later politician) of subjecting employees to sexual harassment at the work place. The #MeToo movement in the country gathered momentum with an unapologetic MJ Akbar filing for the first time in media history a criminal defamation case against a journalist, Priya Ramani..

Her talk was on `Why we should speak up and what happens when we do?" Thanking GALF organizers for inviting her to address the "best litfest in India" she went on to say that speaking out against sexual harassment at the work place for women had liberated her from fear (see text of her speech reproduced here elsewhere). It is not surprising that Priya Ramani got a standing ovation after she finished her talk including a pat on the back from Prof Harish Trivedi who said her speech had left him profoundly moved.
The erudite, irreverent and influential Prof Harish Trivedi who spoke after her won the audience's heart too. Prof Trivedi is a noted professor of English visiting universities at home and abroad, an author and formidable translator translating Hindi, Urdu and Sanskrit writers, including Ashvaghosha, Premchand, Manto and Ajneya. His peppery talk was replete with anecdotes especially about the poet Rahim, a Muslim bhakti poet Abdur Rahim Khan-e-khana (1556-1627) who was a prominent courtier at Emperor Akbar's court as also commander of his army.
While judging literature he quipped that "karuna rasa is the only rasa of good quality in writing." He observed that readers are on the rise, more vocal and self-assertive than ever before, many having no qualms coming up to an author for a selfies and also making sure they shared equal space in the selfie picture! Readers are no longer the meek readers of old but "consumer readers" conscious of rights. Also, today's writers don't suffer from the "maudlin modesty" of say an old-fashioned Ramanujan. A new literary culture is growing in India and he credits the rise of readers to the 300 lit fests which now take place the country over to promote books and authors…at these festivals readers can meet authors in person and interact with them, which is a far cry from the old days when "few readers saw authors on a pedestal who were only for darshan". He also tongue-in-cheek questioned the face value of literature today and asked, "Are authors faces first, writers later if at all?" Is there too much of "adakari" and commodification of books?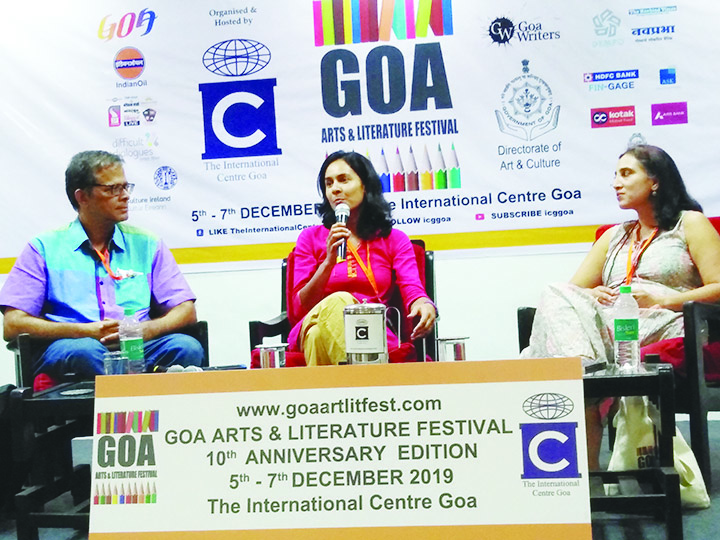 The two-and-a-half day festival this year was a brisk affair with audiences packed with students and teachers from various schools participating and there were several curtain raiser sessions at Dhemphe College of Arts & Science in Panaji, Carmel College for Women, Nuvem, Goa University and Rosary College for Commerce & Arts, Navelim.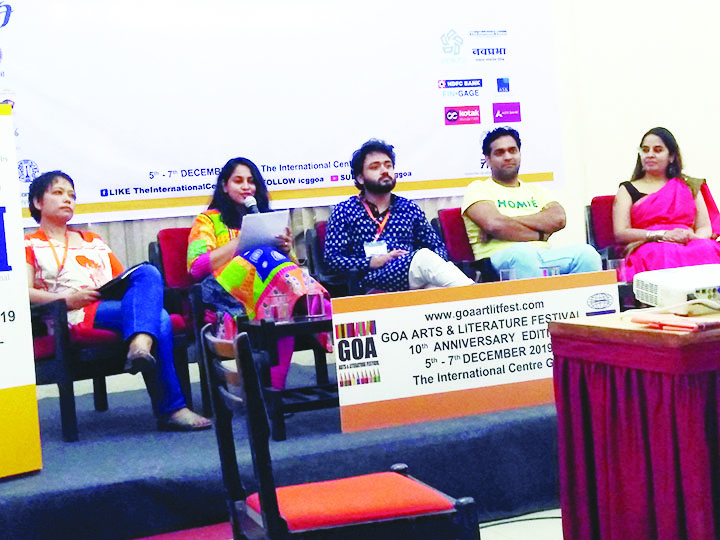 At the ICG there were a slew of book releases, interaction with authors, poetry readings and musicals. Musical highlights included the exhilarating performance by Konkani Lok Dhoon who got many tapping their feet to the drumming of a medley of Goan folk music on drums, presented by Ravindra Kelekar Dnyanmandir. Other GALF performances were the Horizon Series presented by Indian Council for Cultural Relations and the Goa University Choir performed on the concluding day by way of bidding farewell to the festival till next year once again.