At the 23rd edition of Interiors & Exteriors Exhibition: Some of my favorite highlights were
Sidiqullah's khazana of fresh dry fruit from Afghanistan; Baga Crafts' useful camphor stands for burning pure camphor; simply cool Thomson tiles and bricks for comfy homes and gardens…and much more, never miss an Interiors & Exteriors Exhibition
BY TARA NARAYAN
REALLY, that's how I've been feeling these last few months and lately, what with the Lokotsav mela in town with its annual offerings, and last week there was the 23rd Interiors & Exteriors exhibition which is one of the most high-end markets for premium goods for house, office, kitchen, garden, personal use, healthcare, all kinds of utility value goods which this expo puts together very efficiently. One feels like buying, buying, buying, buying regardless of whether we need it or not, it's a craze. Since when needs define human beings with cash to burn?!
(Sigh) I buy little but appreciate some of the usual and new products coming into the market and the single most reason why I drop in at this Interiors & Exteriors show at least once is to say hello to familiar people — and catch up with the dry fruit of Afghanistan. I like looking up Samsor Bann Traders' managing director Siddiqullah Popalzai who comes with several varieties of almonds, he says, "there are at least 15 varieties of almonds in Afghanistan although I keep only five or six kinds…these smaller fat ones are malai almonds, have maximum oil and they're sweetest. Then there are four kinds of mamra almonds, all natural (not like the even-toned clone almonds of America!)….this large white mamra you're asking me about is the most expensive at 6,500kg, it is less sweet, good for diabetics, very valued in Afghani people" His dry fruit repertoire is from Afghanistan although he has an office in Delhi, he comes only to this exhibition annually so that Goans may get fresh dry fruit. I always feel cheered up looking at his range of fresh dry fruit – shelled and in shell walnuts, pista (2,000kg both), apricots (1,600kg), two varieties of raisins and black and golden munaka, blueberries (3,500kg), dry mulberries (so hard to find, 2,500kg), dry apricots and delicious sour alu bhukara (1,600kg)…now why didn't I buy some of the fabulous hing (asafetida, 500/800 per portion) and exquisite "shajeera"…he also had dark gold zafran (saffron) but I didn't enquire about the price.
The Afghanistan dry fruit outlet is usually located at the tail end of the exhibition venue and on sees it on one's way out, it was nearing lunchtime and I was in a hurry to get home. So I didn't linger to chat more about the wonderland of dry fruit that Afghanistan is… I bought 250g of walnuts and almonds and said goodbye to Siddiquallah till next year.
All the way home thoughts of the dry fruit painted my senses, it would be great to visit Afghanistan just for a dekho of fruit trees in bloom and in fruit, maybe do a story on just almonds.
Such a pity the country is perennially torn in religious political strife! You must know the value of dry fruit nutritionally, so I won't go into it here. A handful provides a density of nutrient values and can serve as a snack or meal of the very best kind, naturally. Which reminds me so many of my friends have switched over to almond milk in lieu of dairy milk! One may soak most nuts (including Goan caju) overnight in water to extract nut milk the next morning, a labor of conviction and love.
TO MOVE on elsewhere there was too much to absorb and I got fascinated with the natural camphor available with Khameer Desai of Baga Crafts of Porvorim in Goa and recommend his premium camphor and burners, this camphor is edible and this is what we put in tiny portions in some of our prasad such as panchamrut and halva for a divine taste, wee tantalizing flavor. Are you aware that the usual market camphor tablets we buy are "synthetic camphor" with little camphor but more wax in them?
Put some real camphor and drops of neem oil on to a burner, light up, it will chase away lurking mossies around. Camphor is one of the most agreeable fragrances I can think of and often think I'd rather light up a bit of camphor for ephemeral scented beauty rather than light a physically pressed rice bran oil fuelled diya to burn through the night, rice bran oil gives the longest light!
ELSEWHERE I stopped at the Thomson Tiles outlet and I couldn't help but feel the coolness of natural terracotta tiles – they were available in several simply marvelous designing. Funny, I asked if I could just buy one tile and spokesperson Sebastian Thomas here smiled, "It's `15 per tile but you take it free as sample." Well, generous guy, what do I want a tile for…when I'm annoyed I can hold its coolness in my hand and cool down! Do you know that Kerala has banned all mining of natural clay because all the freebie mining was contributing to large scale environmental damage?
So now they buy clay for manufacturing tiles for all kinds of purposes (mainly roofing, flooring or other creative designing) from neighboring Karnataka or further afield, to manufacture tiles at the Thomson Tile Factory at Thrissur in Kerala. If I were building a home I'd go for the Thomson tiles and bricks for sure.
There was lots to feast on at the Interiors & Exteriors show and in this respect I'd say I'm happy that that there is so much eco-friendly coming back in construction…young folk are going in for creative wooden homes and yes, I may mention that Precast Earth is back with the timeless elegance of "Galicha Mosaic", the much loved flooring of old which is a joy to lie down on whenever I see such a mosaic tile floor! Welcome back hand made floor art and if you're designing your own home look up earthy, comfy terrazzo mosaic…tried and time tested for years in the more eco-friendly world of old.
Hey, shun vitrified, ceramic and marble floors, too many seniors slip on a drop of water on such shiny floors and end up in hospital with something or another broken. Okay, don't know if there's been more food or food for thought talk here this week but just two more inspirational stuff.
Last week I was looking for a decent minestrone soup in town and finding none (not even at the newly created a la carte menu placed on every table at the Miramar Fortune (they have a French onion soup instead) I looked up the soup a bit and discovered that the origins of minestrone soup are down south Italy where poorer folk just popped whatever vegetables they could find in a tureen of tomato-based soup stock, added pasta or rice, herbs, and soon a hearty filling soup was ready to fill the belly and soothe the soul…minestrone went upmarket later with the addition of what not and what not.
But one of these days I'm making myself a minestrone soup with a stock of tomatoes and green celery. Check out recipe boxed here and enjoy minestrone soup for as long as this year's Goan writer lasts!
Minestrone Soup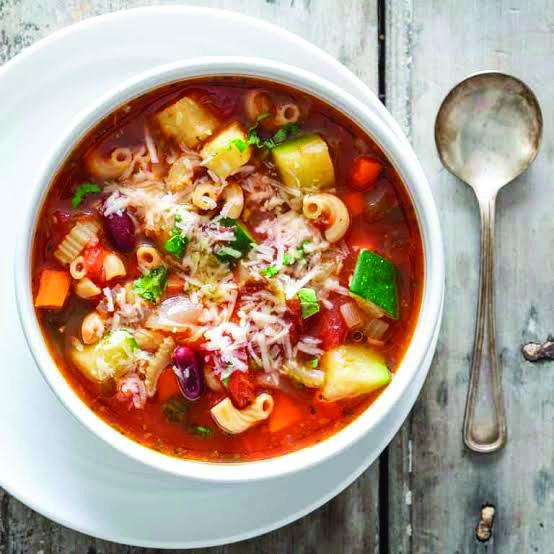 Handicrafts, handloom, Khadi stalls for launch of Bihar Foundation in Goa…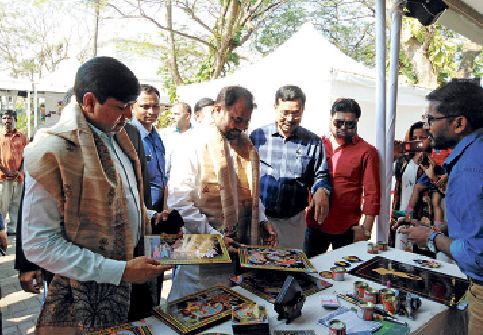 By Our Special Correspondent
You might want to visit Bihar! It's Minister for Industries Shyam Rajak and entourage from Bihar were in Goa for a two-day visit to find out how the Bihari migrant community in Goa was faring. Speaking to media people at the Khadi handicrafts, handloom stalls set up at the Panaji Gymkhana grounds for three days from Jan 27 to 30, 2020, Shyam Rajak said that Bihar is no more the Bihar of old plagues by famines and driving the people out of the state to eke out a living.
In fact, Bihar has been doing very well under the chief ministership of Chief Minister Nitesh Kumar, the state reportedly enjoys a high GDP growth. There is much to see history rich Bihar and in Patna now they even have a Khadi Mall dedicated to Khadi goods ranging from handloom cloth to garments to terracotta ware to Bihar's famous artwork of Madhubani.
The minister inaugurated the handicrafts stalls as well as the Goa chapter of the Bihar Foundation which will impart training in soft skills to migrant Bihari labor in Goa (a large number of Bihar labor is attached to the Taleigao Pnachayat and engaged in the collection of garbage). According to Sarfaraj Alam from Bihar but settled in Goa in the hospitality business, he will be heading the Bihar Foundation Goa and his aim is to help Bihari migrant community in Goa. The idea is also to promote better trading and showcasing the best of art and craft from Bihar, seeing how Goa is a tourism paradise.