Finland offers its people four unique seasons… it is more water than land with an estimated 60,000 lakes, but the wilderness offers a spectacular bounty of fruit and food to delight gourmet palates. It's a country to visit at least once in a lifetime!
BY TARA NARAYAN
AT the Bookworm jumble sale at the Jardin de Orta in Panaji over the weekend I was shocked anew by the spread of books, many selling literally for a song! Oh, oh, I thought fleetingly, books are really in trouble because so many folk are giving them away… I haven't given mine away yet, at least not in totality and am hanging on to them although I also keep wondering how long I should let silver worms, woodworm and other worms carry on feasting on them.
It's like I've got so many foodie books and there I was at the jumble sale screening through some more and ending up buying half half-a-dozen, each selling at Rs25-Rs50 or so; with the non-foodie books there was a generous offer of "Take five books for Rs100" – many were actually buying them up and carrying them away in carton boxes.
I found myself getting carried away by slim paperback The Thangam Philip Book of Baking' (for old times sake, don't know where the first edition signed copy I once had during my Mumbai days but now gone somewhere),The Secret Benefits of Ginger and Turmeric' by Vikaas Budhwaar, Food from Finland, A Finnish Cookbook' very beautifully put together by Anna-Maija and Juha Tanttu (I'm dreaming of going berry picking in Finland one of these days),Desserts' is a small fat guide….I don't why I bought this one when I'm more or less done with the sweet some things of life (except for the odd winter time "tilgul" which comes my way).
I also picked up a Malaysian CAP guide to "Prevent Cancer" since everyone has cancer on their minds these days…and a few more books, but forget them, now that I've screened through them I'm ready to return them! I'm thinking there ought to be a foodie books museum every village/town where one may go, borrow, enjoy whatever food talk and recipes there are in them…and return books. With life more or less converging on the palm of one's hand with smart and smarter mobile phones and gen next shunning all other modes of communication and entertainment, it's not a bad idea for books to go into book museums, no? A collective ownership of books but on small scale for convenient accessibility. Museums would do better at taking care of books, instead of the books most of us pile up in corners at home, very often inviting dust and little critters…and where's the time to keep dusting out books and reading them anew with pleasure?
The problem is my generation grew up possessively with books in bed, if you know what I mean. I remember for years on end and to this day I cannot retire without a book in hand and sometimes I get up post-midnight looking for a book in my mind or a recipe! I cannot imagine life without books or films, it would not be worth living, and I will not read books or see films on my smart phone.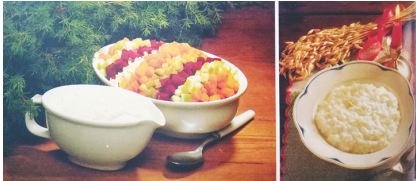 Anyway, of the jumble sale foodie books I acquired recently two interest me most. What an amazing country Finland must be and I remember my friend Dov Steinberg, currently on a diplomatic posting from Israel to Finland. I met him recently at a surprise party in Goa and we were exchanging notes about life in general, he recounted his experiences about living in Finland and compares the Finn people with the Japanese people.
Finns bring so much meticulousness to their lifestyles. Did he like his posting out at Finland? He said yes, "although the cold gets to me sometimes, there are days when the sun doesn't rise and daylight is just a band at the horizon, we have 24-hour days and nights. It confuses my body clock!" Of course life in Finland is a far cry from his homeland Israel where he hopes to settle down eventually in Tel Aviv. Life, he sighed, is safe nowhere, he remembered the years when he was posted in Mumbai very vividly, "I still have many friends there."
BUT he was very enthusiastic about the food in Finland, says there's lots of seafood and no, he hasn't gone berry-picking yet but will do before his posting as Ambassador of Israel and Estonia is over. After that Finland has been on my mind anew and hence I picked up the Finland cookbook which I saw at the jumble sale. The book waxes lyrical over the land of four gastronomic seasons, springtime of great expectations, summertime when the night is white, autumn leaves and mushrooms, winter darkness and Christmas lights and of course the word smorgasbord must come to us from Finland, although that's a translation from the Finnish "voileipapoyta" meaning banquet.
In the days gone by the Finns enjoyed great banquets and had special buffets filled with food for guests, the banquets lasted for two days and at times as long as a week. Banquets were held on major holidays, at weddings and funerals. Dining was the highlight and there would be "salad, head cheese, salted bream or whitefish, herring, cold steamed fish, smoked meat, home-made cheese, rutabaga, potato, and liver casseroles, various types of bread (hard black rye bread sliced thin is the bread of Finland)…After the guests had had their fill of the buffet, there was a between-course snack: bouillon and puff pasties or fruit soup made with raisins or mixed fruit, garnished with whipped cream. The main courses might be roast meat, gravy, boiled potatoes, lingonberry puree. And for dessert there was rice porridge or prune fool, perhaps layer cakes and pastries. The beverage was home-made beer. …"
If your mouth is watering, so is mine. Traditional smorgasbords have given way to more modern smorgasbord-styled buffets but one may still find the real feast if sailing say between Finland and Sweden and between Finland and the Federal Republic of Germany… "around the world, from New York to the Canary Islands, the smorgasbord is known as a Scandinavian speciality. The Finn, of course, thinks that the Finnish smorgasbord is the finest of its kind, the `real' one, the most bountiful, tastiest…"
Hey, look at the amount of fish such a smorgasbord would feature…say Russian herring, Glass master's herring, salted vendace, Baltic herring rolls, cobbler's salmon, smoked Baltic herring, fresh-salted Baltic, salmon, grilled lamprey, boiled salmon fin, smoked whitefish, roe (vendace, whitefish or burbot), anchovies, shrimps, smoked eel, bream, pike perch, or rainbow trout in aspic, sardines, mackerel…" The meats follow including reindeer meat, reindeer tongue is a sort after delicacy. There's a lot of reindeer lore out in Lapland where anything is made out of reindeer meat…served roasted in thin slices as an appetizer, in sandwiches, also reindeer stew – accompanied with onions, carrots, celery, parsnips and pickled cucumbers.
Ohhhh! My newly acquired Finland cookbook is like an armchair travelogue and I'm still dreaming of the berries of the Finland wilderness — brambleberries, raspberries, rowanberries, cranberries, cloudberries, blueberries, lingonberries, wild strawberries, buckthorn berries and more, black and red currants. Berries are on the top of the list of super foods of the world, eat more berries!
It's said the Finns are really fully alive only in summertime when the "nights are white" (all daytime) and this is the time they go on picnics to live the good life of lazing around, holidaying, fishing, swimming, berry picking, etc. Berries are found in everything edible including ice-cream, and they also feast on tiny, finger-tip-sized, boiled new potatoes and dill greens from their own patch of garden. Nice life doesn't quite cover it. A lot of folk go to Sweden, but one of these days also go to Finland, Lapland…and not just for the sound of the food. From the sound of it the country is made up of more lakes than terra firma.
INCIDENTALLY, we in India may learn something from Finland. It's a politically mature democracy with one of the youngest woman prime ministers in the world, Sanna Marin, now in her mid-30s I think. Finland has an interesting history and is very conscious of its environment, won't let any polluting industry set up shop in Finland. Of course, it's a tough country to live in with its five months of bitter cold winter when the temperature hovers at freezing zero degree or below …so you can understand what summer means to them! Still, the Finns love their country.
DELICIOUS RECIPES FROM FINLAND….
Fresh-salted whitefish or salmon
For each kg of fish: 2tbsp rock salt; ¼ –1/2 tbsp sugar; 1 tsp coarsely ground white pepper; dill fronds and stems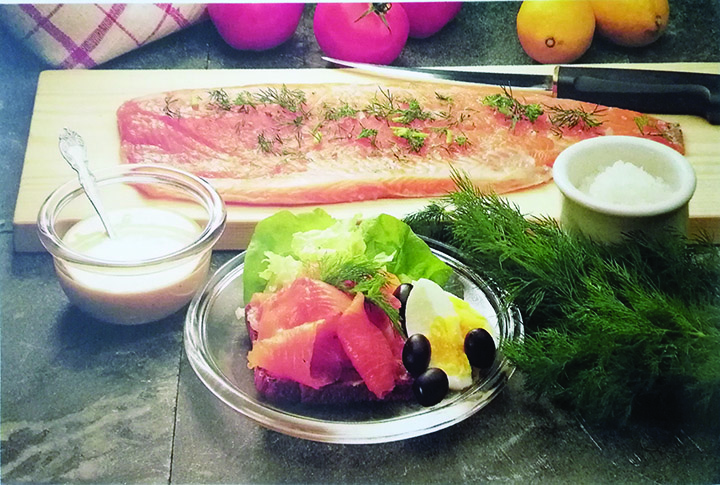 Clean and fillet the fish, but do not skin.
Place one of the fillets skin-side down in a dish and sprinkle with a mixture of salt, sugar, and white pepper. Sprinkle with chopped dill.
Place another fillet skin-side up on the first fillet.
Sprinkle the rest of the salt of the salt mixture and dill on it. Cover with a weight.
Keep in a cool place for a day.
Scrape the spices off the surface and slice thinly.
Serve with boiled potatoes (preferably new potatoes) and chopped dill.
Note: Salmon is the king of fishes. Slightly salted, smoked, grilled, fried salmon – or fish of the salmon family – is an essential part of a feast. Rainbow trout is reasonably priced and popular also with everyday mals. Fish is generally seasoned with dill. Blueberry Soup
(Mustikkakeitto)
1 l water; ½ l blueberries; 1 and 1/2dl sugar; 2 tbsp potato flour
Put the water, blueberries, and sugar in a saucepan. Blend and cook for about five minutes.
Dissolve the potato flour in c1/2 dl water. Remove the boiling blueberry mixture from the stove. Add the potato flour liquid to the blueberry mixture, stirring all.
Put the saucepan back on the stove and bring to a boil. Remove from the heat as soon as the fist bubbles appear.
Sprinkle with sugar and cool.
Serve cold with sweet rusk or cookies.
Note: Dl or deciliter equals to one-tenth of a litre, therefore 1 dl is equal to 100ml.
Summer Soup
(Kesakeitto)
1 l water; ½ tbs salt; 2 medium-sized carrots; a small cauliflower; 1-2 dl peas; 2 dl young pea pods; ¼ l new potatoes; a few fresh spinach leaves; 1-2 tbsp flour; ½ 1 milk; butter; 1 tsp sugar. On top: finely chopped parsley.
Heat the water and add salt.
Slice and add the carrots, and cook for about 5 minutes.
Dice the cauliflower and potatoes and add them to the soup with the peas and pea pods.
When the vegetables are almost done, add the milk and flour and then the spinach.
Simmer until all the ingredients are done.
Add a dab of butter and sprinkle with parsley.
Serve with dark bread or crispbread.
Cucumber Salad
(Kurkkusalaatti)
1 large cucumber; ½ tsp salt; 1-2 tbsp sugar. Marinade: ½ tbsp white vinegar; 1 dl water; chopped dill
Rinse the cucumber and slice thinly.
Put into a deep dish and sprinkle with salt and sugar. Cover with another dish and shake the slices between the two until the slices are almost transparent.
Mix the water and vinegar. Pour over the cucumber slices. Sprinkle with chopped dill.
Inkoo porridge or
potato porridge
(Inkoon puuro eli perunapuuro)
4-5 potatoes; 1 l water; 1 ½ dl barley flour; 2 tsp salt; 1 tbsp butter.
Peel and slice the potatoes, and put in a pot with water.
Cook until done. Sieve off the water but save it.
Mash the potatoes, and return the water to the pot.
Bring to a boil and whisk in the flour and salt.
Simmer for about 20 minutes, then add the butter.
Serve with cold milk and a dab of butter.