At Panaji Dempobhat morning Holi session… the women and children have a gala time! (elsewhere) Holi revelry at the Azad Maidan in Panaji.
By Our Special Correspondent
Undoubtedly, India's festival of Holi is the most lively, some say boisterous festival of colors. It's celebrated in north India with more gusto because it is perceived as the end of winter and setting in of livelier, warmer spring season. Trees start bursting into coppery or tender pink leafy green and the first flowers may be seen…think dhak or palas in rich red bloom, copper pods with their cascading crinkly musky scented yellow blossoms and here and there even laburnum trees bursting into sunshine yellow, rain tress have their tapestry of ice-cream candy floss pink flowers). All over Panaji you will also see African tulip trees offering up orange red chalice-styled blooms!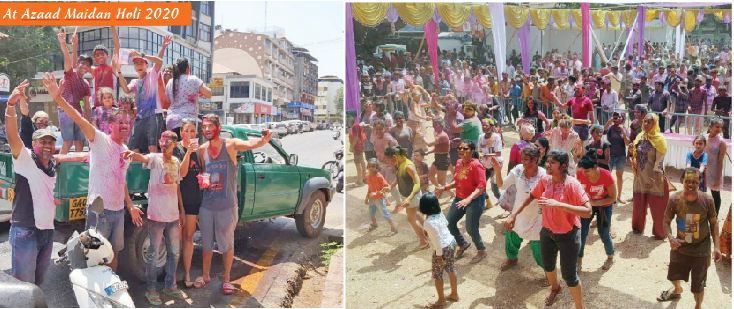 The celebration of Holi officially heralds the end of winter and the beginning of spring time, which may be very brief sometimes because our seasons are now fast forwarding with the impact of global warming and temperature changes (the mass cutting down of forests contributing to increase of carbon dioxide in the air and decrease of live-giving oxygen in the air we breathe). Ironically, in Hindu mythology the Holi season is celebrated as the quintessential season of love and romance — what with its association with a myriad stories of Lord Krishna and his consort Radha, there are also the Shiv-Parvati legends and much more.
But the much-told story associated with Holi is the one about demoness goddess Holika (yes, she is also the goddess Swaha Devi, worshipped as fire) who agreed to sit in a bonfire with her nephew the young Vishnu-loving Prahlad – the story in the Vedic scriptures has it that his father and demon King Hiranyakashya wanted everybody to hero worship him and not Lord Vishnu! Disobedient son Prahlad however kept singing the praises of Lord Vishnu and so an angry father wanted him dead…so Holika got her orders. Well, Lord Vishnu is Lord Vishnu, and he came to Prahlad's rescue and it was Holika, the imperishable by fire, who burnt to death, Prahlad lived…and then of course as is usual in Hindu lore one story goes into another and another, fascinating really).
Say it's yet another story of victory of good over evil so that life may continue for the blessed! Goa celebrates Holi with much fanfare and while in Panaji most folk got together at the Azad Maidan to color themselves in the colors of the rainbow. Traditionally, red gulal is auspicious to smear one another and the adults do it, but the children have a gala time with colored water and bags of colored powders …chasing one another shouting "Happy Holi!" Most children are gifted with the prized pichkari in hand to "shoot" colored water at their innocent or not-so-innocent victims. The Holi festivity rises to a crescendo by noon-time and there's color in the air but soon everyone wearies and the children are scrubbed clean and offered gujiya (crescent-shaped dumplings stuffed with sweet semolina or mava) to feast on.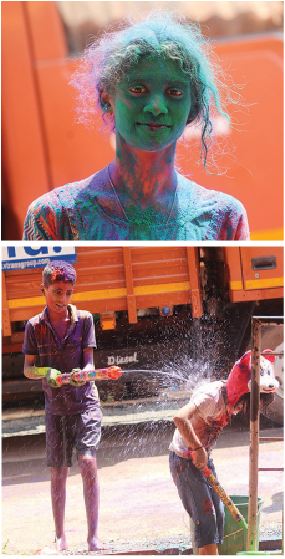 The mithai shops in Panaji offered golden jalabi too along with gujiya but to this correspondent's knowledge only Mithai Mandir offered glasses of chilled thandai (50 per glass) for thirsty Holi revelers to drink, thandai is the traditional milky drink spiked with bhang or marijuana and smattering of saffron and dry fruit…delicious to drink and if overindulged in one may get inebriated enough to open up and have some fun during the Holi revelry! Rasoda too which arrived in town recently offers some delectable sweets of Rajasthani vintage…gulab jamun (20 per piece) sell out quickly along with the variety of ladoo (including methi and dink ladoo)! Puranpoli, the soft, sweet roti stuffed with dal filling, is of course a hot favorite with many on special days and very many stores in town stock up on these courtesy freelance home-based vendors.
A photo essay courtesy our staff photographers: Tara Narayan, Mala Patel & Bindiya Vaval Naik