A round-up of pictures to say it all! Urban farming around about Panaji came to the rescue of Ponjekars down the Taleigao pavements…women vendors sold off veggies in double quick time in morning and evening hours. When Goa Sahakar Bhandar opened folk queued up for whatever they could get by fresh apples and vegetables. A splash of colors – marigolds, for Rs50 take the whole heap! Local bakery did brisk business with their pao, undo, poie and some enterprising ones also retailed fresh milk sachets for a price! Local Taleigao farmer Francis Almeida replied to a query, "Everyone selling at Rs50, I'm selling this snake gourd at Rs40!" Sunflowers catching the morning sunshine…a treat for the eyes. Fresh fish for sale outside Madhuban housing complex. By the second week quite a lot of fish was selling out at Panaji vantage points (if only someone told you about them!)
By Tara Narayan
HONESTLY, these homebound days courtesy pandemic coronavirus infection in the air and current 21-day lockdown…I find I'm thinking of food max of the time. Don't ask me why! I suppose after a few days of shortages all around and long, long queues outside the approved stores (Goa Sahakari Bhandar, Vishal Mega Mart, etc) to retail essentials of daily consumption down or up town Panaji, people have suddenly become conscious of how important food is for primary survival.
Suddenly it's like the laws of survival of the fittest are playing tunes anew in our minds and what will happen if the world goes for a toss with half or more of its population gone with the wind in the arms of this China-bred novel coronavirus in China, Italy, Spain, Iran, New York…India and national capital Delhi where Chief Minister Arvind Kejriwal is doing his best to stop the mass exodus of daily wage labor from going back to their villages — where Count Coronavirus a la Count Dracula vintage stories may have its way with His most innocent victims, but forget all that.
THIS is about food and eating at home during the days of corona virus in town! What's saving most Ponjekars I'd say is the now disappearing pocket farms in the vicinity of Panaji, Caranzalen, Taleigao, Merces and around about…where humble folk are still continuing to farm their small fields with local vegetables like Goa's piece de resistance large ladies finger, sweet potatoes ivory white and magenta, piles of rotund purple aubergine, slim long or yardbeans (val in Konkani), whitish green snack gourds ("podvolem"), cluster beans (beloved "chidki midki" with which my mother used to make gavar-ni-dhokli (Guju savory pasta comfort food to be eaten topped with sesame seed oil, chopped onion-green coriander leaves-lemon juice).
I also like to cook whole cluster beans in cup or two water and then give it an ajwain-garlic tadka before seasoning with masala from my masala box – dhania-jeera powder, turmeric, red chili powder is optional and finally stirring in curd for a light khatta-meetha flavored gravy, a gavar-nu-shaak to go with evening moong dal kichdi…desi ghee atop it all). One also sees a lot of large-sized bottle gourd which is ideal for all soups.
FUNNY or not funny. Most of the early morning and late evening local urban farm veggie sellers (no middleman) are currently making a killing with their green organic produce, quoting everything at a startup 50!50 is like a catch price but one occasion I paid 20 for two medium-size carrots and50 for a handful of tender green baby mango, the first green mangoes of the season (mango trees these days are sporting their early green bounty tucked away here and there in town Panaji).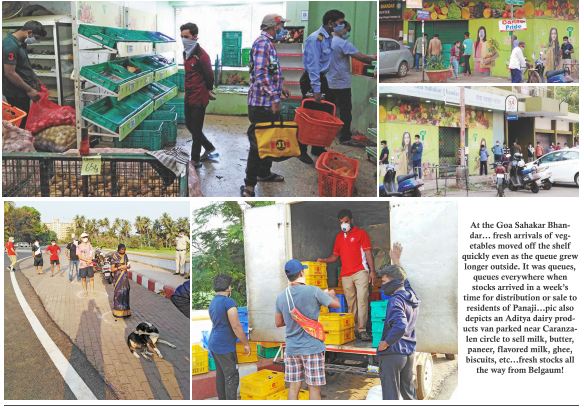 I peel and grate a green mango, peel and grate an onion…mash in grated jaggery, season with toasted jeera powder, sea salt for taste – and serve as a relish of the most agreeable kind to tuck into a phulka and enjoy. It's usual to add red chili powder but I don't because no chili is tolerated in my household. This is a kind of Gujarati early season fresh green mango "chundo" and I'd say rich in natural vitamin C (always up your vitamin C if you're feeling sick, sneezy and down with a slithery cold-cough, but not corona virus!). Fresh green instant mango "chundo" is a prelude to the classic sun-cooked mango chundo later in the green mango season when big green mangoes like "ladvo" and "rajapuri" are available in the market.
In Goa I'm always looking for its thin-skinned lemons, sometimes orange in color within. Use the skins to grate and sun-dry or cool freeze into a zest for flavoring chutney, soup, salad, whatever you wish, for a delightful citrusy aroma and flavor. If you're making a curd raita at home using grated cucumber or carrot or steam-cooked dudhi or beetroot or even boiled potato…apart from your seasoning of choice, also squeeze in fresh lemon juice for that je nais sais quo flavor. I'm a lemon afficianado and these days I'm paying 10 for one Goa nimbu to Panaji's urban farmers, bless them! Life without them would be sooooo….ooo colorless! Another veggie you will find with them in plenty is ivory white or daikon radish (keeps liver ticking happily) which the Japanese so love and will include in their sushi rolls….grated radish makes for great paratha and lend a delicate flavor to consommé soups, make radish soup stock if you like. These difficult and troubled times I paid40 for three radishes with leaves, which I intend to chop fine and lace in a paratha or two while binding the dough. Do you know how yumilicious (coining a new word here) chopped fine greens in paratha? Add greens last of all while binding your atta-based dough — be it chopped fine green coriander or mint or dill or mustard leaves or tender radish leaves…or whatever else you fancy, spring onion, Mediterranean herbs fresh or dry, I love finely chopped arugula in my paratha which these days I'm shallow frying with physically pressed rice bran oil just because I'm out of olive oil!
I know actually all oils are contraindicated for heart health, but I think my heart will get away with the occasional cold-pressed ghani oils like coconut or olive or sesame seed oil and ghee atop hot rice. For some reason I've fallen for rice bran oil because it burns the brightest and longest in my evening oil diya. Other quintessential vegetables to look for with the Panaji-Taleigao urban farming folk…yellow pumpkin (bhopla yellow), ash gourd, and there all the greens of poiche bhaji, valche bhaji, tamdi bhaji, drumstick leaves bhaji, chawli bhaji, palak (regular spinach) but also look for Ceylon or water leaf spinach with its slight sour flavor…and so much more if only you look!
Hey, even the well-to-do are engaging in urban farming nowadays to stay fighting fit. More urbanites are going crazy about farming in front yards, back yards, terraces, balconies, whatever patch of wasteland they find which they can take over…yes, I'd say that's the only way to go about respecting Mother Earth, keep her…er…organic, fertile, profoundly attired with green and colorful veggies, fruit, herbs, whatever defines the real good life of drinking and eating to live. Corona or no corona!