May is for mangoes and here are the familiar mangoes of Goa… mankurad, afoos, totapuri, bishop, gota and many more varieties; small pleasures in Panaji is to see a mango tree loaded with green mangoes… anyone for mango sasaav, miskut, chepnim?
By Tara Narayan
Strictly speaking you will agree with me that May is the month for mangoes but mid-April onwards all the or kasha aam (raw green mangoes) start coming into the market, followed by the roll-call of mango ripe led by the much fancied Goan mankurad which sells at premium prices up to Rs2,500 a dozen (one quote I heard this coronavirus season)! With Goa being more or less a "green state" vis-à-vis the coronavirus epidemic people are back on the streets with or without masks on. And they're buying mangoes, the country's much loved and prized fruit.
Of course before the mango ripe season sets in there'll be all these folk seeking out mango trees sporting fruit down quieter streets – on a free-loading spree! Especially for the baby green mangoes, some have long sticks with a cutter at one end while others check out their skill at hurling stones (dangerous this but the coast is usually clear).
In Goa they do a whole lot of things with green mangoes for pickle season precedes the gorging on ripe mangoes, dulcet cubes of Ratnagiri alphonso or afoos (the most ideal mango to cut for elegant eating at table and still traditionally laced up with fresh cream, make it top of the milk cream whipped up a little, has a fresher taste which tetrapacked or canned cream doesn't)…I usually wait for May before buying a few mangoes to make mango ras-rotli or just serve as mango raita, very nice in home-made curd.
Thanks to the coronavirus lockdown I've started making curd at home anew and will continue to do so to reduce my load of waste packaging, I swear one of these days there will be no plastics in my kitchen at all! But to stay with mangoes green one may turn the small-stoned greens into chepnim by washing, drying and packing them in sea salt in a tightly packed baini; removing them in storing them once they're just rightly pickled – I always say Goa's chepnim mangoes can take the place of green olives any day. One may also buy them in the market with some vendors who do chepnim mangoes but make sure they are fresh stock and not last year's stock, they should slice firmly and be lightly salted once washed and cut into slices to serve with fish or prawn curry rice, or as a cocktail snack; I love to serve them with my dahi bhat. Chepnim in several versions and one much loved version is whole mangoes packed with pickle masala and strung tight before seasoning for a few days. Some folk just get a good fenugreek-mustard-red chili masala to smear on fresh mango and that's it, serve with roti or rice.
(Sigh) I'd love to make the Guju chundo (grated rajapuri or ladvo green mangoes, grated, salted, sugared and set out in the sun to cook to one-string consistency before the masala goes in. Some even make cooked chundo tempering it in oil with whole garam masala of cinnamon, cloves, big cardamom; but in this case you may get the same flavors with peeled, sliced or cubed green mangoes. In cooked mango you may also add jaggery if you wish, instead of sugar, lends a more robust flavor.
Homes in Gujarat make their yearly stock of chundo and other mango pickles, neighbors get together and help each other out (much in the manner papad is rolled out and sun-dried for storage). Of course the pickles including the popular chundo is retailed in stores now in Ahmedabad, Baroda and elsewhere in big metros like Mumbai where there are Gujarati-owned superstores like the Chedda folk in Santa Cruz and Vile Parle East and West…one time I used to buy chundo from Rajesh Stores in Vile Parle (East) which is good, but nothing like the quality mother dear made while still around. At one time women had all the time in the world to make pickles and other annual condiments to pep up a meal as meal accompaniments, important accompaniments, I had an uncle who would regularly enquire about "where is papad, papdi, chundo, "marcha nu sambhariyu" and etcetera.
And a hot favorite in my now scattered family (if not gone with the wind, older generation all gone with the exception of one uncle who retired to the US of A in his dessert years) was salted and "lemoned" amba-haldi (creamy mango ginger and fresh turmeric diced or julienned or cubed or chutneyed)…so yummy that a week's stock would varnish with hot ghee-laced rotli in a day or two.
One may find fresh turmeric in the Goa market but I rarely see the creamy "mango" ginger called amba-haldi. Needless to say all these freshly made relishes of the season offer much goodness to boost up your immune system during the hot summer months.
COMING to mango ripe they're pretty much in the market these days – mankurad, alphonso, pairi, totapuri, gota (the wild little mangoes so useful to make mango sasav) and more. The sky is the limit when it comes to mangoes in Goa and I know farmers who harvest dozens of varieties to retail in organic produce markets which are in plenty now up north or down south Goa. The more organic you eat the better your homeostasis naturally, which is everything to do with body beautiful's immune system. The better one's immune system the better one are protected against viruses and bacteria of the natural and unnatural world!
AS A certain Indian American scientist Dr Shiva Ayyadurai making waves and going places in American politics currently, says so eloquently, we are only good as our immune system so don't let anyone tamper with it with vaccines if you can help it – far better to ensure that you've got vitamins D, A and C in your diet. Life is about truth, health and freedom and not money, money, money ad infinitum. Listening to this Americanized Indian teacher most extraordinary these days I'm utterly fida over him and wish he would come back and chase and clean up Indian politics instead of American politics….not a chance, what has India to offer him? What has America to offer him? A lot of Americans are fida over him and will vote him as senator of Massachusetts one of these days and good-luck to him.
The goodness of mangoes…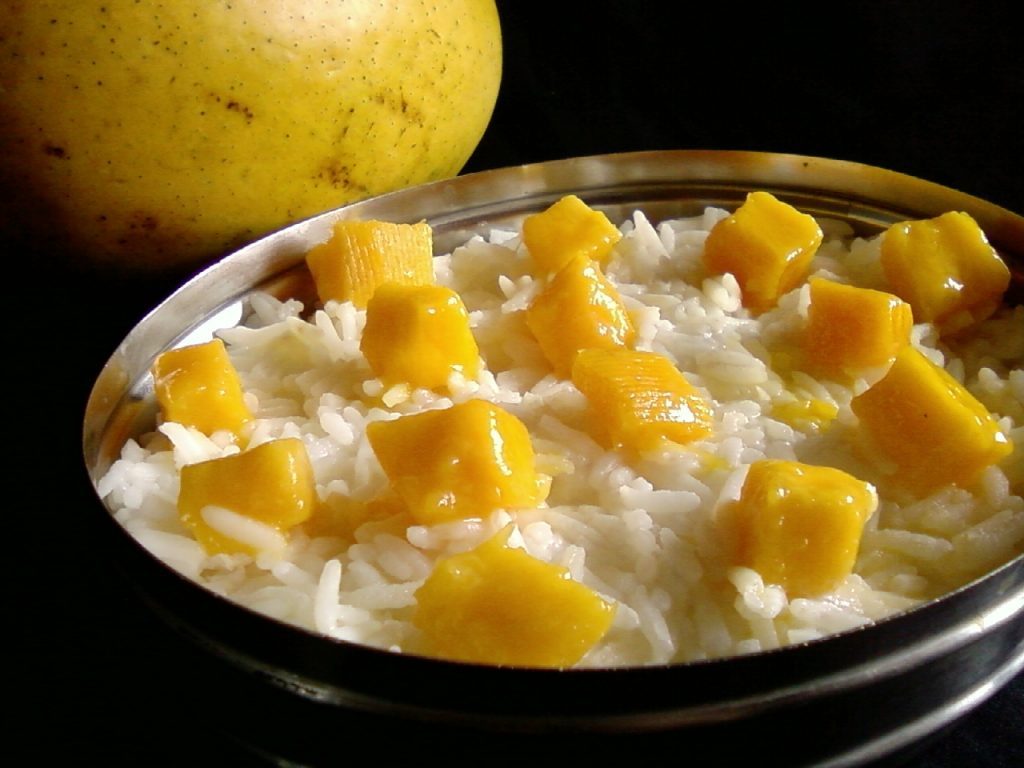 ITC GRAND TEMPTATIONS!
By Our Special Correspondent
Not all the multi-starred hotels and resorts have been taking it easy during this lean period of lockdown for the cause of minimizing the spread of the novel coronavirus epidemic. At the IT Grand Goa Resort & Spa they been designing a signature culinary heritage menu which one order for a take-away! Describing it as a "Flavours, A Responsible Dining Experience" initiative the menu has been "crafted with care and handled with utmost hygiene to ensure wellbeing, the mindfully curated menu ensures unique food experienced in the comfort of one's home."
The menu offers a range of heart-warming preparations which may be ordered for takeaway from 11am to 2pm daily. But more than this the ITC Grand Goa has come out with an e-cookbook offering details of some of its secret all-time favorite recipes! We reproduce herewith some of the recipes…order or make at home is the name of the game.
JOWAR ALSI LADOO
Gluten-free
INGREDIENTS:
Jowar flour: 2 cups (sorghum)*
Jaggery powder: ½ cup
Pure ghee (clarified butter): 1½ cup
Almonds, crushed: ½ cup
Cinnamon powder: 1 tsp
Multi-seed mix: 4 tbsp
(pumpkin, melon, and flax seeds, roasted & coarse ground)
METHOD:
Heat ghee in a heavy-bottomed pan, add jowar flour and brown
over medium flame. Cook till it's a toasty shade of brown, without
the flour turning dark brown or burning.
Take it off the fire and fold in other ingredients.
Shape it to medium-sized dumplings and store it in an airtight container.
HOMEMADE GRANOLA
INGREDIENTS:
Figs, almond, raisins, dates: 1 cup; Oatmeal: ½ cup; Butter: ¼ cup; Honey: 4 tbsp; Chocolate (optional): ½ bar, roughly chopped
METHOD:
Roughly chop all the nuts and place them in a wide bowl.
Lightly toast oatmeal for ten minutes in a heavy-bottomed pan
and add it to the bowl.
Melt butter while mixing in honey, and pour over the mixture. If using
chocolate, mix in at this step. It will begin to melt, giving the mixture a rich, gooey texture.
Bind this mixture together and roll it out between two butter papers or cling film to desired thickness (approx. ¾ of an inch).
Cut into equal sizes and store in an airtight jar to use as a yoghurt topping for breakfast or as a mid-day snack.