Appeal to Chief Minister Pramod Sawant: Please don't make a mockery of promoting farming! Affected Taleigao farmers and activists Xavier Almeida (advocate), Pundalik Raikar (advocate), Cecile Rodrigues (activist), Camilo Fernandes (farmer), Robert Falcao (farmer) and others had a meeting in Panaji to protest against the illegal takeover of fields for construction in Taleigao. They say on one hand the government talks of promoting farming and on the other it supports its politicians and building lobbies
It's an old story and hardly new to most of us. Most of us have got into the habit of turning a blind eye to it. But this time in looks like there is some spark of life in Taleigao for small tenant farmers and sentimental bhatkar are determined to resist any further takeover of their ancestral fields to further the ambitions of a politically linked Panchayat to acquire paddy fields to build itself a new Taleigao Panchayat Ghor. Perhaps along the lines of the existing Taleigao Community Hall which some residents say can serve as the Panchayat Ghor, but it has instead become a commercial enterprise like no other. Although the story being spread is that the Taleigao Community Hall is a white elephant high on maintenance and low on profits, if that is the case perhaps Taleigao citizens may ask why?
Attend any of the Taleigao Panchayat meetings in the older, much ramshackled but far more interesting and historic Communidade Building (opp the Taleigao Church) and after the shouting abusive fights across the chairs…you will come away with your ears ringing with fire and déjà vu! These are the sad meetings of a civilized polity and citizenry?
Panchayat meetings leave a lot to be desired. Of course for years now there's been no one recording minutes of the meeting although this is a statuary requirement. From the sound of it Panchayat members give a damn if no one is educated enough to be given the responsible job of recording the minutes of a meeting. Such is life in Taleigao, laughs local advocate Pundalik Raikar, "I got so incensed once that I even wrote out a cheque for Rs20,000 for someone to do the job of recording and maintaining minutes of meetings!" But it is a lost cause. The voice of might is right rules Taleigao rather than any civilized preservation and observation of laws to do with land usage and construction rules which are legal tender.
Taleigao has a reported population of 25,000 and was originally managed by a fiefdom of nine Gaunkar families (original landlord families with considerable farming lands which tenants farmed) in good times and bad times as currently. Needless to say Babush Atanasio Monserrate comes from one of the original landlord families owing vast lands which he has inherited courtesy nine doting aunts or so one hears. He is surely the biggest landlord in Taleigao. Many consider him godfather or rather godfather don of Taleigao, presumably a dangerous man to cross swords with. Mr Monseratte himself has been heard joking that he is not all bad. He has a few enlightened good qualities – which is true if you witness how minority and migrant voters swear by his kindness of heart and soul!
Babush Monseratte is as loved as hated. Other wealthy landlord families of Taleigao regret the cursory manner in which he has played a key role in the haphazard and selective development of Taleigao, a rich agricultural village turning into a slum-ridden township. He uses his political power and links to acquire low-lying uncultivated paddy fields for the development of grand roads so that his coterie of friendly builders may put up monsterous gated colonies for the rich and privileged of Goa and outside Goa.
This is of course part of the ongoing story of Goa abandoning agricultural lifestyles for urban lifestyles. However, there are a few landlords willing to take on the Taleigao Panchayat (controlled by Monseratte and his cronies) to court to protest against the time and again alleged manipulated, illegal takeover of agricultural fields for public causes or to facilitate development of the concrete jungle kind (never mind that infrastructures of water, sewage and power may be terribly rudimentary and ad hoc, dependent on how much one can get away by breaking the rule book).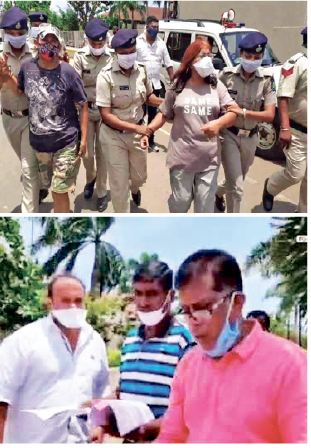 Against this background the latest flash in the pan of development and progress Goan-style which has put tempers on the boil anew in Taleigao is a May 30, 2020 evening incident. It saw villagers, farmers and their advocates turning up to protest against truckloads of rubble being dumped into a paddy field just next to the present Taleigao Community Hall (for building that long-pending Taleigao Panchayat Ghor). For their silent protest against a forcible takeover of farmers' fields they were bundled into a police van and taken to the Panaji police station for FIR reports to be filed against them and eventual release on bail. The matter is in court now although the said field is going full steam ahead for construction.
The Taleigao Panchayat Ghor (Communidade-owned actually) is actually a dated, unresolved matter although Panchayat spokespersons say it has been resolved. The litigating farmers say nothing has been resolved but the Panchayat has in mala fide ways acquired the fields bearing survey no 53/5, 6, 7, 10, 11, 12 for immediate construction and that to during the monsoon season (at the height of the monsoon farming season, such an absurdity in itself). The acquisition of the fields have remained on hold for several years and protesters say it's all based on ill-acquired permissions and NOC certificates.
But suddenly to their shock it looked like everything was okay and the dotted lines signed for construction of a Taleigao Panchayat Ghor, which is any case is so superfluously required. It's the usual arm-twisting to grab agricultural land for construction, another case of trampling over the legal rights of land owners and tenants. It happened in the past, it is happening currently again anew.
The farmers are affected and they are valiantly determined to put up a fight led by attorneys Xavier De Almeida and Pundalik Raikar, who themselves are strongly rooted in the history of urban development in Taleigao. At a meeting held in Panaji on June 6, 2020, various speakers vowed that this time they will stop such retrogressive development. They pertinently ask, why should perfectly fertile, productive farms give way to buildings – just because the farming community is generally speaking voiceless and too busy eking out their small sustainable livelihoods to keep their home fires burning? With more and more chunks of agricultural land giving up the ghost it is a sad day. When the last field and open spaces of Taleigao turn into yet another concrete jungle what will there be to look forward to except dirty air to breathe, dirty sky to look at, and dirty water and food to eat?
It's akin to wishing upon the aam aadmi of Taleigao and the nearby areas the evils of stress, hypertension, diabetes, heart disease and last but not least of all cancer – the evils of which proliferate in the quality of air, water, earth and food we eat, along with the kind of lifestyles we're reduced to living. Hardly enlightened urban lifestyles given the kind of obsolete, disastrous and long term politics our Indian politicians and business community want to practice and inflict on lesser mortals. If a pandemic like Covid19 comes along, who pays the price? Naturally under the circumstance those who live cheek-by-jowl in come lately horrible hot concrete matchbox flats on which some seasoned and experienced builders have made a killing to rejoice over!