DAWOOD IBRAHIM CRIMES: Recently the country's best known crime reporter, Baljeet Singh Parmar, did a zoom series on his encounters with mastermind Dawood Ibrahim
The media can turn tragedy into farce or so opines Mumbai-based roving crime correspondent, BALJEET PARMAR.
THERE is no bigger crime than trivializing a tragedy. Unfortunately, that's what has happened in the Sushant Singh Rajput case. The facts are being traded as farce. The true tales are being twisted. Reason and logic being thrown aside. Cops are playing hide and seek. The media is creating a hype and the gullible public is bring fed the pulp.
And amidst all chaos and confusion every-seems to be all at sea.
The basics of crime investigations start with the actual crime, the motive behind the same and finding out the truth through evidence sustainable in a court of law.
Let's start with the actual happening. A young and successful actor, considered an outsider in the well- knit but largely vicious circle of powerful cartels, makes a kill against all odds. He gets name, fame and fan following that follows a hero who gives hits in a short span of time. As a normal human being he make friends, courts girlfriends, enjoys parties and relishes the limelight.
He hires secretaries, servants, maids, drivers, accountants and bouncers to run his house and business.
He lives in a rented duplex flat in a posh high-rise standing out in an upscale locality.
Amidst all this make-believe garden of Eden he has a room of his own where behind closed doors he enjoys his privacy. Whatever he does behind those four walls is his own business.
Suddenly he finds that some of the big projects offered of him were being shelved dye to various reasons. Corona being just one.
He has already committed himself to several expenses which can't be trimmed all of a sudden. His friends circle shrinks. The demands by family remain unfulfilled.
He starts getting disturbed. The patience level goes below normal. Starts looking sleep. Loses appetite.
Here again, he does what any other person in his shoes would do. He seeks medical advice. Consults soothsayers and psychiatrists, and mental health experts. Nothing wrong with that. They prescribe some medicines and others prescribe mantra.
To be away from the set environment he decides to travel with his girlfriend to Italy, France or wherever he wanted to go in search of peace and solace. No one compelled him to spend so much money and time with his girlfriend or male friends. As a grown- up adult he was at liberty to take his own decisions. He was still hopeful of getting new assignments and indeed, got a few, including one where his girlfriend too was offered a role.
Once back home he again hits the wall. There were five specialist doctors and psychiatrists treating him over a long period of time. Nobody could have ever entered his mind to see what was happening there. No one was privy to thoughts troubling him. He was on his own. His own master.
The one fine morning he takes a decision. Good or bad. only he knew.
He locks his door from inside and after a few hours is found hanging from a ceiling fan. Dead forever.
He was Sushant Singh Rajput. A non-controversial actor of much fame. Gentleman to the core. Down- to-earth sort of guy. A loveable chap. Heartthrob of many and darling of the Bollywood crazy masses.
The news of tragedy spread like wild Amazon fires. All were stunned. The gullible were not able to digest that he committed suicide. A natural human reaction but devoid of rational thinking.

Now let's visit the scene of crime, as it is known in the legal parlance.
The bedroom. SSR comes out in the morning and asks for some juice and gets it. He locks his bed room from inside. No one could enter the room thereafter. By noon the other occupants of the flat find something amiss and repeatedly knock at the door but there is no reply. They call a locksmith who is unable to open the same with a duplicate key. Finally the lock has to be broken. Once inside they find the body of SSR hanging.
The pull him down and inform the cops.
The cops arrive and inspect the crime scene. They found that there was no forced entry into the room. All windows were well secured from inside. They have no evidence to suspect a foul play.
The body is taken to the hospital where an expert panel of doctors conduct a post-mortem. They find no ante-mortem or post-mortem injuries on the body. The only visible injuries on the neck were due to hanging. While the viscera and blood samples were sent to the forensic lab the body was handed over to the family. The report mentioned the cause as death by hanging which in other words meant suicide.
The initial lab report opined that there were no traces of psychotropic drugs or poison in the blood of the deceased. Thus, ruling out the possibility of murder.
A case was register under Accidental Death procedure and no First Information Report was registered as no one claimed any foul play leading to death.
It is when the media stepped in to inflate their TRPs. The boom holding TV journalists turned crime experts overnight. All sorts of allegations were levelled against the cops. The tragedy was marketed as a highly saleable commodity.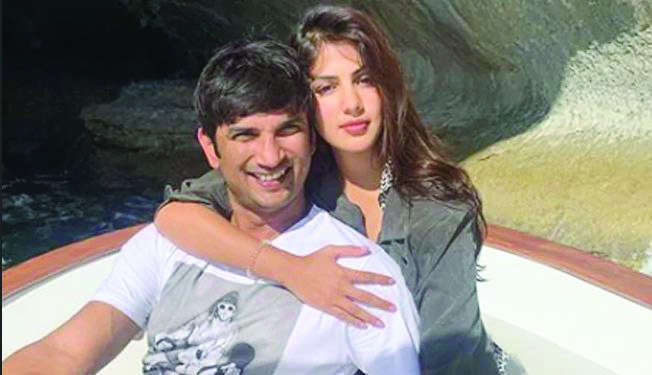 The wily politicians too jumped gun and joined the bandwagon. It was now an issue between Mumbai and Bihar cops who registered an FIR in Patna. A controversy was created and the Supreme Court finally handed over the case to Central Bureau of Investigations.
The CBI team arrived in Mumbai amidst all fanfare. The media followed the Pied Piper like proverbial rats. They believed that the CBI carries a mythical magic wand and would unearth the imaginary hidden angle to the crime.
Till date the CBI sleuths have not uttered a single word but the media is displaying the list of questions put to all those people being summoned in connection with the investigations. The main victim of the media trial and public hype has been Rhea Chakravarty, a comparatively unknown entity till recently. She has been accused of all and everything accept that she supplied the hanging rope to SSR.
It is almost a week that the CBI walked in but is still groping in the dark!