It was to Marriott, to Marriott once again after all the coronavirus lockdowns and for the first time in seven months I think. Don't ask me why but for some reason I always end up at the Marriott at Miramar beach for some birthday or another, some occasion or another, even when friends are in town they call up the hubby and ask if there's a place they can celebrate and the hubby says, "I have this club coupon book and I can part with this discount or that discount offer…" For some time of course we've been rarely going up market five-star for celebration and I'm never in the mood no matter what the occasion (that's how troublesome I'm becoming) but when a dear friend says come on, come on…I guess the Marriott at Miramar has many enchanted memories for me. I mean how many friends' kids birthdays we have celebrated here.
And there was one more time for my umpteenth birthday and why not, after all it's Panaji's first five-star or six-star or seven-star, I don't know how many stars Dattaraj Salgaocar's hotel has caught up with but I'm always happy to go there to catch up with something or another. Actually the last time long, long ago when I was there I'd spied these fabulous white lilies by the old swimming pool…but didn't find out more about them or even take pictures.
Good times, bad times, the river fronting Marriott hotel and spa is an old favorite with me in Panaji, having spend many occasions either at its Wan Hao, or Only Fish, or the spacious restaurant Waterfront which we booked this time for a birthday. Much of the security is descrete now and the grand lobby is as grand as ever overlooking the Mandovi in the near distance. It's good to know that the five-stars are buzzing again mercifully and when a few friends say are you celebrating I say I'm not but the hubby is!
We go for a few hours of catching up with what the good life was all about. They have these alcoves which offer some privacy but not isolation and staff at five-stars are always on the go but I look for familiar faces. The Marriott I think still features the most generous buffet  and I was overjoyed that this time around it featured some inviting dahivada – basic dahivada which one could fix any way one wanted, a plateful full of dahivada which has not been sprinkled over with too much chaat masala is always welcome, just some tangy tamarind chutney. Dahivada are very cooling and I always look for them. The perfect dahivada is hard to find but I'd say whoever the chef who prepared these that evening did a superlative job.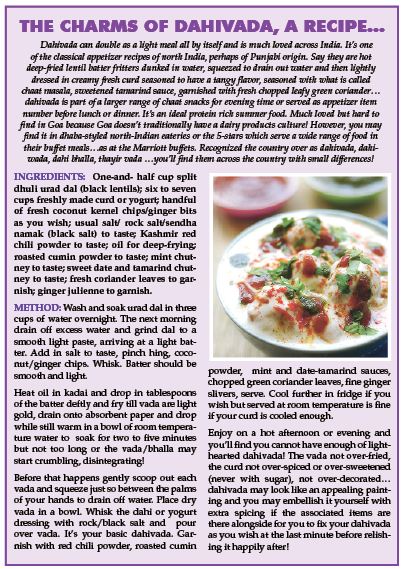 There were some ten of us and most all of us relished the dahivada and capsicum-onion-paneer relish, as other things if one went and looked instead of asking the ever obliging Gajendra to get me this or that. I prefer to go look and take what I feel like …usually the Lebanese appetizers which one may make a meal (hummus, pita bread chips, etc), the colorful platters of fruit also invited but I after the dahivada I stayed with some fried fish (mahi fish and not basa for a change) with tatar sauce, sweet basil-laced pilaf, lots of prawn crackers…I always love maa-ki-dal and phoolgobi sabzi; the non-vegetarians enjoyed the mutton and chicken recipes with tandoori roti and garlic naan. There were so many sweets at the dessert table that a friend said before she has no more space left in her stomach she will feast on the sweets before the main course and not after – I mean who says we must eat sweet somethings after meals and not before or in between a meal? We are not Western oriental gentlemen or gentlewomen, are we?
With me it's the reverse, I eat enough to feel full and then there's no room left for the sweets, I may happily skip the dessert goodies or play a bit with them here or there and in any case there's always someone eating double or triple portion for me to remind me how not to eat the good things of life! The only sweet something I'm pining for these days is my old home town Penang's "ice-kachang"—a hillock of very finely shaved ice dolled up with sarsaparilla and rose syrup, sprinkled over with Carnation evaporated milk, within the mesmerizing aromatic hillock find dollop of cooked corn and various jelly ribbons, heart of palm, bits of grated candied nutmeg, a few more treasures to savor.
I always say if you haven't eaten ice-kachang or ais-kachang as they call it these days out in the food courts of Penang and Malaysia, you haven't lived! I don't mind saying goodbye cruel earth after paying homage and relishing an ice-kachang! Both to live for and also to die for.
But this is to say I think there's nothing to compete with the charms of the Marriott's Waterfront restaurant, it offers the simply best buffet around in all Panaji and also because I like the intelligent service, not cloying but thoughtful…when a senior friend goes alone to the buffet spread and I'm a little afraid he or she may trip, I discretely request one of the young service staff here to follow and be alert, offer to hold the plate while the friend is making a selection at the vast buffet. Nobody likes crashing plates on the floor and a lot of embarrassment and profuse apologies.
SO it was one more birthday gin and tonic with more fresh lemon juice on the side for me and afterwards all insisted the two celebrating birthday girl and birthday boy of November 17 cut a simply delicious light-hearted chocolate cake – which we did without the fuss of blowing candles. Actually I like the idea of blowing off candlelight sailing on a wish! I mean aren't we both like candles blowing in the wind anyway and I am also burning the candle of my life at both ends currently…when I burn out I'm running away to live in an ashram in the mountain of India, at least that's what I'm looking forward to these days.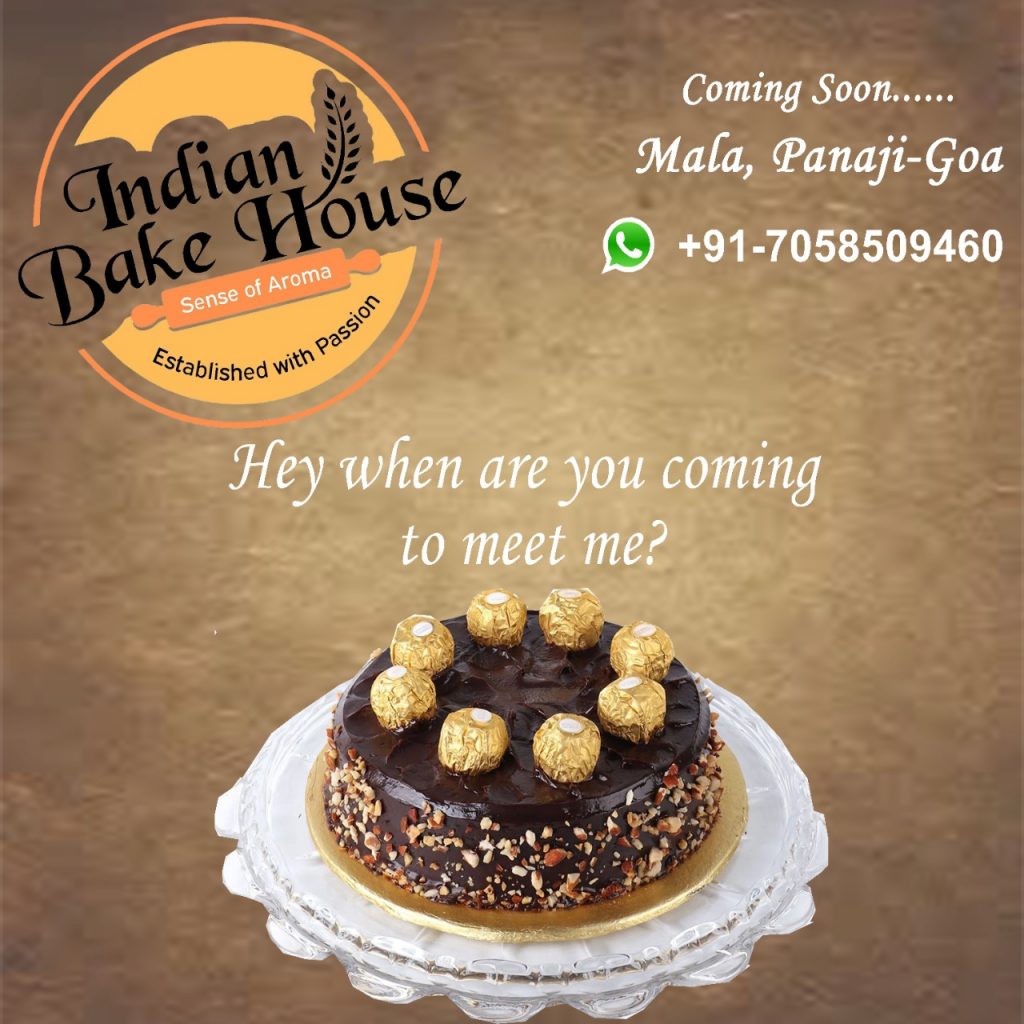 (Sigh) It was another memorable birthday, more lowkey. But may be I'll go the Marriott once a week or once a month at least for all kinds of reasons from the mundane to the sublime, although I need a goal and purpose these days to rise from the Covid-19 dumps. Presents I got! A beautiful bag, some terribly up market coffee and pretty slender boxes of rice, soy, ginger crackers made in Thailand, a bottle of my favorite orchata syrup, delicious almond syrup one has to fix with 20% syrup, 30% milk, 50% water…but I like to pour some orchata in my coffee to say cheers occasionally. I've got a new handbag and of course I'm so spoilt rotten in life I'm gently reminded I should start giving away excess baggage immediately, otherwise I won't be able to retire happily after.
There is just too much clutter on the table where we have shifted home recently. Hey, I've got a window full of jackfruit tree and several apte trees in cloudy pink bloom (the money tree of Maharashtra for this tree's leaves are traded as financial gifts). I already love to wake and go to  sleep before these trees and hope I never have to leave this new home for some time at least. Okay, another birthday is over with and too many memories to brood over, good, bad and terribly blue. Indulge me.
IF INTERESTED: And because I love to give an idea of prices these post-Covid-19 lockdown times a Marriott buffet for the night is priced at Rs1,500 and lunch is at Rs1,200 (it definitely helps if you've got a Marriott Club membership and it is a Tuesday which is members day and they get 50% discount)! Sorry, the taxes added on are more or less a steep 30%.
Hey, liquor is extra and this always inflates the bill, remember that. I, of course, like my Blue Sapphire gin because I'm hung up on the bottle which is like blue sapphires…also gin because it reminds me of juniper bushes up in the mountains of the Himalaya, real gin is flavored with the scent and flavor of juniper berries.
This time I noted (despite 60% of India in the economic doldrums further down the ladder) there is money around and the luxury hotels are filling up once again; and everyone in Mumbai, Delhi, Bangalore and elsewhere want a second home in Goa to run away to from their big city urban woes and blues.
But please keep my Goa green and safe and may it be spared cutting down of forests and double-tracking of wildlife sanctuaries of the Western Ghats. If this idiotic government continues down the road to perdition as it is doing currently, I do fear that entire sub-continent will get a further boost slipping under the waters of the Arabian sea and oceans down south. I won't be here to see it happen but it will forever after be remembered how an antedeluvian passé government helped push the great country of Bharatvarsha alias modern day India into the waters of perdition. No point saying Har Har Mahadeo then!
WHICH reminds me that almost all my foodie friends have taken to catering for this, that or the other and it's because they need to do it. If you're looking for real good garam masala, Goda masala, dhaniya (coriander seeds) powder, jeera (cumin seeds) powder and other masala please check out what my friend Rajashri Dikshit has to offer, she does good clean fresh masala, call on 96233 12377. She does the masala only on order and that's the best way to do it of course. I'm forever looking for a great chaat masala and pomegranate choon to stuff into aloo paratha Bihari-style like my friend Shakun Jha used to make them so long ago in Mumbai that will forever be Bombay for me.