By Our Special Correspondent
DIWALI celebrations are ushered in by the burning of the effigies of the infamous demon Narkasur in the wee hours before dawn and flocks of Goans turn up to watch, cheer and dance over the symbolic victory of good over evil! Capital smart city Panaji witnesses any number of Narkasur effigies which are mostly sponsored and patronized by the various benevolent politicians who have earned a reputation for themselves as godfathers and godmothers of the people.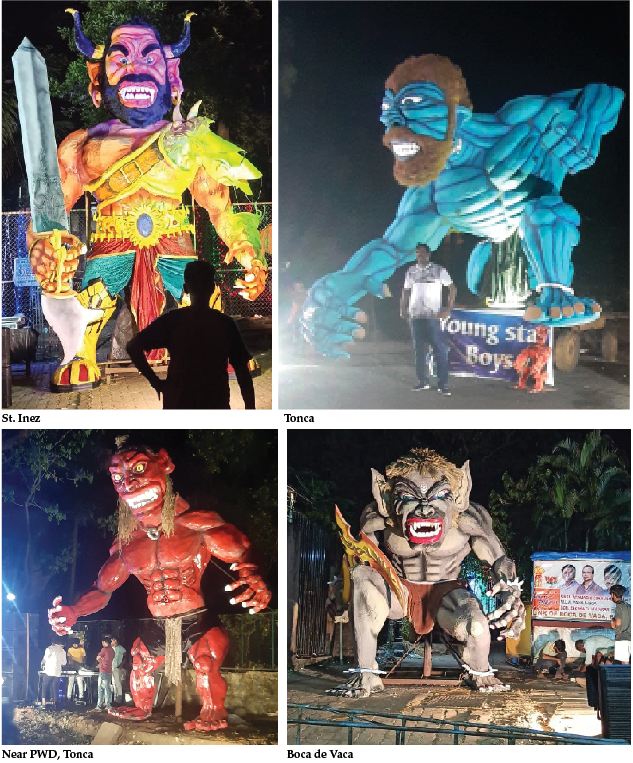 So feverish is the preparation for the Narakachaturdashi effigy burning coming to us from hoary tradition that it takes precedence even over Diwali celebrations. It's one of the five-day Diwali highlights when groups of young people create some of the most astonishing Narkasur effigies of their imagination and then they are set alight to burn post-midnight, this year in the wee hours of Saturday morning, November 14, 2020, in Panaji. Diwali pre-dawn hours really or just before our hero of the Ramayan, maryada purshottam Lord Ram returns with wife Sita to his home town of Ayodhya after having won his battles against demon king of Sri Lanka, Ravana and his fellow friends. Rememember how he had fancied Sita and wooed, trapped and abducted her during the royal couple's banishment of 14 years (vanvaas) in the forests of the Indian sub-continent of mythological yore? Every Indian child today is familiar with the Ramayan and Mahabharata stories of adventure, risky daring-do and evergreen morality!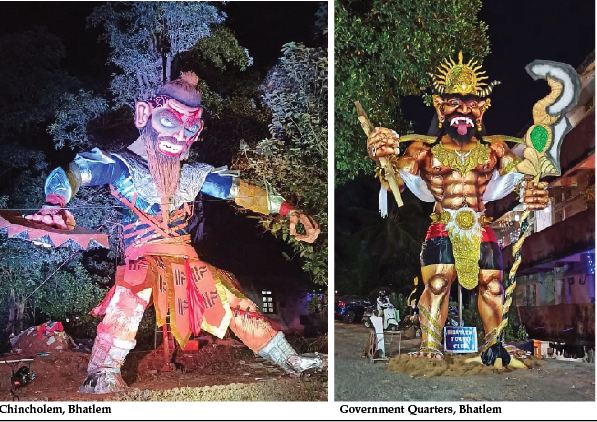 But Narakchaturdashi primarily remembers the Lord Krishna victory in making short work of the demon Narkasur. And nowhere in India is the demon Narkasur story enacted in effigies with as much fervor as in Goa. In Goa Diwali day itself plays second fiddle to the burning of the Narkasur effigies in the pre-dawn hours entering later into Diwali festivaties. The Panaji Narkasur effigies were frightening indeed this year! Our Goan Observer photographer took special pride in waking up early and going on a post-midnight spree to see the Narkasurs burning to ashes as in ….as in burn, burn, you monsters of Kalayug! Enjoy the chills and thrills in this photo essay presented by Heena Nawar!