Perrenial national favorites but authentic quality is hard to find except in a few places …check out the Delhi-styled tandoori kebabs, tikkas and kathi rolls of Mofet dhaba at Caranzalen! As for biryani it is popular takeaway fare in Goa for meat-lovers with some saying a biryani is a biryani only if it is lamb or mutton biryani.
By Tara Narayan
SOMEONE'S sent me a white mug with the perky advice on it: First rule of 2021/Never talk about 2020! It's like most are in a hurry to forget 2020 which brought so much stress and grief to most of us courtesy a terrorizing coronavirus now turning into a thousand-headed monster or so to speak (with all its diabological mutations and variations and sneaky avatar)!
I'm confused. There are so many conflicting reports about whether the pandemic is for real courtesy evil human of the species or it's a sham because more die out on the streets in traffic accidents and cancer, heart disease, etc.
How many people are really dying because of Covid-19 and its more evil progeny? The jury is still out on whether the pandemic is a planned biological warfare to kill off half the world's dystopian population courtesy China living in the pockets of the Donald Trumps or Putins or in other hot pockets around the world…solve this mystery if you can.
But this is a foodie column! Indulge me. Economy and seniors in distress or not reportedly we are not really safe yet but the world can't come to a stop, and the show must go on for we've got to eat to live or live to eat, whatever you prefer. I'm trying to eat to live. Food can always drive me crazy between what you prefer and what I prefer and increasingly no energy or synergy left to bother about cooking at home. For a while there I was cooking and eating in or ordering in but now it's back to Kamat Hotel or wherever my old haunts used to be in search of culinary peace of mind.
KEBABS/BIRYANI
Lately kebabs and biryani have been on my mind anew, and tikki. I mean they've become so popular in Goa and feature as many a caterer's solo speciality or as part of a menu dedicated only to the north Indian cuisines and preferably Moghlai or Punjabi cuisine, under the assumption that it's some kind of royal cuisine loved by the Moghul emperors of old who brought with them Persian and other Central Asian culinary ingredients and touches – much of it leaning towards meaty dishes cooked very simply or complicatedly!
I WOULD say biryani is complicated but perfect one meal dish and perfectly agreeable if it also comes along with a generous side helping of thinly sliced onion rounds, crushed up and seasoned with salt, lemon juice, chopped green coriander or mint leaves (divine kachumbar, better served with a lemon half instead of squeezed in juice). Or maybe a flavorful mint chutney…these side accompaniments were old world restaurant and eatery graces but lately I've been finding that many restaurant owners are dispensing with all these frilly niceties and very often not even a clean glass of water is put on your table at a piece de resistance the moment you enter and park yourself somewhere to study the menu (in whatever shabby condition, imagine how bacteria-ridden a restaurant's plastic menu must be). Okay, no more of this nagging or carping! Life has become like that only or was it always like that?
Sorry, during my Bombay-that-is-Mumbai years, I never came across any humble Udipi eatery where the service boys would skip the hospitable practice of putting a half-sized stainless steel glass of water before you! Then some switched to glass but not to clean glasses can put you off drinking any water in it. Now of course even at my favorite Kamat Hotel I have to beg the waiter for a glass of water and I'm not sure of the water's potable quality…see how much has changed in the common man or woman's eating out scenario?
Anyways to go on yes, I love biryani which I find usually pairs well with kebab or tikka as in meaty tikka and I prefer veg aloo tikki but they must not be greasy with dripping stale oil! What's the difference between kebab and tikka? I'm not so sure, kebab are chunks roasted or spit-fire cooked and show-pieced on a skewer of iron or wooden piece piece, or served on a sizzler plate…at this Mofet's dhaba place at Caranzalem which I'm enamored with lately, I find the menu is constantly being fine-tuned and leaning heavily towards a tandoori menu.
So there's roomali roti, tandoori roti (buttered or not buttered) and naan, to go with such tantalizing things as Bhatti Ka Murgh, Chicken Banjara Kebab, and a range of Turkish/ Baano/Reshme kabab…also kabab Chicken Seekh, Chicken Haryali, Murgh Lasooni, Chicken Chapali, Mutton Seekh (more or less in the price range of Rs250 for eight pieces).
Surprisingly for Goa they also have a tantalizing vegetarian kabab and tikka listing and I want to try out all of them – be it Dhahi or Hare Bhare or Gulabi Sheek or Veg Seekh kabab, and the Paneer, Khandari Paneer, Sufiana Paneer tikka; also Garlic Cheese Corn Balls and khati rolls of paneer, chicken and egg — which I imagine must be like the Frankie rolls I once used to favor at a Parsi outlet down Colaba Causeway ….most of the time it's a roti thin or thick shallow fried roti or paratha of refined flour or maida (becoming very chewy the faster it cools, but the stuffing of veg or non-veg item be it kebab or tikka with chutney and onion relish highlights within, made for a delicious early evening meal to wind up for the night!
Frankie roti has to be hot and crispy outside, tangy and aromatic within…haven't eaten a Frankie for ages although at the Caculo Mall food court they used to retail it one point. Don't know if this franchised Frankie outlet is still there for I haven't visited this food court for months on end, must catch up one of these good or bad days.
BUT this is to say the fastest moving foods these days are kebab (kabab) or tikka, biryani, and the assorted range of momo! Biryani of course comes in a dozen odd avatar across the country and although the original biryani and pilaf with Persian notes are not meant to be spicy hot but redolent of herbs and dry fruit and nuts, in India we tend to think we cannot live without chilies fresh green or red or chilies dry red and of assorted mild or fiery tongue and gut burning heat. The way our Indian cuisines have adopted the native South American chili peppers small and large is scandalous, try telling an Indian the chili is not an Indian child! To be honest I prefer black pepper which is as native as native can get down south India…I don't like chili replacing black pepper in so many traditional recipes!
INDIAN PALATE
Have you noticed how our Indian palate has become a colonial, national, regional, even village to village affair — and yes, I would say kabab, biryani, tikka are on my list of sanctified national food popular across the country with almost all people. How often we've been delirious at the thought of throwing just a biryani party or bash or get-together or going away on a picnic and by way of food packing up or catering in lots of biryani, also kabab, tikka, yogurt-onion relish, chutneys and a dessert of gulab jamun, or one of the creamily delicate firni or shahi tukra!
There's so much biryani, kebab, tikka being retailed on the on-line foodie networks that I'm totally lost about who is good, better, best. Oh well, these days it's all a matter of trial and error when ordering food home from the plethora of caterers trying to …er…see if they can feed you to death as in living to eat or something like that. I'm happy with my curd-rice at home with shudh coconut oil friend banana wafers, thinly sliced and mildly salted and utterly delicious with a grated cucumber or carrot or apple dahi-bhat or curd-rice.
Do I hear anyone saying, Who wants to eat dahi-bhat in Goa? You'll be surprised. On a hot January afternoon it's ideal fare with a bit of the Society or Spice Secrets mango or sweet lemon pickle which is so hard to find. At Prashant Kamat's fairly come lately The Organic Store I came across the Sweet Nation sweet lemon pickle in glass bottle but can't say I like it too much, it's overwhelmingly salty. It's manufactured and packed by Madhav Agro Foods, Vadodara, and frankly, I want to boycott Guju products just as I want to boycott Chinese goods!
But drop by at Organic Store (in one of the lanes behind Hindu Pharmacy in Panaji, down the street where Bhonsale's eatery is)…I'm getting terribly addicted to this wholesome store offering some interesting stuff to encourage you to switch over to a more body-beautiful friendly lifestyle and yes, I urge you to think that organic and eco-friendly must go hand-in-hand. That is if we really love Mother Earth! I favor foodie buys in glass packing and only reluctantly once in a blue way will patronize something in plastic pouches and packs, when I cannot help it.
Please make an SOS new year's resolution to shun and boycott plastics in all the ways you can – count for something good in 2021. Be the light! As Prof Shiva Ayyadurai of Cytosolve in the US of A would say; if you haven't caught up with his education videos on the modern human immune system, you must, do it today or tomorrow.
Cost of living going up, up, up…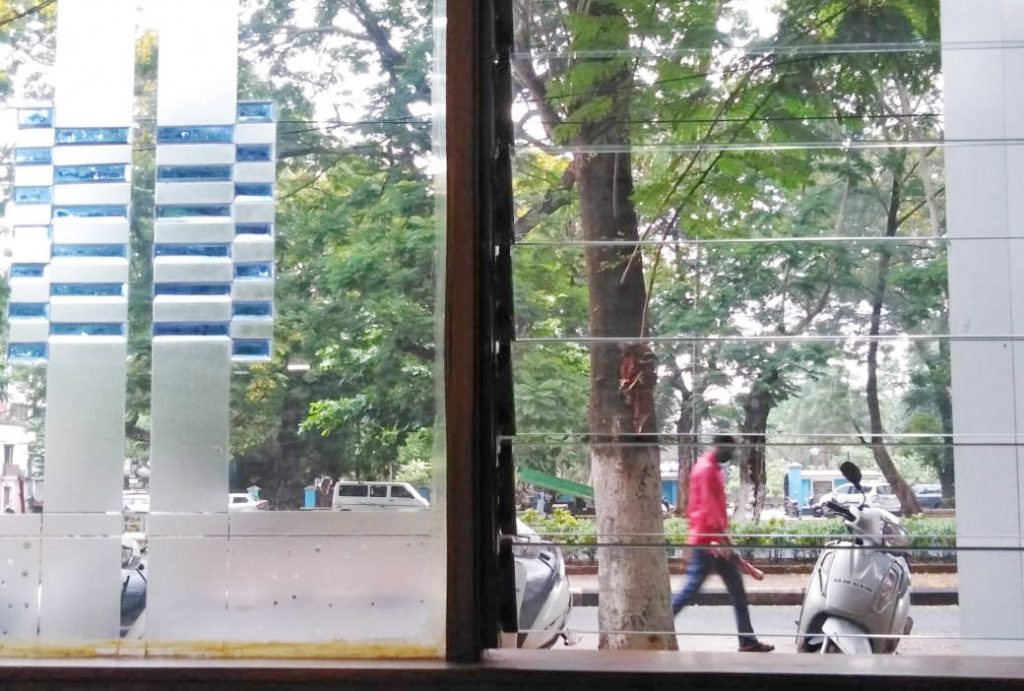 More and more I try to discourage myself from eating out too much, with this kind of cost of living exercise now now and again! Okay, for example, how much would a breakfast at Kamat Hotel cost me? Never mind that some days the upma/meduvada/idli may be agreeable and some days not. Well, upma is 28.57, meduvada 66.66, idli57.14, masala dosa 85.71 (90 after addition of CGST and SGST @ 2.50%), puri-bhaji 66.66 (puri tastes good only while they're hot, colder they become leathery or rubbery because of maida content in the flour). But lately I've forsaken all in favor of being tempted by the best tomato omlet of them all in town at90.47!
See, Kamat Hotel is an aam aadmi Udipi-style eatery and the hubby tells me during his early OHeraldo he liked to seek out a quiet corner here to feast on puri-bhaji or rava dosa – but those days the menu was pocket-friendly, "It was all I could afford on my salary which seemed so grand in the 1980s in Goa! Let me see, how much was it…about `4,000 per month or so for years on end."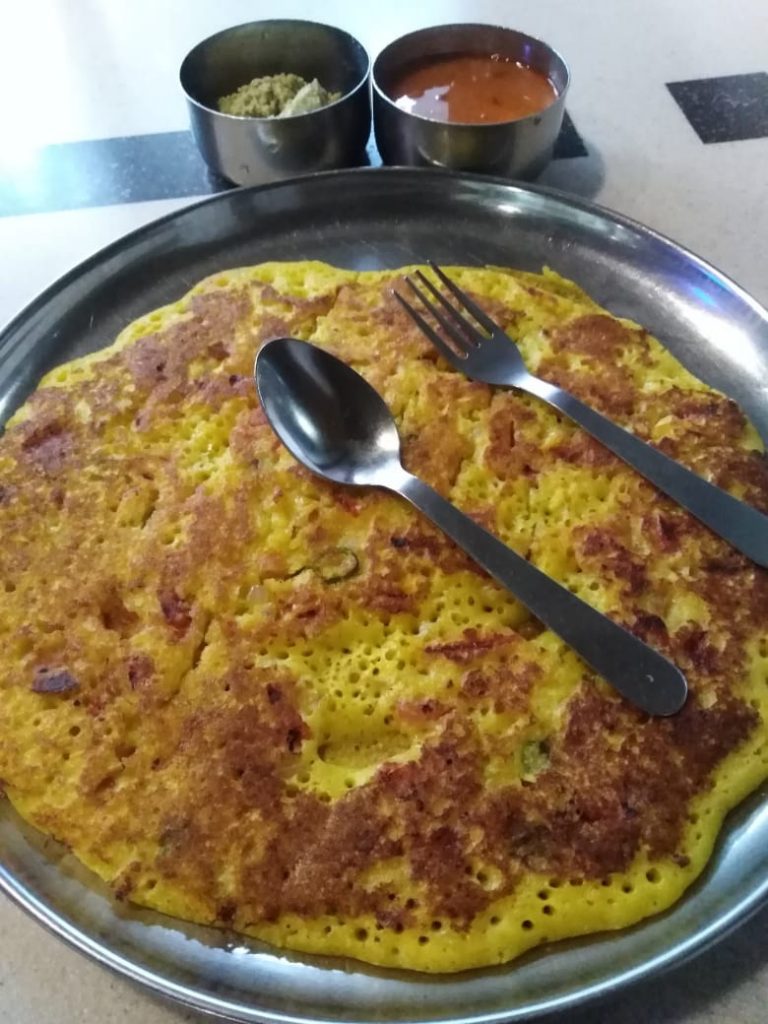 Presumably editors earn fatter, fancier salaries these days if they have no problem being more public relations entrepreneurs than good old-fashioned black and white editors! I've known how sometimes editors posts are commanded by biwi-bacche of the owner while somebody else does the nitty gritty hard work in their names for a pathetic salary. Biwi-bacche collect on salaries, plus absurd profit percentages — staff salaries and office infrastructure never improve but biwi-bacche and friends go everywhere on freebie holidays, return with colorful brochures to toss at staff and say, "Please write something nice about so and so and so and so!"
The last bit is my own addition here. I'm more interested in food than journalism these days. Lately I've been chasing a favorite tomato omlet – it comes large, softly savory and steaming hot from the Kamat Hotel kitchen (does the F & D do any kitchen inspections, I'd like to go along with them when they do and if anybody is inviting me, I can make a few suggestions for the good of the employees).