Colourful IFFI Food Courtyard! Tea, coffee, wine, ice-cream, beer… snacks and meals affordable and unaffordable!
(Below) That's Bhoomika Wadhwani (product manager @mxplayer) with her home-made roti sandwich! And Ajay Sharma (musician)and Surendra Suri (filmmaker) were happy listening to my horror foodie adventures at IFFI food courtyards past and present!
By Tara Narayan
THE International Film Festival of India in Goa has seen better eating out in past years! I'm sorry to say it but the eating out at IFFI this year has turned out to be at best a disagreeable luke-warm affair although delegates are happy about fine teas, coffee and wine being served at one of the stalls! I suppose in keeping with the Covid-19 background against which it is being managed with all the protocol of masks, sanitization breaks, strict rules are being implemented relentlessly with good cause.
But in my book there's something like being too perfect and an imposition of ruthless rules can be very imperfect, indeed. If there's cause to break a rule discretely, break it for IFFI's sake! I mean if a delegate came panting and apologizing but he or she has not booked online to see a film of choice, what's the point of saying, nothing doing, "We have got strict instructions not to let anyone in if you have not pre-booked online!"
I think I would say, sure, let me see if there're vacant seats in the auditorium and if there are, be happy to say, "There are some empty seats, please go in and enjoy your film!" Mind you it's not previous years' chaotic rush lines I'm talking about here, but the odd isolated cases when it's easy to be discreet and generous.
(Sigh) This year's out-of-turn IFFI means well but, but! I feel sorry for these young students who have to say against their own inclination sometimes, "We have been ordered not to let those without online booking enter no matter what!" Well, wow. I must confess last year's postponed 51st IFFI this year from January 16 to 24, 2021 can do with better manners.
Of course I grant you it is much smaller, less extravagant IFFI (less extravagant?) this time in some respects …but good, bad or ugly I love IFFI time when it comes to town. On to foodie matters, the IFFI food court at the INOX courtyard is set beneath a gorgeous multicolored shamiana, inviting everyone spend some time here for eating or exchanging notes or whatever about film screenings.
From the looks of it the Country Inn Suites Radison Group (Panaji) are sole contracted caterers although there is Havmor ice-creams, some fancy teas and coffees, wine and beer, much sought after chaat snacks and meal options … breakfast fare idli is priced at 125 and tea at50. Painfully low budget IFFI goers and students give the foodie stuff a skip.
Chaat is very popular though and much sought after. They brought the price down to 50 per chaat and then many took to enjoying the chaat served up mercifully on eco-friendly plates…bhel, sev-puri, pani-puri and so on. Teatime first day itself after a film I got myself a samosa chaat (150) but it came cold and with so many green chili bits cut into it that I as good as chucked it and hunted for tissues to wipe my fingers and dry my eyes! Most were making do with egg omlet and sliced white bread and the Continental 250 meal combos were quite good I'm told by others. The potable water stalls are neat but it's a case of buy the first bottle for30 and then you may fill up for free whenever you wish for the remaining IFFI days! An agreeable arrangement really. However at the auditorium entrances the security guys made one remove water bottles from handbags to leave them outside for collection later on after the film. Still, everyone enjoyed their cups of fancy coffees, teas, wine and beer. At the media center one could get little cups of very good machine tea or coffee on the house. One dropped by here for fresh news of today or tomorrow's events, change in films schedule, etc. and the coffee break was useful.
BUT (sigh) I have even more mixed feelings about this IFFI, this is perhaps because of the general economic depression courtesy Covid-19 and its lockdowns last year which are being carried forward into 2021… none of my media friends from Mumbai, Delhi and even the eloquent Abhijit from Kolkatta have come for this coronavirus times IFFI and I'm feeling blue. Rashid Irani from Mumbai used to clue me up about films screened at MAMIE in Mumbai and were at IFFI, which films to see, which not to miss…like that. In the absence of even a handbook I had no patience exploring all the nitty gritty information on my IFFI site in hand phone! It is really an out of turn IFFI dragged forward from last year and a fiercely imposed discipline of wearing masks, sanitizing one's hands constantly and checking in with one's hand phone to remember which film I have booked for, what time, which auditorium, etc.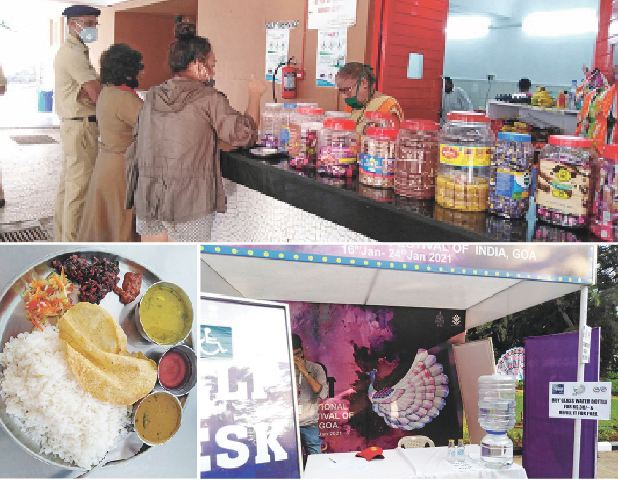 FUNNY or funny, running late one morning I ended up in the wrong INOX auditorium with a gory, bloody violence-filled film and decided to leave the audience to enjoy the chills and thrills…I moved out in a hurry to go catch up belatedly for the film I wanted to see. When it comes to viewing films at IFFI one must make up one's mind to stay or leave quietly. Better to hang around at the food court outside to book another film of choice!
I was amused to see that several familiar Goan and non-Goan IFFI goers were back to packed snacks from home (tucked away in their bags), happy to complement it with tea, coffee or water. I lived in nostalgia for a while remembering the stuff the self-help women's groups of Goa would turn up with at previous IFFI food courts – the fragrant fish curries, hot fried pyaz and batat kappam, fragrant red rice sannam with dollops of dark sweet coconut choon and much else which one felt like buying during a hungry moment and also take home!
There was none of that this current IFFI and I found myself recounting to friends Ajay and Surinder Suri of how at one of the early IFFI eating out affairs at this same INOX courtyard, a glistening cockroach egg had turned up in my Chinese fried rice. They cracked up, "Arre Tara, that's good protein you got for free!" So ha, ha, ha!
THE foodie scene at the other IFFI venue, my preferred Kala Academy canteen venue, it was even more dismal. Sugandha Borkar was in charge here and one post-film afternoon I tried out the veggie rice plate but found the tiny portions of tambdi bhaji and dal with a pile of pristine white rice terribly over salted, oil dripping papad and pickle. Not much value for money, 80. So it goes. One hungry moment I found myself along with a friend taking a break at the not too far away Sheetal Udupi in the nearby Panaji market vicinity. Early mornings 8am onwards one may relish the best steaming hot idli in town here for40, and I also love the savory tomato omlet (50), plus, first class filter coffee makes my day. Spend less than a100 and feel utterly enchanted! There are several Sheetal Udipis in town Panaji but none as good as this one, it's become my favorite.
If it's a good chaat you are looking for try Sweet Nation where they do some decent chaat including a palak one which is quite enticing; they also have interesting meal combos like cranberry or paneer biryani- cucumber raita (100-200 price range and it's excellent value for money). Lots to discover here and cool place to spend some time with or without friends. This is just to say a lot has changed at the INOX courtyard with the INOX multiplex itself freshly refurbished. The multiplex's own food counter is open for IFFIgoers but a plate of two gigantic samosa are selling at90 or so and they don't let you carry your samosa or sandwich or popcorn into the auditoriums to crunch over a film! Really a distraction for other viewers and in any case I think it's highly gross to drink and eat in the midst of watching a film! I rarely do it. Either one respects a film enough to be totally engrossed in it or leaves to take a peaceful refreshment break elsewhere.
(Sigh) FORGIVE me, I guess I'm in no mood to see films at IFFI this time although I did catch a few films. The selections of films were not too tempting. Creativity is dismal although ironically, I'm losing track of the number of young people who're here dreaming of becoming film producers, directors, at least documentary makers…excuse me, is there a living to be made in films nowadays?
I mean even the technology of making films has changed and given the new android digital technologies who's making films on celluloid? Everyone's making videos and documentaries and even films using digital formats, everyone's a filmmaker. The old painstaking art and craft of creating films is fading in the cold winds of time! A younger generation doesn't even want to watch the idiot- box. Although I must tell you I've been wrapped up these day by a Turkish serial called "A Girl Named Fariha." It is all about the life and times of an Istanbul-based conservative family, dubbed eloquently in Hindi. Check out MaxPlayer. There are no Hindi serials on par although to be honest I no longer want to burn my eyes on the tiny radiating screens in hand anymore!
THIS IFFI if there's one film which made me sit up it is "Devbhoomi" – produced-directed by Serbian filmmaker Goran Paskaljevic. Victor Banerjee plays the key role. The film's an eye-opening account ruthlessly unchanging life and times in a mountain village in the Uttarakhand mounts of the Himalaya. How hellish life can be for young women in search of an education but the general perception is education is poison for women or "padai ka zaher!" Then there is the usual blinding gender and caste biases thrown in and we have an eminently brave film worth viewing.
"Devbhoomi" is no lullaby film but a gripping drama about human insensitivity and sensitivity and a village haunted by an old tragedy. I won't tell you the story! It's a film about a man, Rahul Negi (Victor Banerjee), seeking expiation and forgiveness in a most sublime way, made my soul turn over several times! You haven't lived if you haven't seen this Indo-Serbian 2016 production.
Good IFFI times or not so good IFFI times. I am grateful to IFFI films for I've seen some memorable films which linger in my mind over 17 IFFIs. After all the grumbling, I will say a big thank-you here for the powers-that-be who make IFFI come true annually in amche bhangarache Goem!