Amidst urban collapse and failing, unsustainable lifestyles… take a break in musical nostalgia, says Mumbai based yoga practitioner, vocalist and sitar player Munmun Ghosh
MUNMUN GHOSH sings a song for the monsoon rains as they bring to mind the evergreen melodies of yesteryear films and more…as if to say forget Covid-19 this monsoon, re-discover the joys and abundance of magical and life-giving rain.
WHEN the first grey clouds swan into the Mumbai sky and hover over the city, rain-songs, especially from old Hindi films, invariably quicken in my heart and burst on my lips. The connection is visceral! When nature around us, typically silent (though the roaring sea is never really physically or emotionally distant from the Mumbaikar's consciousness), breaks out in thunderous heavy showers, it cannot but evoke an echo in the human heart, rousing it to create its own music, for art is essentially imitation of nature.
Yes, over the years, the swelling, gnarled Mumbai traffic, denser than the densest of clouds; the ubiquitous garbage heaps dotting the streetscape and stinking of over-consumption; the general and real difficulty of movement within the city during the rains thanks to severely potholed and broken roads that develop deep craters and cracks inevitably at the first showers — have leached much of the romance from Mumbai monsoons. It tends to inspire more anxiety than joy in the Mumbaikar's heart today!
But, still, there are those occasional days when it pours and you are indoors and your heart brims over with unspeakable emotion that only music can truly express. What music can you turn to then? Our new-age film-makers, largely Mumbai-based, are for reasons mentioned above, perhaps inured to the romanticism of the monsoons. In any case, films today are largely bereft of the sound of rains.
HINDI FILM BOUNTY
BUT turn to the past – the old Hindi films — and you will hit upon a virtual treasure-trove of rain melodies for the yearning soul to appreciate on a cloudy day. Filmmakers like Bimal Roy and Raj Kapoor thrummed the romantic possibilities of the rains with poignant rain-sequences, lilting melodies and unforgettable visuals.
Think rain and a bunch of images from Hindi films explode in your vision. Nargis and Raj Kapoor huddled under an umbrella in Shree 420 crooning 'Pyaar hua ikraar hua pyaar se phir kyun darta hai dil'; Sadhana at the window singing 'O sajna barkha bahar aayee,' thinking of her love in Parakh; a drenched, curvy, excited Zeenat shimmying to the rhythm of 'Hai hai yeh majboori,' trying to seduce her lover Manoj Kumar; Amitabh and Moushumi sashaying on a drippy, wind-and-rain swept Marine Drive to the hum of 'Rimjhim gire saawan'… The moving caravan of rain-images from our films that celebrate the season of mating in myriad colors is almost endless.
Equally poignant are the diverse Hindi film lyrics that our lyricists Kaifi Azmi, Sahir, Indeevar, Shailendra, et al have penned, capturing delicate emotions with all their nuances that the rains evoke in the human soul. A few of my favourites: 'Sharaabi sharaabi yeh sawan ka mausam, khuda ki kasam khubsoorat na hota, agar isme range muhabbat na hota.'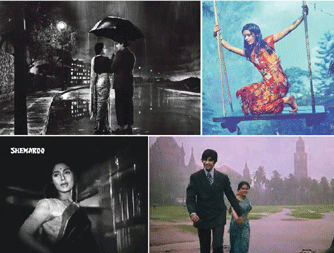 THE COLOR OF LOVE
IT'S intoxicating, this monsoon season. I swear on God, this season would not have been so beautiful had the color of love been missing; 'Kaali ghata chaye mora jiya tarsai, aise mein kahin koi mil jaaye, bolo kiska kya jay' (The clouds are spreading across the sky, my heart throbbing with desire, if only on such a day, somehow, he comes to me? Who can be hurt by the same?); 'Ek samay par do barsaate, badal ke sang aankh barase, Chaaron taraf hai jal thal jal thal, phir bhi pyaasa manwa tarse (Two downpours at one time, tears raining along with clouds; the whole earth is soaked where ever one looks, and yet my heart is parched and thirsting).
Check out also 'Aaj ki kaali ghata' 'Pal bhar mein ye kya ho gaya,' 'Ab ke na saawan barse' 'Megha chaaye kaali raat bairan ban gayee nindiya,' 'Raaton ko chori chori bole mora kangna,' and 'Zindagi bhar nahin bhoolenge barsaat ki who raat.'
Each of these priceless lyrics are also deftly tuned, many rooted firmly in Indian raga sangeet, resplendent with monsoon rain raga like Miyan ki Malhar, Megh, Gaur Malhar and Sarang. Our filmmakers of yore – Naushad, Salil Chaudhury, SD Burman, OP Nayyar, RD Burman — brilliantly leveraged our Indian classical music legacy to create popular rain tunes that will remain with Indians for years to come.
This year, with yesteryear singer Mubarak Begum in the news for being hospitalized, come to mind her immortal song, 'Kabhi tanhaiyon mein yuun, hamari yaad aayegi…' — embedded in the film 'Hamari yaad aayegi.' This song is high on my mind. Though it is strictly not a rain song, it uses rain-imagery effectively, and in an unconventional manner — to convey the curse of an aggrieved, pain-scorched soul — harping on the destructive and menacing aspect of the rains that can also devastate homes and souls in their ferocity and passion. The unforgettable lines: 'Yeh bijli raakh kar jaayegi tere pyar ki duniya, na phir tu jee sakega aur na tujhko maut aayegi' (The lightning will reduce your world to ashes, and then you will neither be able to live nor will death come to you), sung with great feeling by Mubarak Begum in her sensual voice remain etched in all Hindi film song lovers' souls.
RABINDRA SANGEET CHARMS
ALSO, as a Bengali who was initiated into Rabindra Sangeet (the compendium of 2,500 songs written and composed by Nobel Laureate Rabindranath Tagore) by her father in childhood, I invariably find myself crooning Tagore's popular rain songs – 'Pagla hawa badal dine,' 'Aaji jharo jharo mukhar badal diney,' 'Aasadh kotha hote aaj peli chaadha,' 'Sawan gagane ghor ghan ghata,' etc. at my first skin-contact with the rains.
Tagore picked up every quiver of nature in rains' embrace and condensed these into marquee poetry, loading rain imagery with profound emotions and philosophy. As in the song 'Sraboner dhaarar moto poruk jhore, tomari shurti amaar mukker pare, buker pare… Je saakhai phool photey na, phal dharein na aekey baare, tomar oi badal baye, dik jaagaye shei shaaka re.' (Like the flow of rain shravan, may your music, your grace pour over my face, my heart, my entire being… That branch on which no flowers grow, nor fruits ever, may your cloud-laden breeze awaken that branch).
Another great rain melody links heavy rains with deep romantic confessions – 'Aamon diney tare bala jai, aamon ghano ghor borishar, amon diney mon khola jai' (On such a day perhaps I can tell him/her, when the rains fall so thick and fast, maybe I can open my heart out now). Slip into You Tube and search out these Tagore gems.
AND on a day, when you wish to go beyond lyrics, tune into Raga Megh on sitar played by Pandit Nikhil Bannerjee, on You Tube and experience the deepest musical resonance of rains that can make you forget the potholes and the traffic waits, and feel the rejuvenating power of the rains again!