All for Aam Aadmi: Delhi chief minister and AAP Convener Arvind Kejriwal was in Goa to give pep talks to his party workers; (above) familiar AAP faces Valmiki Naik and Cecille Rodrigues have been distributing groceries home to home to tide aam aadmi over impoverished covid-19 times! Each giveaway bag of groceries contained 5kg Aashirwad atta, 1kg sugar, 1 kg tuvar dal, 1 kg white peas, 1 packet of Tata salt, thats it! The ration bags were distributed on presentation of aadhar card.
By Our Special Correspondent
IF the Goa Aam Aadmi party (AAP) comes to power, promised visiting AAP's national convenor and Chief Minister of Delhi Arvind Kejriwal, it will be a waiver of old bills and free power to the tune of 300 units for every family in Goa! They have done it in Delhi and will do it Goa. And if anybody doesn't believe him they are welcome to visit Delhi independently and check it out. "Visit any of our schools or hospitals and see for yourself." He had in fact even invited MGP chief Sudhin Dhavlikar to visit Delhi, "but there was no alliance talk!"
Mr Kejriwal, who is popularly perceived by many as a sensitive chief minister in Delhi, arrived in Goa to a tumultuous reception by Goa AAP workers at Dabolim airport on July 13, 2021. At the chok-a-blok press conference on July 14 he spoke of many things including how AAP workers are covering Goa from village to village to find out what the people of Goa want for the good of Goa, "On the basis of that we will prepare Goa's agenda for five years.…Goans want clean rajneeti and we will give it to them!"
In the same breath he clarified that AAP did not come to power to do rajneeti or rule but to be of service to the people, "As you have seen our workers have been going from house to house to distribute oxymeters and now rations because of the covid crisis, ghar ghar jha ke hum ne pucha hai aap ka kya problem hai?" He promises that with the rationalizing of electricity women will be the happiest with the AAP government for then they will be able to save some money for the future (something many are unable to do under the present government).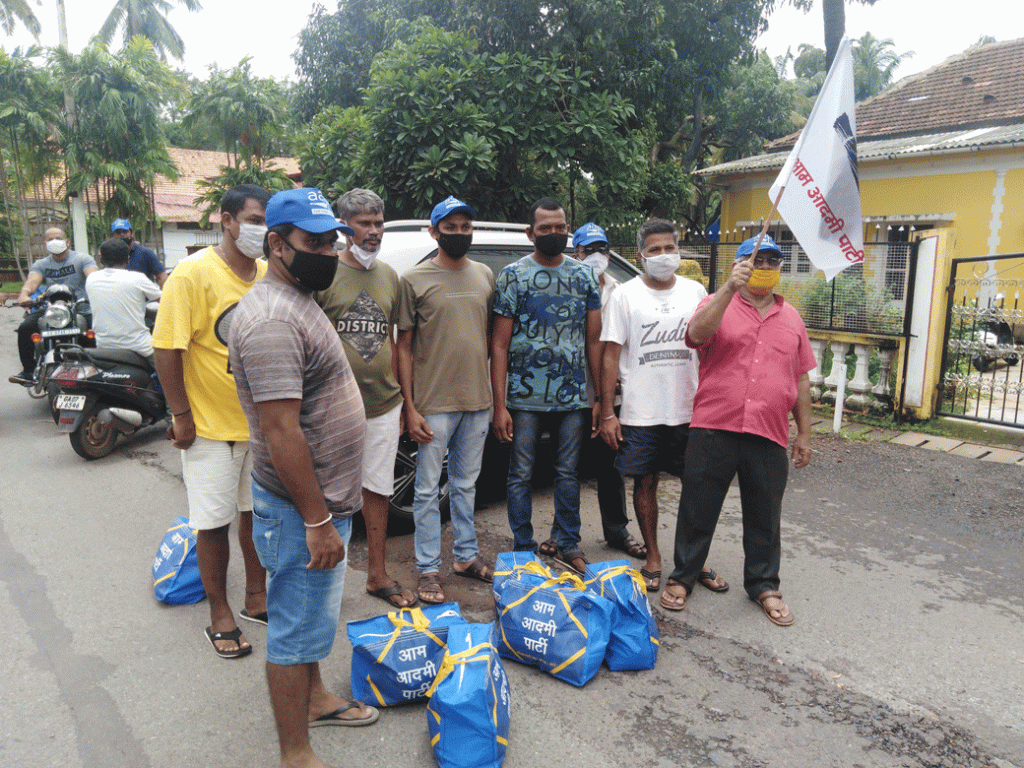 Reiterating AAP guarantees he said they have and are asking Goans what bugs them the most and "in one year our volunteers found out power is the main complaint, Goans want power security the most, bijli parishaniyaan (power woes) are the biggest misery…so our first guarantee is we will make sure every family will get 300 units of power free every month." He commented that he had heard that one MLA in Goa has a postbox outside his house whereby his voters could put their power bills and he paid them! Kejriwal promised Goans wouldn't have to depend on their MLA to pay their power bills, "AAP power bills sent to you will have Zero marked on them like we're doing in Delhi! It took us three years but we have done it."
He said, give AAP a chance and Goans won't have to go beg their MLA for anything! AAP will liberate Goans from anxieties about how to pay their power bills and make ends meet here and there. AAP guarantees 24 hours of unbroken power supply to all Goan homes, no need to worry about outages or paying taxes, surcharges, bills (within the limit of 300 units usage). Old bills which have piled up will be waivered so that Goans may begin on a new slate with the Aam Aadmi party. When he announced free power for farmers there was a lot of applause even with the media people!
Someone raised the matter of Congress politicians defecting to join the BJP and he replied, "Aisa kyoon? In Delhi over the last 15 to 20 years we've seen how the BJP has tried its best to break our party but failed, not a single MLA has left us…it's happened in the Punjab elections but that is bad." It's an old BJP ploy to buy up MLAs to come to power and stay on in power by hook or by crook. So how can voters now believe that if they vote for the Congress neta they won't be betrayed, "I think Goans want a new kind of clean politics and see new parties and new faces. Enough of purani parties and neta!" Needless to say quite a sizeable number of educated Goans have voted for the AAP in past elections but the party lost for various reasons.
AAP workers are now more visible, trying harder to go to the village roots of Goa to see what the people seek from a government in terms of governance, and not just the cheap defection politics seen to date in recent times to bring the same faces to power again and again…with little to show at ground level by way of a genuine progressive infrastructure for the people. Indian politicians tend to build up their own personal fortunes and infrastructure before throwing a few crumbs by way of favors for any real public welfare.
Even in media circles many think it is time to give an alternative political party a chance, perhaps the AAP can make a difference to the quality of politics the country has been witnessing in recent years. Some media people did ask Arvind Kejriwal about the recent church demolition in Delhi and he replied that he was aware that the DDA had done it but he on his return to Delhi he will study the matter, in the meantime AAP is doing its best to help anyone affected by it, "The DDA is answerable to Central government and carried out the orders of the High Court." AAP had nothing to do with but its local MLA in the area is looking into the matter to see if any help is required by people affected post-demolition.