At the Hindu Raksha Adhiveshan meet at Gomantak Maratha Hall on August 22, 2021…. Subhash Velingkar reaffirms call for One Religion, One Nation. Others on dais include Datta Naik, Praveen Nesvankar, Purshottam Kamat, Paresh Raikar, Nitin Faldesai, Sandeep Palni, Praveen Naik, Jeetendra Amshekar, Vinay Naik, Shriganesh Gaude, Shubhangi Gaude, Roshan Samant and others in the background.
By Our Special Correspondent
SAY what you like! That was an amazing, determined cry for "One Religion, One Nation"gathering moss with Bharat Mata Ki Jai Sangh's leadership at the Hindu Raksha Adhiveshan which took place at the Gomantak Maratha Hall in Panaji on Sunday, August 22, 2021. Bharat Mata Ki Jai Sangh is the recently formed Goa flagship of former RSS chief Subhash Velingkar, who chose to part ways with the late Chief Minister of Goa Manohar Parrikar, who had no scruples compromising or diluting the avowed values of the Rashtriya Seva Sangh's Hindutva RSS ideology.
The constant message of the RSS or more specifically the Bharat Mata Ki Jai Sangh (founded by Subhash B Velingker who is the State sanghachalak or president) is that we should be dedicated to a policy of only one religion and one nation in India regardless of whatever one may call it, be it Bharatdesh, Bharatvarsha, Hindustan or India. All are perceptions of the sub-continent's history as it evolved through the trauma of centuries of invasions and conversions by Muslim invaders first followed by European Bible trappings.
It is no longer news that centuries of colonial rule be it from Muslim invaders who came to loot, marry, settle down and convert the "kafir" (heathens, mostly the suppressed lower classes of Bharatdesh presumably), or European colonialists who came seeking fortunes, along with a mission of harvesting native souls for Christianity.
To come to the present in Goa, back in 2016, reportedly 90 per cent of RSS sympathizers broke away to join an angry, passionate Subhash Velingkar — when he was told he was no longer RSS chief because of his differences with Parrikar's style of "rajkiran" (BJP style of governance) and specifically his decision to give grants to English-medium schools.
We have witnessed Manohar Parrikar giving government subsidy grants to the English-medium schools (hitherto run in the mathrubhumi language of Marathi) while his RSS guru, teacher and chief promoter and groomer Subhash Velingkar, disagreed with him and said it was not in keeping with RSS values.
He asked Manohar Parrikar: Was it for this that the RSS worked to equip and campaign for him to win political power in Goa? So that he would succumb to the temptations of political power at the cost of the RSS ideology?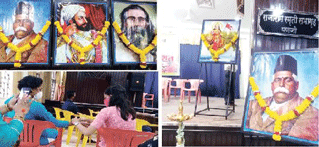 Parrikar cut his umbilical ties with Subhash Velingkar on a bitter note of disillusionment on both sides. Velingkar observes to this day that the BJP is no longer a party representing RSS values, it has its own independent agenda and dilemmas of how to hang on to power in Goa by hook or by crook! In fact, most RSS stalwarts actually disapprove of it and have no love for the late Manohar Parrikar for his U-turn genius in reaping the fleeting and punishing joys of political power. It's fascinating narrative all on its own for students of politics to learn how the tables turn in what has undoubtedly become our cesspool of politics.
Anyway, the piqued, insulted Subhash Velingkar who parted ways with the RSS, founded his very own chapter of Bharat Mata Ki Jai Sangh as if to counter the current dispensation heading Goa which swears by Chief Minister Pramod Sawant's BJP government. A still disgusted Velingkar says that the young Bharat Mata Ki Jai Sangh is not interested in politics, "It's purely a social organisation working at ground level across Goa for a return to Hindu sanskari religious and cultural values." He says the BJP has monetised political power to new heights of corruption and the BMKJS wants none of that.
Last Sunday at the Hindu Raksha Adhiveshan gathering he thundered a renewal message, "The government of India has never done anything for Hindus! Instead it offers raksha to minority communities coming from Bangladesh and Afghanistan!" True or false, it's up to you to come to conclusions.
But judging by all the talks given by various key members or pracharak of the Bharat Mata Ki Jai Sangh at the sort of "rakhi bandhan" event – there is a quieter, more determined force working towards educating and sensitizing community people at large about the vision of the RSS (formerly Mahasabha Sangh) heroes, namely KB Hedgewar, Chattrapati Shivaji Maharaj and MS Golwalkar – large framed photographs of these three were garlanded at the venue, along with a Bharatmata image. A lamp was lit for the occasion.
The meeting was to forge out the future course of action for the BMKJS members (reportedly a 1,000 members by one count) in various realms of social education and welfare work. Both young and old are familiar with the RSS social values of paying allegiance to one religion, one nation and across all perceived injustices. After each talk there were cries of Om with hands raised up and there was a lot of customary RSS salutes with right hand across the heart – while singing one of the national anthem songs adopted by Bharat Mata Ki Jai Sangh – "Dharam ke liye jiye, samaj ke liye jiye." Simple orange rakhi were distributed and everyone tied rakhi to one another since it was also Rakhi Bandhan occasion. Interestingly, according to something Subhash Velinker said, the RSS has no problem tying rakhi to the Christian and Muslim communities of India – and they safety is assured when a Hindu nation flowers in India or so one understands.
There was a sharing of tea with and without sugar and batatvada which somebody said were "home made." One couldn't help the fleeting thought at the end of it all: That perhaps it's not such bad idea after all if officially India declares itself a Hindu nation first paying heed to Hinduism First, Nation First! But with a difference, of course, as is in the fitness of defining moments in the sub-continent's long years of experiencing oppression, suffering and bowing down as victims through the ages.
Would an officially garlanded Hindu India do justice to its very own minority communities were it to be officially crowned as a Hindu nation first above all other religions? Ironically, wasn't that the cry of Germany's Adolf Hitler too when he appealed for nationalist loyalties and sentiments! The question arises: In today's times is it of any use to put religion and nation first, when the fires of environmental disasters are devouring Mother Earth globally and will affect us all?
Dharm ke liye jiye
(bhakti geet)
Dharm ke liye jiye, samaaj ke liye jiye
Dharam ke liye jiye, samaj ke liye jiye
Yeh dhadkane, yeh shwas ho
Punya bhoomi ke liya, karma bhoomi ke liye
Garv se sabi kahen Hindu hai, hum ek hai
Jaati panth bhinnata mein sneh sutra ek hai
Shubra rang ki chhata sapt rang hai liye
Koti koti kant se Hindu dharam garjana
Nitya sidha shakti se matrubhu ki archana
Sang shakti kalyuge sudha hai dharam ke liye
Vyakti vyakti mein jage samaaj bhakti bhavna
Vyakti ko samaaj se jodne ki sadhana
Dao par sabhi laage dharm karya ke liye
Ek divya jyoti se asankhya deep jal rahe
Kaun loh bhuja sakhe andhiyon mein jo jaale
Tez puj hum bade tamas chirte huyen.