At book release function of XVI Century Goa on Aug 13, 2021 at ICG Donapaula Goa. (L to R) Smita Bhandare Kamat, Deepa Miringkar, Lourdes Bravo da Costa, Padma Shri Vinayak Khedekar, Sanjeev Sardesai, Fr Elvis Fernandes, Ricardo Pinto Rebelo , Shrikant Barve and Vivek Chari
BY MME BUTTERFLY
INCREASINGLY I'm convinced that if we live in a place we must know its history and cultural background as it evolved or did not evolve. If I live in Goa I must know more about Goa and its history past, present and future…okay, may be not future, but anyone's guess where it is heading? This is to say I have in my hands a welcome journal brought out by friend and noted chess master Shrikant Barve, niz Goenkar with a passionate love for his Goa of old and knows it inside out or so speak.
Perhaps he thinks the bhaile who come to make their home in Goa should know more about Goa. And towards this direction I appreciate his recent venture in bringing out journal titled 'XVI Century Goa.' I'm sorry I missed out on the release function. But this journal is worth getting a copy of for it is full of articles written by niz Goenkar with some wonderful insight into Goa's past. Shrikant bab seems to be more concerned about the lost Hindu deities and temples of Goa and a quote on the journal cover says, "We have a dream that some day the sons of the soil will welcome deities of their ancestors annually to their land of origin."
There are some interesting articles in the journal by familiar names like Sanjeev Sardesai, Deepa Miringkar, Sanjeev Verekar, Savio Rodrigues, Vivek Chari, Dr Bhushan Bhave, Dr Fr Elvis Fenandes, SFX….a Precise History of Goa' by Ricardo Rebello,Early resistance movement inGoa ' by Prajal Sakhardande, Quote from book `The Hindus of Goa and The Portuguese Republic' by Ave Cleto Alfonso and more. There's a Publisher Compiler Note by Shrikant Barve and a Preface by Goa's niz Goenkar historian Sanjeev V Sardesai (he knows his Goa). Illustrations are by Dr Smitha Bhandare Kamat. It's a journal summing up different aspects of bygone Goa and a most useful read I would say.
I'm certainly going to read it from cover to cover for I always say we must not be superficial tourists or even migrant settlers in Goa, but have a traveller's curiosity and appreciation for what has gone before and come after to get an understanding of what could evolve tomorrow. Shrikant Barve is clearly a man of strong convictions about the fitness of things and he's also a niz Goenkar in love with his Goa good, bad or ugly. If you love Goa please get a copy of this journal, it's priced at Rs200 and worth its weight in gold or so to speak.
ABOUT lost temples in Goa I would like to carry a quote here from what Shrikant Vinayak Barve has written in his Publisher's note:
"Though temples were primarily used for practicing religious service, they also acted as ameeting point for the villagers for preservation of the cultured of rthe village through art presentations, educational discourses and also decision making in the interest of the village and villagers: hence these insstitutions could alsob e classified as educational and administrative hubs of he past. Over a period of time, there was a need for expansion of the temple complexes and also the water bodies or lakes, to keep up with the ballooning population. As time passed by, these sites became pilgrimage sites, as well as a nodal area for economical transactions, boosting the economy and produce of the respective villages. In view of this, the population elated to these villages made it a point to converge at this temple, at last once a year or on a fixed day, to pay respects and offer services.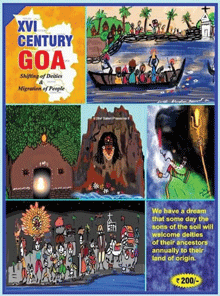 "Due to the advent of the Portuguese in the 16th century, the structure of this system was abruptly shaken and many crucial administrative and religious links were brutally ripped out. The major casualty of this unforeseen and oppressive action led to the gavkari system being diluted and tragically, the religious protocols were forcefully stopped and temples destroyed. The temple lakes were polluted, damaged and filled up, which in turn led to the economy of the village to suffer.
"The policy of the Portuguese conquerors, along with religious backing, of eliminating the ethnic culture and overlapping it with their own, would have over the time succeeded, if it had not been for the liberation of these lands in 1961. They are systematically destroyed all original temples and obliterated the traces of the original culture of this land. However, the core ethos of the culture of these lands, were transported to safer lands and continued unabated, but with scars. After Liberation, with easing of liberties and granting of freedom, the local culture started to boost, along with the preservation and boost to the temple culture, rubbing shoulders with other cultures. However, the required restoration and preservation of the temple tanks had not been seen."
There is much more worth reading but you may catch it in the journal! Goa has some of the loveliest temples I've seen and while some of them are heritage ASI properties, I wish they were better maintained and not tampered with, like the filling up of the water tank at the Tambdi Surla temple in the heart of the forests of the Bhagwan Mahaveer Wildlife Sanctuary in Sanguem; the lush, abundant rivulet of water nearby too dries up now and Mother Earth alone knows where the water from the hilly terrain disappears. Heritage sites should be maintained but re-designed or pruned or filled up here and there for the sake of modern-day ethics!
The Preface by Sanjeev V Sardesai is also full of insight into Goa. Really, 'XVI Century Goa' is dedicated to the tragic narrative of shifting of deities and migration of people and the consequences, here is a veritable encyclopedia of information about where Goa is coming from and what happened to it – and why it continues to echo of such an intriguing blend of East and West, still trying to live in timeless harmony with Mother Earth. Despite some nasty historical experiences and adventures!
The 'XVI Century Goa' journal is available at The Playce, 2nd floor, Centro Pedro Vincent Vaz Bldg, Opp Mapusa police station, next to Garden Centre, near Chandrakant Apartments, Mapusa, Goa 403507. Price is Rs200. It is also available at various major bookstalls, including Varsha Bookstore in Panaji.
ON THAT note it's avjo, poiteverem, selamat dating, au revoir, arrivedecci and vachun yetta here for now!
– Mme Butterfly