GOVERNOR GREETS PEOPLE ON DUSSEHRA
GOVERNOR of Goa P S Sreedharan Pillai has conveyed his warm wishes to the people of Goa on the occasion of Dushera/Vijayadashmi. Quoting from Governor Pillai's message, Dussehra/Vijayadashmi marks the conclusion of observing nine days of the Navratri festival. These are very significant festivals celebrated across the length and breadth of the country without religion, creed or caste.
He observed that each region has a different spiritual connotation of the festival with its underlying spirit of victory of good over evil. This remains the same and such celebration play a remarkable role in integrating people, maintaining unity and integrity of the country. Governor Pillai urges all devotees to adhere to health and safety protocols while celebrating the festival, he concluded, "May the celebration of Dussehra this year bring greater peace, joy and prosperity to the people of Goa."
GOVERNOR PILLAI VISITS MISSIONARIES, ORPHANAGES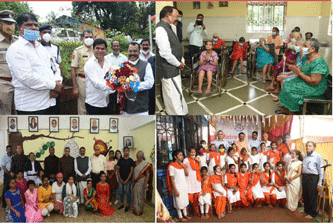 GOVERNOR P S Sreedharan Pillai visited and saw for himself the working of various missionaries, orphanages and District Hospital Margao in South Goa, recently. He visited Missionaries of Charity, Fatorpa in Quepem Taluka; Lar De Santa Terezinha, Pajifond Margao; Mattruchhaya Balika Kalyan Ashram, Gogol, Margao and District Hospital, Margao. Earlier in the morning he visited and sought blessings at the Ayyapa Temple in, Vasco.
According to the governor he will be visiting various social organizations in Goa during the next two months to find out what their problems and issues are. After taking charge as the Governor of Goa and interacting with many people at the Raj Bhavan, he said he was happy and felt inspired by the kind of institutions running in the State to take care of humanity in need.
Service to the people is considered as service to God, "Culture of our country is `Sarva Dharma Sambhav' meaning all religions are equal. Ours is the country which welcomes and respects every religion and works together keeping in mind that human being is the only religion which should be given importance."
At the Raj Bhavan and with coordination of Union and State governments, Governor Pillai said, he would try his level best to help humanitarian causes. He also invited the inmates of orphanages and special institutes to visit the Raj Bhavan once the pandemic eases.
In the meantime, he promised, modern medical facilities will be provided and discretionary funds increased by the Raj Bhavan for future work. He was welcomed at Missionaries of Charity, Fatorpa, by Deputy Chief Minister Chandrakant (Babu) Kavlekar, South District Collector, IAS, Ruchika Katyal; Deputy Collector, Quepem, Nilesh Dhaigodkar; Mamlatdar, Quepem, Laxmikant Desai and parish priest Fr Jose Fernandes.
At Lar De Santa Terezinha, Pajifond-Margao, Director Fr Silvester Dsouza said their institution which was founded in 1947 is the oldest orphanage in Goa and managed by Carmelite Monestry. They have 34 inmates in the age group of 18 to 34. MLA Digamber Kamat, Additional Collector, IAS, Sanjit Rodrigues, Fr Ronaldo D'souza and Fr Jeevan were present. Prof Joan Rebello compered and presented a program by the inmates of action songs and dances.
It was an exhaustive tour and at Matruchaya, Balika Kalyan Ashram, Gogol-Margao, the governor was received by President of Matruchaya Srinivas Dempo. MLA Vijay Sardessai was with him. Matruchaya had started with five inmates and now has 24 inmates. Financial assistance from the Raj Bhavan's discretionary fund for dialysis and care of patients and orphans were generously handed to the beneficiaries by Governor Pillai.
At District Hospital in Margao the governor was welcomed by Director, Directorate of Health Services, Dr Ida Almeida; Medical Superintendent Dr Deepa Corriea was present on the occasion.
VMSIIHE FELICITATED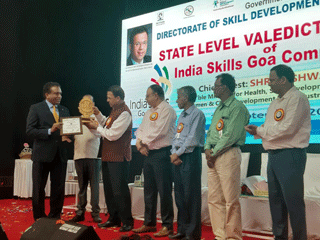 INDIA SKILLS COMPETITION WINNERS: VMSIIHE'S Director/Principal Irfan Mirza and the team members comprising of Dr Marie Raj (administrator), Chef Sebastian Breitinger,  Chef Sujatha Madhavan, Chef Rodwin Rodrigues, Yoshika Brooks D'Silva and Cleona Pereira were recognized for their remarkable contribution during the India Skills valedictory function that was held by the Directorate of Skill Development & Entrepreneurship (Government of Goa).
C R Garg (IAS), Secretary, Skill Development and Entrepreneurship, and guest of honour Capt Kaustav Nath, State Engagement Officer, Karnataka & Goa Deepak Desai, Director, Directorate of Skill Development & Entrepreneurship were other dignitaries present for the occasion. The National Skill Development Corporation (NSDC) is the executive arm of the Ministry of Skill Development & Entrepreneurship (MSDE), it organized the India Skills Competition 2021 to promote international standards of vocational training in India. The competition is part of an international event known as World Skills where a student less than 20 years old can participate. The competition progresses from screening level to district level, and onto state, regional, national and finally to international level, World Skills Competition.
DEVELOPMENT BONANZA FOR NUVEM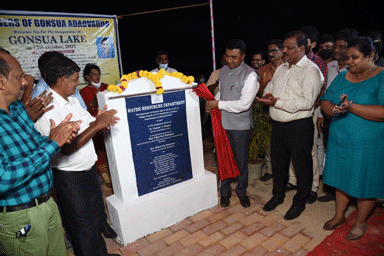 CHIEF Minister Dr Pramod Sawant inaugurated and laid foundation stones for various developmental works costing around Rs50 crore in Nuvem Constituency on Oct 12, 2021. The programs were organised against the backdrop of birthday celebration of Nuvem constituency MLA Wilfred D'Sa.
The CM commissioned traffic signal installed at Nuvem Junction, inaugurated Centre of Excellence, a modern science laboratory at Mae Dos Pobres High School. This laboratory is donated by Teva Group of Pharmaceuticals (earlier known as Watson Group) and is designed with setup by Mattzus Learning Technologies. Teva Group Director Vijaykumar and manager of the School Fr Victor were present on the occasion. As also headmistress Joe Colaco e Martins who gave the welcome address, Vice- Chairman of PTA Floriano Colaco and Denisha Coutinho who gave the vote of thanks.
Other inaugurations included Gonsua lake at Betalbatim (developed by Water Resources Department at the cost of Rs80 lakhJ). A foundation stone was laid for a multipurpose hall with indoor games stadium for Village Panchayat Nagoa (an estimated cost of Rs2.34 crore), undertaken under up-gradation of infrastructure in rural areas under Deendayal Panchayat Raj Infrastructure Development (Golden Jubilee) Scheme 2013. Foundation stones were also laid for open type bandhara and improvement of Vodli Handi and Dhakti Handi; football stadium; futsal court and community hall at Verna which will be built at an estimated cost of Rs9.50 crore. This project will be constructed by Goa State Infrastructure Development Corporation.
Speaking on the occasion CM said his government is for overall development of Goa irrespective of caste and creed. He reiterated that the government is committed to building infrastructure as well as human development and the various ongoing projects will be completed by December 19, 2021. A people's representative is one who understands the problems and needs of the community and works for its betterment. Technocrats will churn out at school level through modern labs akin to the donated by Teva Pharmaceuticals. Coding and robotics has been started in the school level syllabus to motivate students. Goa will achieve Swayampurna as the State is celebrating 60 years of its Liberation and as the CM he sought the people's cooperation. Panchayat Minister Mauvin Godinho said village panchayats in Goa have state of the art infrastructure. Despite covid times and financial difficulties work had gone on continuously. Goa is the peace loving state, he urged people to co-operate with the government for the development of society. MLA Wilfred Dsa asserting that Nuvem constituency will be provided will be fully infrastructure in the coming days and towards this end around 25 foundation stones were laid in the constituency. NRI Commissioner Narendra Sawaikar, Sarpanch, Nagoa Village Panchayat, Glivena Vaz, Deputy Sarpanch, Peter Fernandes, sarpanchas and panchas of other panchayats were also present on the occasion.