HEALTH CONCIOUS FOODIES ARE TAKING A SHINE TO THAI CUISINE…… Many folk including home makers are learning how to cook Thai and getting familiar with ingredients like kafir limes, lemongrass, sweet basil, fresh tofu and noodles, etc, along with the freshly made sauces which are used in many stir-fries. Mention Thai and the recipes which come to mind are green papaya salad, green curries and red curries, stuffed rice paper rolls, corn cake, mango sticky rice and tinkling icy fruity desserts!
By Tara Narayan
Eating is Fun / Eating is Yuck! – A variety food column
THIS week I've been overwhelmed by invitations to learn how to cook pure veg Thai cuisine courtesy online classes conducted brilliantly by an entrepreneurial and vivacious Chef Poonam Bindra! Don't know how I got on to it courtesy a Thai Embassy promotional waxing lyrical about Thai green papaya salad called "Som Tum".…it's one of my favourite salads except that I thought it was Burmese along with khao suey. Well, we learn to re-learn except that we in India also have our green or kacha-pakka papaya relish to go with Gujarati breakfast in Ahmedabad eateries…it's a very nice relish where green papaya cut julienne-style are tempered in bit oil, mustard seeds, curry leaves, pinch hing and stir-fried just so to retain a wee crunch (season with sea salt, haldi or turmeric powder, bit sugar). Garnish with chopped green coriander leaves. Serve with farsan of fafda-ghatia along with jalebi! I also like this Indian papaya relish stuffed in a sandwich with maybe a slice of cheddar cheese tucked in!
But to stay with Thai cuisine as I responded to Chef Poonam Bindra, I do think is one of the most health-giving cuisines of the world and definitely to live for. She wanted me to join up for her classes but I don't have time to indulge myself nowadays. I will recommend you learn Thai recipes though if you like fresh, it's a roll-call of tom kha gai soup, Thai lemon grass soup, crunchy Thai salad with sesame crunchy sauce, paneer satay (hey, that's more Malaysian!), Thai corn cakes, sticky soy tofu bake, red curry, green curry, basil jasmine rice, pad thai noodles and mango sticky pudding. That's from Chef Bindra's menu which she teaches online for Rs899, pretty decent I think.
SEND me the recipes, I said, and I will promote her classes online! But it was not to be. This is to say Thailand is a very special place and has done well for itself. Lifted itself out of the economic mess of being a one-time sleaze tourism place where most folk up in the rural hilly countryside were so impoverished that young girls landed up in slave jobs servicing tourists in beauty and massage parlours to keep their families alive through times. Those days are gone and few go to Thailand looking for cheap sex (instead they come to Goa in India).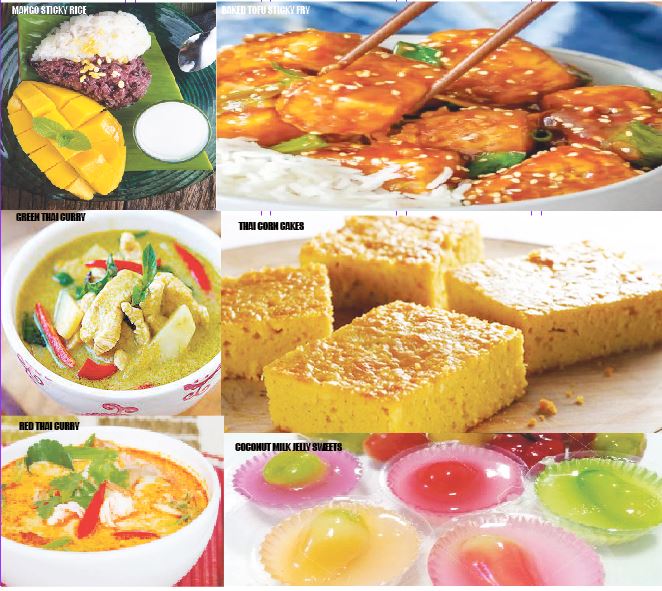 I am happy to say Thailand is a number one destination for foodies. Even rich Indians don't think twice before hopping over to Thailand to celebrate a marriage or birthday or anniversary with Thai food…along with family and friends. Thai food is beginning to enjoy good reputation and status amongst a growing number of health-conscious and as I mentioned earlier there are chefs giving online lessons in Thai cooking. I must confess I am very fond of some Thai dishes and especially those featuring fresh corn, sweet basil leaves, lemon zest, soybean cake, pineapple, lots of fresh greens like spring onions and coriander leaves and mint leaves, etcetera.
THE top seven most familiar and popular dishes for Thai food lovers are of course those of tom yum goong (spicy shrimp soup), som tum (spicy green papaya salad), tom kha kai (chicken in coconut soup), gaeng daeng (red curry), pad Thai (Thai style fried noodles, khao pad (fried rice) and pad krapow moo saap (fried basil and pork)…salty, sweet, sour, spicy, bitter…and then there is massaman curry.
Noodles of various kinds range from fine vermicelli-styled rice noodles to fresh ribbon white rice or moong noodles, glass noodles, jasmine rice is the most popular along with sticky glutinous rice, and purple black rice for desserts. You will also find fresh fruit flavors in many Thai dishes like semi-ripe and ripe papaya, ripe pineapple, guava, chikoo, dragon fruit, lychee and of course tender coconut and fresh coconut feature widely. Altogether Thai cuisine combos are happy combos and very desirable although I don't care much for the spicy beef and other meaty item numbers, although crunchy prawn crackers I love.
Hey, Thai and Chinese are different although China's Szechuan district spiciness is a rub off, by and large common ingredients are mostly rice and noodles. Thai rice paper stuffed rolls are superlative but the Vietnamese ones are better! I am mostly biased Thai though because most of the stir-fry pastes are freshly made and don't come out of bottles…made of green herbs basil and coriander leaves everywhere, the sharper galangal ginger and common ginger as we know it, kafir limes, lemon grass, groundnuts, candlenuts, sesame seeds ivory and ebony…dark sesame seeds oil is a favourite cold pressed oil, very flavorful. Health-conscious because most dishes are not cooked to death.
Yes, I would say Thai cuisine is one of the lighter-hearted cuisines of South-East Asia and one should invest one's health in it. Join up Chef Poonam Bindra's online classes if you wish for get a good Thai cookbook…one of these days I'm returning to books! Funny or not funny, one time I couldn't sleep without a book in hand, now I can't sleep without my smart phone in hand! It's real dumb stupidity.
OKAY, a recipe to inspire you on your journey to exploring Thai cuisine…
Green Papaya Salad (Som Tum)