TEARS: India's first prime minister, Jawaharlal Nehru, was moved to tears when Lata Mangeshkar sang "Ae mere watan ke logo…" at Ramlila Maidan in Delhi during Republic Day celebrations.
By Tino De Sa
The Indore-born Lata Mangeshkar was named Hema Hardikar at birth. Her father had migrated to Indore in Madhya Pradesh as he did not get sufficient respect in Goa. The name Lata was added on by her father in memory of his eldest daughter who died in infancy and had been named Hemalata
HOW Hema Hardikar came to be called Lata Mangeshkar – the name by which the world knows her – is a fascinating story which begins in the village of Mardol, just 11 kilometres from my own native village of Divar, in Goa.
On the outskirts of Mardol is the Mangeshi temple, dedicated to Lord Shiva in his form of Mangesh or Manguirish. The deity had been shifted here in 1560 when the Portuguese occupied Kushasthali (now Cortalim, on the banks of the Zuari), and in course of time a magnificent temple was constructed unlike any other in India, its unique architecture with its domes, tiled roof, balustrades and balconies is typically Goan, reflecting an eclectic mix of Western and Saracenic elements in an overall traditional Hindu layout, but different from temple buildings elsewhere, in that it is airy and spacious, its mahamandapa adorned with chandeliers and large windows topped by Gothic trefoil arches.
In this temple town lived a Karhade Brahmin bhatt or temple priest by the name of Ganesh Hardikar in the late 1800s. Also in the temple lived a devdasi by the name of Yesubai, who sang and danced before the deity on festive occasions. At the turn of the century, in 1900, a son was born to Ganesh and Yesubai, and they named him Deenanath. Deenanath was very gifted, excelling in music and singing. He felt that being in Mardol handicapped the flowering of his talent and that he would do better in drama, because of which, as a teenager he shifted to Pune, with its thriving Marathi stage. In an attempt to retain his links with his childhood temple town he took to calling himself Mangeshkar instead of Hardikar.
In 1922 he met and married Namrata, the daughter of a rich businessman, and they were blessed with a daughter, whom they named Latika. Alas, the infant died, and soon after her mother too passed away. A distraught Deenanath married his sister-in-law, Shevanti. In 1929 he was again blessed with a daughter whom he named Hema. But in memory of his eldest child Latika, who had died in infancy, he used to lovingly call Hemalata – and the name stuck.
And that is how Hema Hardikar grew up as Lata Mangeshkar. The rest is history.
Add-on 'Goan Observer' tidbits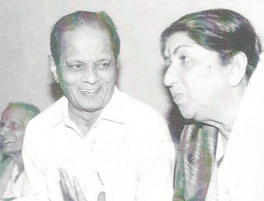 ALTHOUGH Lata Mangeshkar had a bitter sweet relationship with Goa she maintained her relationship with the state. She was very upset with the top people in Goa as she felt they did not gave sufficient respect to her father, the musical genius Dinanath Mangeshkar. Though she attended the inauguration of the Dinanath Mangeshkar at the Kala Academy she never performed in Goa.
It is not widely known that Lata Mangeshkar was very closely associated with Goa's Liberation struggle. Lata was very close to the Goan music director Sudhir Phadke who was part of the Azad Gomanatak Dal. The Azad Gomantak Dal which believed in armed revolution liberated Diu and Dadranagar Haveli way back in 1955 without the assistance of the Indian Armed forces.
Sudhir Phadke was an important leader of the Azad Gomantak Dal. It is claimed that he used to carry his gun in his guitar case! Lata Mangeskar may not have performed in Goa but way back on May 2, 1954 she performed at a concert at Hira Bagh, Pune. The concert was for the benefit of raising funds for the Azad Gomantak Dal.
Lata Mangeshkar was associated with the Kala Academy as a member of the General Council. She visited Goa for the first time after Liberation in 1996 after she was awarded the Bharat Ratna. She laid the foundation stone for the Marathi Academy in Porvorim. She stayed at the Mandovi Hotel in Panaji for four days along with the sisters Usha and Mina. Lata Mangeshkar's last visit to Goa was for a performance by the musician Pravin Goankar at the Dinanath Mangeskar theatre hall at the Kala Academy in Panaji.