MANGOES…Goa used to have 125 varieties of mangoes now come down to 77 varieties
By Tara Narayan
THESE summer days all we want to do is step outdoors to stay alive and kicking! The vast open air grounds of the Montfort Academy campus out at Corlim definitely quality as some gorgeous outdoors – to study or time pass looking at the mangoes of Goa and other events lined up by festival curators Marius Fernandes, Prakash Kamat and Tania Shirodkar to celebrate mangoes and other friendly events at the Ambeachem Fest. This was on Sunday, May 8, 2022 and the all-inclusive itinerary kept visitors on their toes.
Interestingly, the Montfort Academy at Corlim has been offering vocational formal and non-formal courses in technical and academic programs for the last 21 years. For example, courses to qualify in jobs of electricians, fitters, Tata Motors LEAP-certified automobile mechanics, etc. So it was not surprising that visitors at the Ambeachem Fest got a conducted tour of the workshops of the educational institute first — where various kinds of machinery, graphs, set-up of demo power boards were on view and one could ask questions about whether Goa will soon have more electricity-charged motor bikes and scooters, or we will have to continue with our old-fashioned petrol fuelled vehicles for quite some time — seeing how power costs are sky rocketing. Ask staff teacher Pranil Karanjalkar here for more interesting tidbits about how electricity is generated. So much has become obsolete!
THIS is to say some pretty young volunteer gave me a red chilli and salt smeared kachi mango sliver to eat by way of welcome and left me tickled. It left me coughing and in search of water to cool my throat! My friend, the lovable, inimitable history-enthusiast Sanjeev Sardessai sitting nearby beneath a mango tree, told me to chill. Took out a eau de cologne-laced water spray and sprayed me around the neckline, back and face –to help me cool down. Ahhhhhh, now that was the most cooling, refreshing thing to do on a hot summer's day and I'm quite taken up by it, the idea of carrying around such a spray when stepping out appeals enormously. Baba Sanjeev, thank you, this is the most effective instant way to cool down out of doors and I'm thinking rose water spray, he replied, "but make sure the water is cold, it works better!" Also, don't carry spray in handbag for obvious reasons…thanks for the idea, real friend! I welcome it.
Visitors were asked to gather beneath one of the grand mango trees for some tete-e-tete, talks and distribution of prizes to students with challenges to cope with. I loved what chief guest, the genial and disarming Police Chief Jaspal Singh, said about mango festivals such as these being a part of preserving traditional and social cultures and amongst other things, don't worry, "We are here for peace, tranquillity and prosperity of Goa!" There was a Pink Police Force (the recently introduced women's force) on standby here to help anyone in need at the fest.
The line-up of stalls were at the other end of the Monteforte campus grounds, where the trees were decorated with amazing festoons of cane baskets and of course, heaps and heaps of mankurad mangoes mostly, going at Rs400 dozen (not exactly below market prices currently). The ICAR Central Coastal Agricultural Research Institute had a piece de resistance stall showcasing various mangoes of Goa — but none sell as usual! Apart from mankurad there were cucumbers, pickles, jams and condiments on sale at the stalls. And both vegetarian and non-vegetarian meals were served lunch-time, the usual Goan thali with the vegetarian menu I bought myself featuring Goa's fat pink rice, ladies fingers mango curry, prawn kismur and mango miskut (the most popular fresh mango pickle of them all). I looked for aam ka panna to quench my thirst but there were only water bottles and soft aerated coloured drinks!
If you're asking me the real highlight of the ambeachya fest were the troupe of ghumot (Goan drum) women, 25 of them, led by the evergreen, redoubtable Shakuntala Bharne who whipped up a frenzy of joyousness with her "Ghum Ghum" song, filling one's ears long afterwards. This women's ghumot players are on their way to fame for they are now being celebrated as para-Olympic players, good-luck to them. If you having nothing to do in life, there is always hope – go learn how to make a ghumot come alive, go on.
A WHOLE lot of folk turned up familiar and unfamiliar faces…Carlos F Gonsalves, Elvira Lobato de Faria, Philip James, Glenis Mendonca, Alan D'Souza, Rene Barreto, Clarice Vaz, Harish Sawant,Gemma Fernandes, Savio Ribeiro, Jose Noronha…members of the Hemophilia society Panaji chapter attended. Earlier under the mango tree agriculturist Miguel Braganza had spoken about Goa's original 125 varieties of mangoes, out of which 77 have been traced but only 25 recognised and available today, there has been exhaustive study of Goan origin mangoes done by ICAR researchers, a booklet is available if anyone is interested in mangoes of Goa. He detailed ways to take care of mango trees so that their fruit was bountiful and also how to recognise mangoes tree-ripened, hay-ripened, newspaper-ripened, gas-ripened…that is, artificially ripened (most remain sour and rotten within).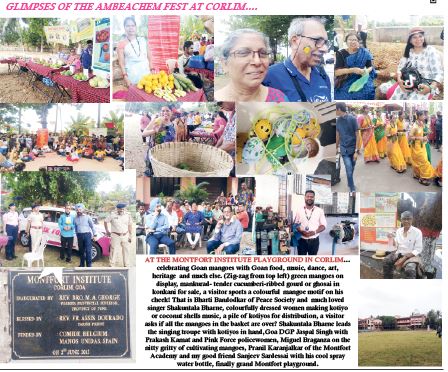 The disarming gynaecologist Dr Maryann Lobo recounted how the mango tree is as blessed as the coconut tree; mango leaves feature in all Hindu puja in temples and auspicious occasions. In traditional medicine there is mango leaf "lep" which is useful for such afflictions as ankles puffing up or cellulitis. There is something called curative "transdermal action."
All this and much more at the 50th local peoples' festival curated by Goencho Festekar Marius Fernandes of Divar Island, who divides his time between life in the UK and Divar Island in Goa – in love with Goa's bounty of fruit and festivals celebrating them forever!