AT THE INOX FOOD COURTYARD… Just a handful of of stalls offering Mughlai, Continental and Chinese heavy duty fryum foods, Zakis paneer biryani was good, a combo meal of chapati meal for Rs180 was also a favourite with many delegates. Wash it all down with Coco-Cola or Kingfisher beer! Only expensive pet bottled water available.
By Tara Narayan
If there is no water, drink Coca-Cola or London's Gin or Kingfisher's beer….
LAST two International Film Festival of India delegates were grateful for these water stations where bottled water on easy offer — buy a bottle for Rs50 and then for the remaining ten days you may keep fill up for free all the water you want to drink for the entire duration of IFFI. Many delegates were grateful for the provision of potable water at the very least to quench thirst for nothing quenches thirst like water, only water. Drink at least five glasses of water daily if you want to keep your bodily systems detoxed. We actually forget to drink water or don't want to drink it for all kinds of fool reasons (little realizing how vital water is for body beautiful)!
But this is to say at the NFDC-ESG's 53th International Film Festival of India in Goa there is no potable water to drink for money or for love! At least water is not available freely or economically so to speak, unless you want to buy the pet litre bottles of water at a handful of eatery stalls set up at the INOX courtyard; and you may not lug your water bottles with you when going to view films, please leave them at the entrance or at the special counter for storage of idle baggage near the media rooms at the Old GMC building). No problem with that except that one does extra walking around to deposit and collect when you may be in a hurry to meet another film deadline! So say there's little time for water breaks and then where is the water?
In between film watching one does get thirsty and hungry and look around for a decent range of snacks if not heavyweight meals depending on one's personal IFFI budgeting! There is some dismal heavyweight Moghlai, Oriental and Continental snacks and meal combos; I consider all fried foods as heavyweight and a no no for me at least. One lunchtime I reluctantly entertained the Zakis paneer biryani for Rs250 although the boss here asked for Rs280 at first — until I pointed out that it was listed at Rs250 on the board up! The range of samosa and cutlets were terribly oily so I skipped them although a friend asked for a chicken cutlet bun sandwich and she was happy enough. Then there were fried momos, sushi and other exotica which didn't look too exciting on display. While at IFFI most of us fear an instant tummy upset and so are very cautious, especially the out-of-Goa delegates.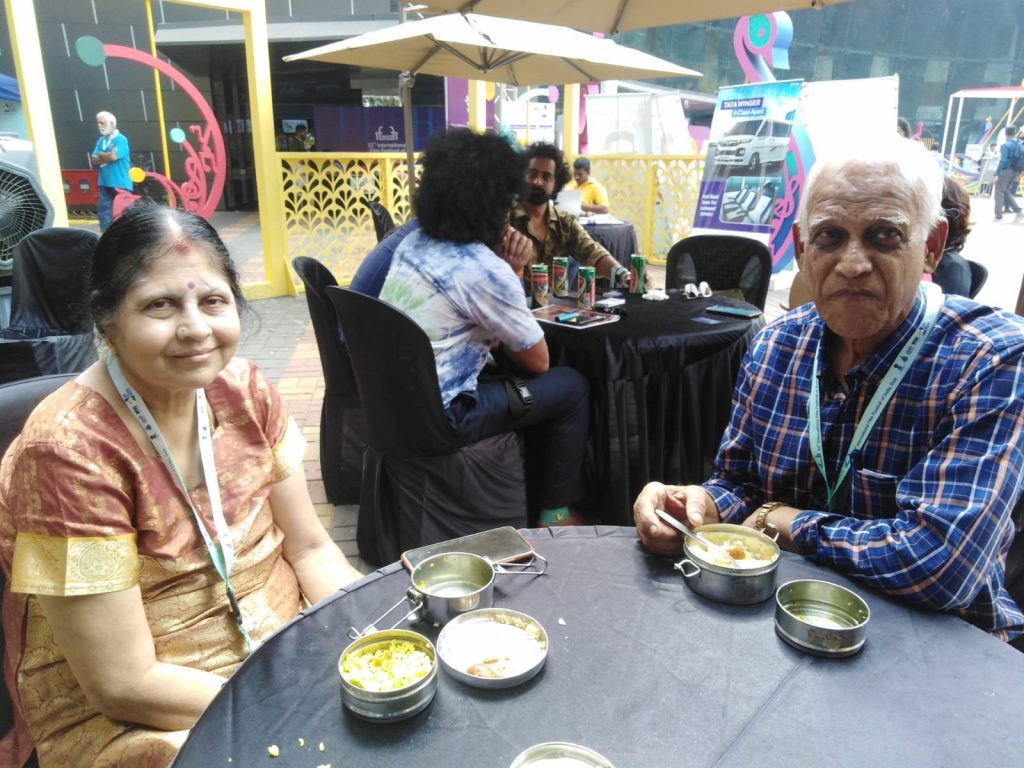 Well, I don't wish to grumble as I remember with warmth all the Goan self-help group women who used to turn up during the late Vishnu Wagh's IFFI years with their zitt-koddi and repertoire of Goans snacks to take pleasure in. In despair I took to snacking on the decent Rs50 per samosa offer at the INOX counter inside the now designer glossy-floored foyer with its super nice VIP lounge — where only the red carpet celebrities and guests gathered for refreshments and sound bites for media people. Small mercies, one could help oneself to water while at the INOX water point. Thank-you!
A LOT of my old friends from Mumbai and Kolkota are missing this year too and I will always miss my late friend, the real honest to goodness distinguished film critic Rashid Irani, who always guided me into seeing the best films scheduled every year at IFFI. My Goa friends Usha and Subramanian like to watch the regional films and with delight I found them at one of the INOX food court tables sharing a tiffin dibba from home — lemon rice, dahi-bhat, savoury crunchies redolent of down south India. Usha said eat, so I shared a bit and listened to her, "I get up at 5am to make and pack the food because we are too scared to eat the commercial food! Yes, we are getting to see the films we want to see…he books and I see with him!"
IFB-sponsored counter offered London gin and I was tempted on evening but I don't imbibe any liquor without friends with me. The boys here happily fixed me a Schweppes ginger ale with fresh lemon juice in it on the rocks for me, a most refreshing, thirst-quenching beverage to cool down for a happy Rs50 a large paper cup. It became my favourite station for a my remaining days of IFFI film watching at the INOX auditoriums 1,2, 3 and 4 and before I quit I will moon moon over a gin and tonic for one last time.
Most delegates are reluctant and outright unwilling to autoriksha or bus it out to the Porvorim Mall de Goa INOX auditoriums to see even some of the very good films scheduled there, "because the commuting is killing, by auto one fritters away almost half-a-day and I get so tired and hassled!" Quoting a senior citizen friend of mine who's an ardent IFFIgoer since 2014 when it came to Goa. The Porvorim Mall de Goa can be idiotically distracting too with all the shopping and sumptuous food court here and chances are one may end up never seeing the film one actually started out to see!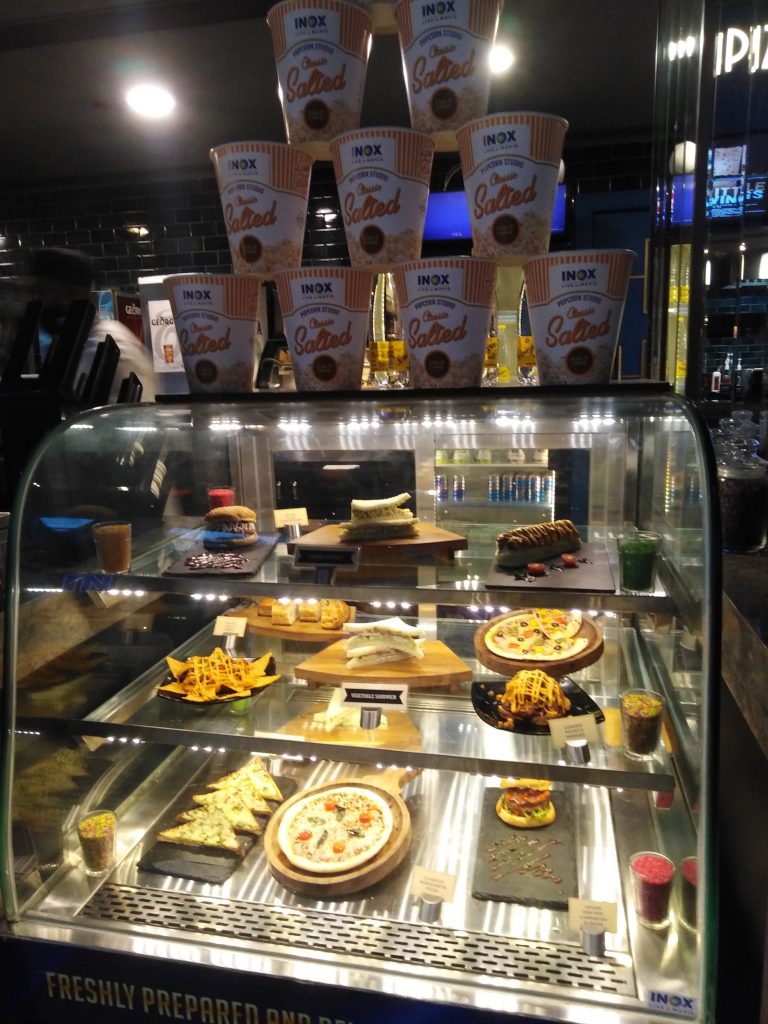 OF COURSE, in Panaji one may take a walk around the film venue to eateries like Navtara, Sheetal, Café Real, Café Tato, Café Bhonsale, Kamat Hotel and other trusted eateries like my current favourite Sanyog (they also have a cool upper storey if you haven't discovered it). But this means taking time off to get out of the ESG-INOX complex and returning in time to make it for one's next film booked to view. I may tell you that if one's mode of moving around or vahan is a humble two-wheeler, then one may be also walking around a great deal to trying to remember where one has parked it yesterday, today, tomorrow and so on, quite, quite far away from the film venue.
Four-wheeler owning delegates have a rosier time for they can park easily in the INOX parking lot, exclusive for prior pass holders and this goes only for the privileged two-wheeler owners – they may park safely in the parking lot. Every bit of shoddy, broken-up pavement space outside the venue is cramped with less fortunate two-wheelers and sometimes I have to shift one or two bikes out of the way to extricate my own bike with the twin handle mirrors all out of shape! At times the thought occurred to just forget IFFI and go home and stay home…increasingly, it's just too much trouble to go see an IFFI film!
THOSE who made it to the NFDC's Film Bazaar pavilions out at the Marriott Resort adjoining grounds, luxuriously set up down riverside walkway past the Youth Hostel, up to the Kala Academy …were luckier by way of tea and coffee on the house and there was a special IHCL pavilion offering decent home-spun eats like wada-pau, samosa, pasteis de nata, fruit cake, etc, to delegates who popped in and out of the various white-tented pavilions of Indian states (Maharashtra, Tamilnadu, Gujarat, Madhya Pradesh, Manipur, Bihar, etc) and foreign country pavilions – carpeted, air-conditioned, lots of tourism literature to take away. All of it was to woo visiting film producers to shooting their films in the various states of India and the red carpet would roll out for them by way of easy one-window facilitation.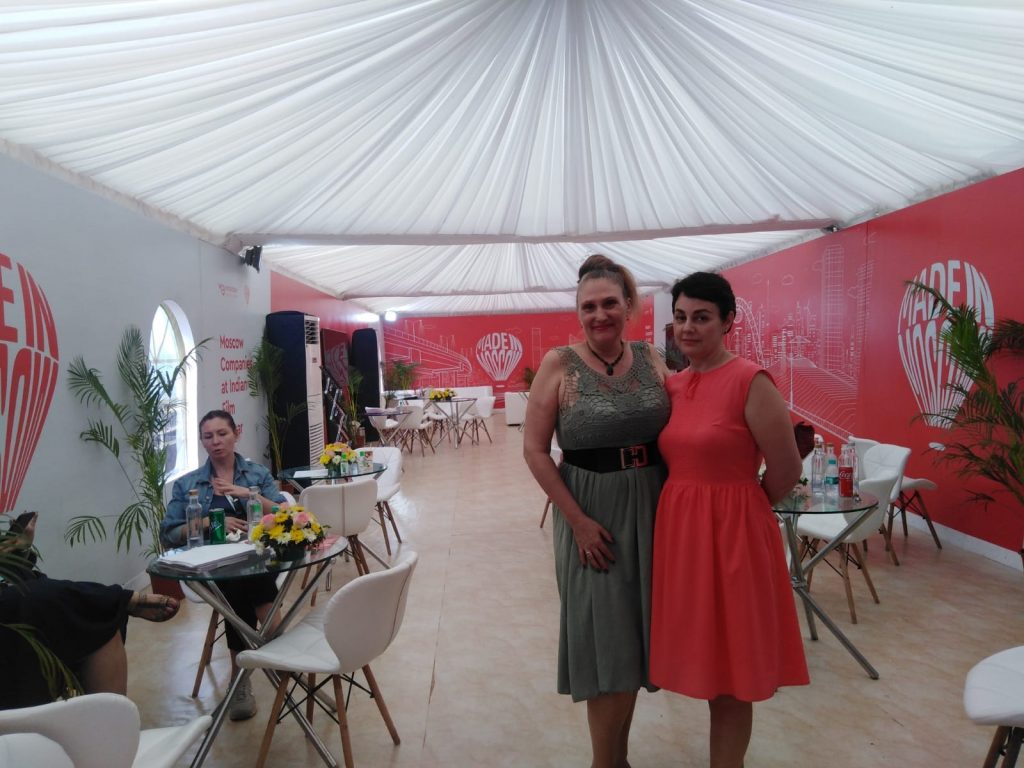 The double and treble spaced Russian pavilion takes the prize with its lovely seating arrangement, flowers on every table, cookies and an Anna here offered me a glass bottle of Veen Still Natural Mineral Water which I took an interest in for it came all the way from the Himalayan kingdom of Bhutan – it tasted like pure honest water and I later I wished I'd collected an extra bottle to take home (being a glutton for glass bottles in our plastic world)!
I asked Anna about Russian cinema but she was reluctant to talk, said maybe they make about 200 films annually in Russia, "but for the last ten years I have been living in Sri Lanka and working out from there." Said she was half-Ukrainian and responding to query, she shrugged, she didn't know much although she was involved of course because half her family was in Ukraine. She wasn't aware of how many Russian films were screening at IFFI but I could find out if I wished…she was hard-pressed for time, and I was putting in a visit on the final day, Thursday, November 24– that too in the afternoon when more or less everyone was winding up. With all the walking up and down I was grateful for the water from Bhutan!
Which reminds me at IFFI this year there was no tea either available — in little Irani glasses, first thing in the morning at INOX food courtyard! A pity. I remember earlier IFFIs when I was able to catch the first 8.30am film and would arrive to say hello to Lata Batikar (who like me believed in early morning film viewing) and both of us would hunt for a glass of tea for having had nothing at home in a hurry to get out!
I hate to say it but is such small courtesies which make a film festival come alive for ordinary film delegates who come for love of films of old and new maybe and they ask for so little…and even that little is not there. Tea, water, lightweight snacks to feed hunger pangs — not heavy meals which only makes someone snore next to one in the auditorium post-lunch film screenings. I was happy about one thing though – nobody was allowed to cart in food in the auditorium to create a racket and a mess all around, to the disgust of other delegates more conscious about how to appreciate a film – or walk out quietly if tediously slow and boring.
After all this I will say cheers to one more IFFI in Goa, or rather Panaji, for me at least!