IFFI SAGA IN GOA…here's the old heritage value old GMC of Panaji in contrast to the exquisitely decorated building during IFFI time in Goa for entertainment, enertainment and entertainment! Government should do the right thing for Goa by restoring these historical building by putting them to healthcare usages and this the opinion of many in Goa including the medical community! Dear IFFI powers-that-be…make it healthcare first, for Ponjekars and Goans, thank-you!
BY TARA NARAYAN
An ardent IFFIgoer reviews the latest IFFI in town Panaji….
IF you're asking me my dears I think this year's IFFI is my very last one (never mind that I've been saying this for last three years)! IFFI is no longer just IFFI. With every year it becomes a more mindboggling affair with a more irrelevant things added to it. Much though I've been an ardent IFFIgoer I will continue to say this. I've said this almost every year from 2014 when IFFI came to Goa to rudely take unwarranted liberties with the grand heritage structures of the old GMC.
Do the right thing Chief Minister Dr Pramod Sawant. Make a lot of Goans happy. Put healthcare first before entertainment, entertainment and entertainment. I would love to see the old GMC complex in Panaji facing the river front of the Mandovi, put to more vital use like healthcare – turn it into a primary health centre, a hospice, back to being a hospital, add a medical museum to it! Let it be a much needed sanatorium for senior patients…please, please, restore the historic old GMC complex in capital city into a garden and a heritage healthcare facility of multiple dimensions. Let the Directorate of Health Services take charge of it. The people of Panaji will appreciate the heritage monument of the old GMC put to better good use than turning into a entertainment centre annually for IFFI filmgoers. Return it to healthcare if you give a damn about better health facilities for Goans.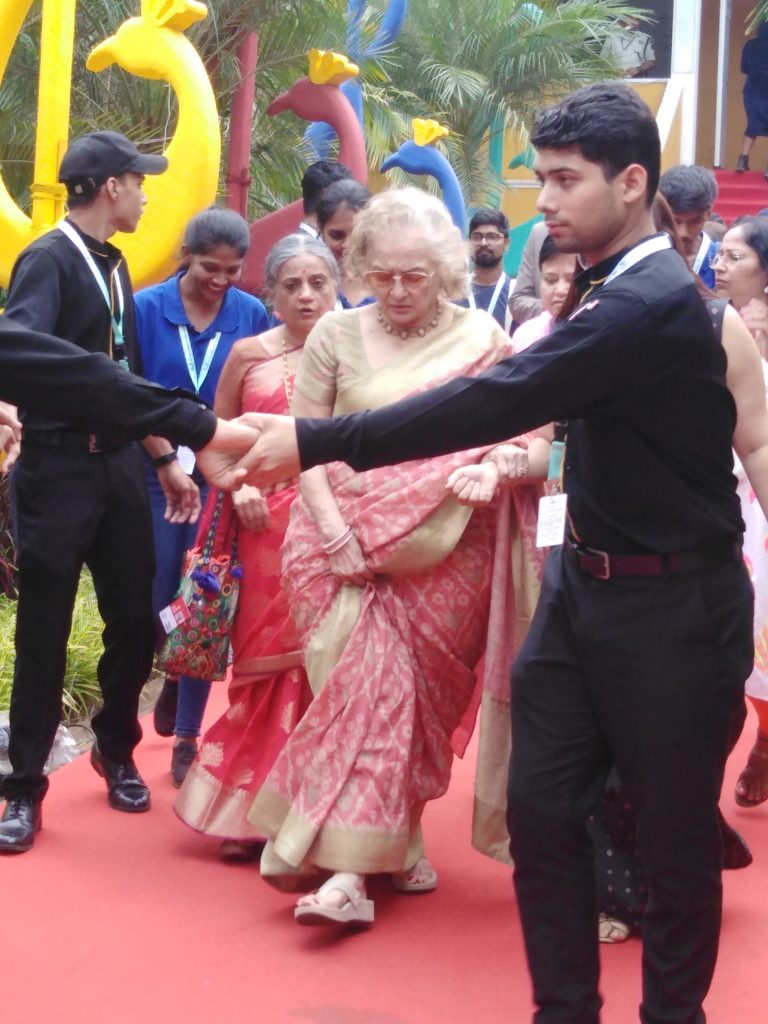 Watching the best films of the world may be good for the soul but this can be done elsewhere in Goa. Build another INOX out at the Kadamba plateau where there's lots of land to play with, ideally next to the Dr Shyama Prasad Mukherjee Indoor Stadium. Delegates may stay in the five-star resorts of Panaji but let all IFFI-lovers go out to the not so far outskirts of Panaji proper to be entertained where there may be no traffic jams, no headaches for the residents of Panaji whenever IFFI comes to small town Panaji (idiotically being called a smart city without even an easy, fast and economical fast public transportation in place, nor a centralized sewage system!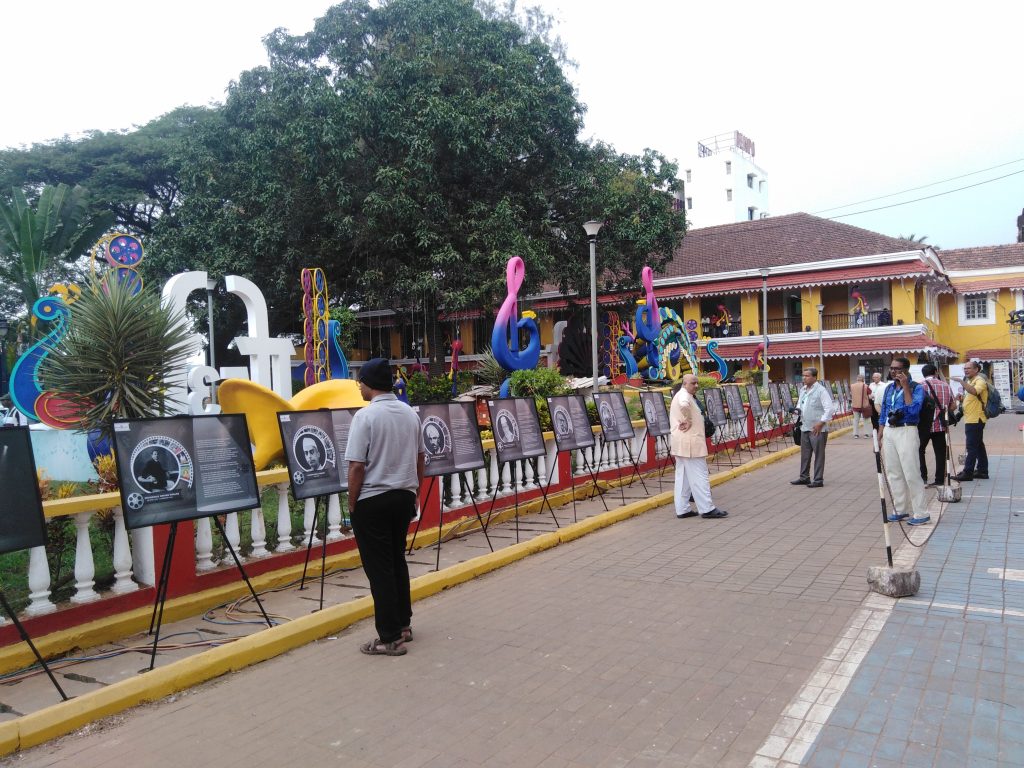 With the goodwill I have for IFFI and the chance to see some of the finest films of the world – I will say, do the right thing to be happy. Give the old GMC complex back to healthcare priorities for Ponjekars. Health Minister Vishwajit Rane should take this matter up with the Indian Medical Councils of Goa. Come on, come. I am sure Goans prefer better healthcare facilities over any Bollywood, Tollywood, Gollywood or any other "ollywood" from the country over entertaining them and turning capital "city" Panaji's only prime thoroughfare into a dazzling traffic mindbender whenever IFFI comes to town. A dazzlingly lit up Panaji becomes a nightmare after dark.
I guess nobody will listen to me!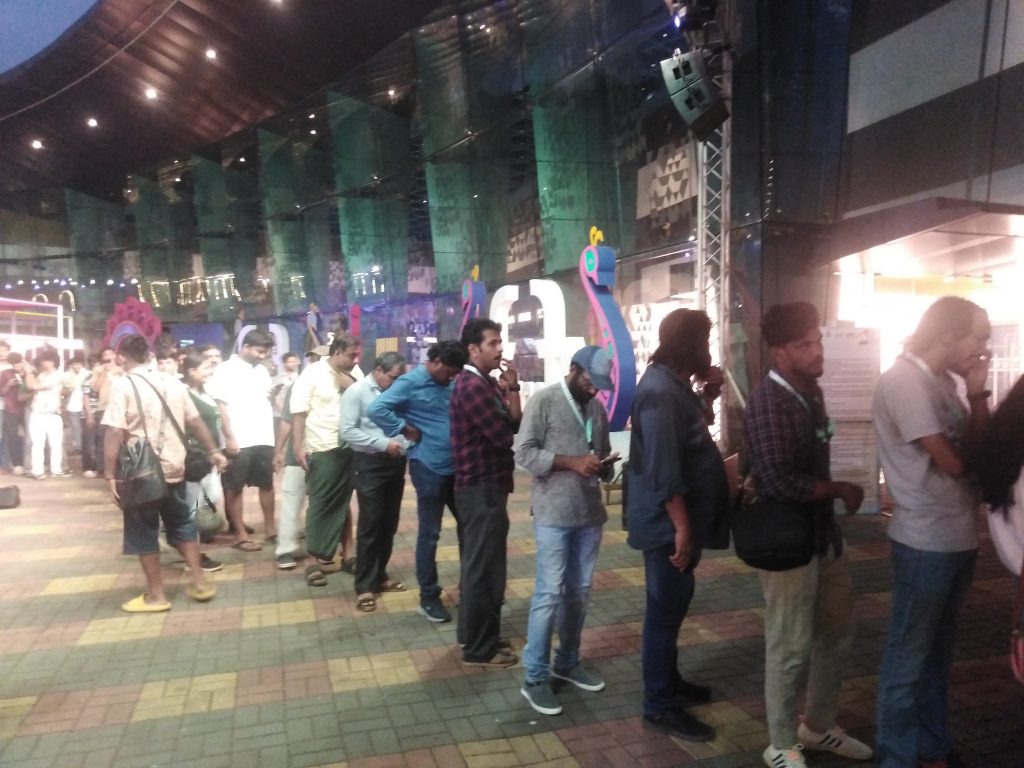 IFFI THIS YEAR
ON to this year's IFFI! Most everything was just too tight-fisted at this year's 53rd International Film Festival of India in capital city Panaji in Goa from November 20 to 29, 2022. As a regular IFFIgoer I felt it keenly. It is true I am older and wiser with every IFFI arrival and departure and don't move around with as much agility as during the first few IFFIs in Goa, but there've been absolutely glorious IFFI moments in the past when I could catch the first 8.30am film at one of the auditoriums at the INOX complex or at the Kala Academy (out of commission this year, something which was sorely missed) for few delegates liked the idea of going out to the Porvorim INOX auditoriums at the Mall de Goa.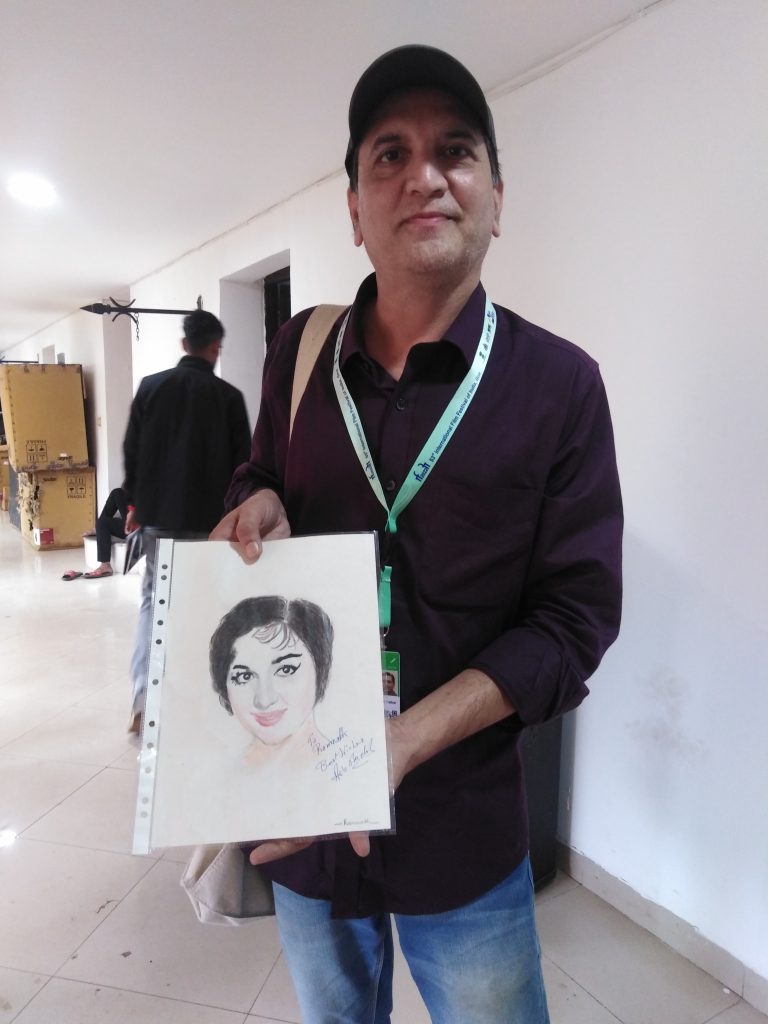 Some amounts of déjà vu is bound to creep in I dare say but I must say that after viewing three to four films daily at IFFI in the past, my this year's IFFI viewing of maybe one or two films a day was frustrating for me, after all in Goa one is hardly a full-time IFFI delegate even if a media delegate (most media delegates don't get time to see too many films unless they are reviewing the entire IFFI cinema bouquet for a daily newspaper or channel or on digital media). And, I will not see films I don't want to see just because I haven't booked a ticket for the film I want to see successfully!
By 8am in the morning most of the films I wanted to see were booked up and it was full house. Online booking can be as easy as it can be frustrating and one film – "Lost" – which I couldn't book for had me thinking I'll go wait at the entrance and if there were seats empty, the ground powers-that-be will bend the rule a bit and let me in. But it was nothing doing. Rush lines were not being entertained this year by the ESG-NFDC combo authorities and it was so needless when there were empty seats going for many a film show.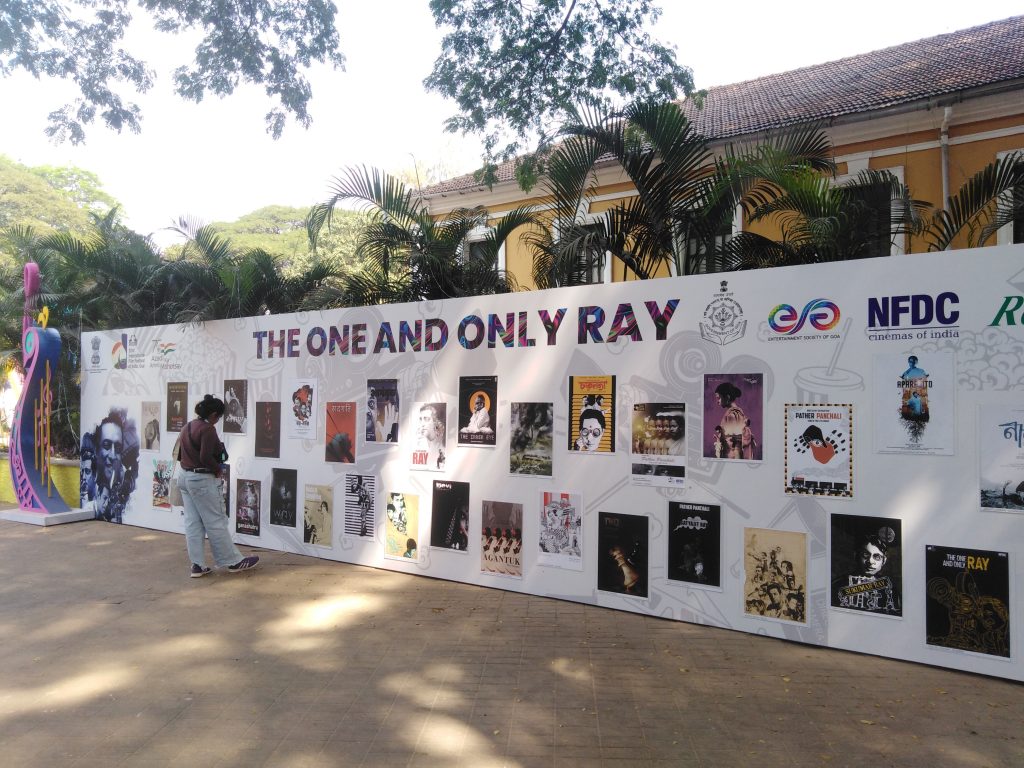 One senior citizen, BA Rao had this to say, "I know for some of the shows there were 50 to 100 seats vacant in the auditorium, but they wouldn't let delegates take them if they had not booked! Now what kind of thinking is this? I don't understand…at a film festival of this kind surely there must be so many possibilities to unbend a little when occasion warrants it?" Sometimes at 8am in the morning, he grumbled, it was like all the films he wanted to see were full house! Maybe he is just not good at this online booking.
It is true that it is the large number of senior delegates who were having a tough time this IFFI. It's like NFDC has taken
over and the rules are being cracked needlessly even as the selection of films in the international section left a lot to be desired. According to several filmmakers the NFDC will only think of commercial propositions, it has no taste in defining a good film like Film Division and the Directorate of Film Festivals veterans could do as they did for years on end. Let us say perhaps the NFDC takeover has blinded IFFI somewhat in the sense that IFFI films take second priority or so to speak.
The grapevine had it that NFDC's grand Pavilion presentation lined up by the river Mandovi adjoining the Marriot Resort & Spa at Miramar beach did such good business that the cost of IFFI was more than fully recovered by the time the NFDC people shut shop on Thursday, November 24, 2022. After that who gave a damn for the IFFI films at INOX or at the Porvorim Mall de Goa INOX auditoriums! The NFDC's Film Bazaar was the mega high-class affair of state pavilions with a few foreign ones — clearly, money was no constraint, even if the footfall was low and by the banks of the river Mandovi. From one account, there were no more than a hundred foreign filmmakers interested in making films in difficult India – even if the various state pavilions spread out the temptation of making it easy.
A question arises. Did IFFI suffer at ground level when post-NFDC business it felt like there was no more fizz left in the festival? At least the older delegates' fever to see as many films as possible has ebbed this year with the best venue of the Kala Academy out of commission and delegates reluctant to autoriksha or cab it out to the Porvorim mall INOX auditoriums. IFFI definitely felt like it was floundering at ground level for want of some genuine soft power thinking to make delegates' viewing of films more rewarding. Mind you IFFI delegates are paying Rs1,180 for the ten-day film viewing extravaganza and it is a much dearer film festival than most of the others in India (apart from MAMI maybe)!
IFFI BLOCKBUSTER
WELL, this is my take. Many others say it was a blockbuster of an IFFI post-the Covid-19 lock-downs in Panaji, Goa this year. For me the fifth day of IFFI in town the fizz had gone flat and the fever of watching some of the best cinema in the world was also down to …mundane time passing, if at all. In my case I just gave up booking for a film for I couldn't get the films I wanted to see, it was not possible to compete with all the gen next made up of film students, young filmmakers, the major bulk of the 7,000 to 10,000 delegates quoted were as usual made up of film enthusiasts from down south India from Kerala, Tamil Nadu, Karnataka, many from Maharashtra too.
On the surface of it all seemed to be moving along smoothly, seamlessly, with few sneezes and hiccups – everything was in place, or was it? If one managed to book a film one wanted to see it was fine…but something was missing. The desire to see as many films as possible in a day was gone. At least it looked like that for the fewer old-timers this time, those who grew up with films playing a vital role of influence in their lives.
"Who cheez nahi hai abhi," nodded veteran media person the 85-years-old veteran Brijbhushan Chaturvedi (popularly called "BBC") from Indore who is an ardent IFFIgoer and has visited over 50 film festivals as a media person. Regular IFFIgoer from Mumbai, Yogesh Sanghvi, too opined, "Selection of films hopeless this year." A dear old friend of mine complained, "These young bullies after the film was over…wouldn't let me go and use the INOX washroom. In an audience only one or two people want to get to the wash room quickly for a pee, yet they behave like half the audience wants to go! Why should I have to beg desperately to go the washroom, it's so humiliating."
A major grouse from several delegates including Prof Les Menezes, an old-timer at IFFI: What's the point of having these fat art paper books and brochures and even the variegated "The Peacock" daily when what delegates like us sorely missed the thin schedule leaflets listing clearly at one glance film name, producer, director, country of origin, category, duration, cast, synopsis of film, everything, "This brochure can beat any data schedule online… something in hand is always easier to deal with than any MyIFFI app!" The story is a fortune was spent on needless literature but not on what was absolutely necessary – a schedule in hand. It makes for some arrogant application of mind despite all the grandstanding at this new IFFI designed presumably by NFDC bosses!
SO MUCH HAS CHANGED
SOME things were rosy: like the Master Classes which were a great hit with the large number of aspiring filmmakers and film students – so much has changed vis-à-vis the art of making cinema that today almost anyone may turn out a small film given a smartphone…with a few lessons one may churn out any number of video film for the OTT platform, stealing the thunder from the good old-fashioned celluloid silver screen filmmakers of old!
It's like you, me, anyone can be a filmmaker today given a smart phone or something more expensive – and can be in business! With so much visual power exploding and burning up the eyes almost around the clock in our lives….what else but déjà vu sets in. So much visual bombast just bamboozles the mind talking of technology gizmos but not content matter or finesse in story-telling of the sensitive, stay in the mind kind. Just look and forget the moment you go to catch the next film in the next auditorium! How many even remember the four films they may be seeing back to back for the nine or ten days of IFFI?
(Sigh) Let's say I have reached saturation point vis-à-vis IFFI this year – forget the entertainment, entertainment, entertainment, the glamor and lives of starry, starry film stars (surely a dying breed nowadays given the context of how much the OTT platforms are stealing the thunder from the old timers of painstakingly crafted cinema)! If you're asking me there're better ways to see a film you want to see today at smaller, local festivals.
TO return to the beginning I do think healthcare is more important than entertainment in the singular or in triplicate or plus, plus. Surely a government's priorities tell us a lot about the quality of governance we enjoy or suffer from in small state Goa where everybody wants to come to have a holiday and buy a second home by hook or by crook? We Indian moderns have made a fine art of putting the cart before the horse or horses….somehow put a clumsy "cart" together and the horses will arrive by magic as in the films! Do films imitate life or does life imitate films in our hectic, busy, ambitious lifestyles in which we chase little else but…er…money, profit and power?
STUNNING MOMENT AT IFFI FINALE!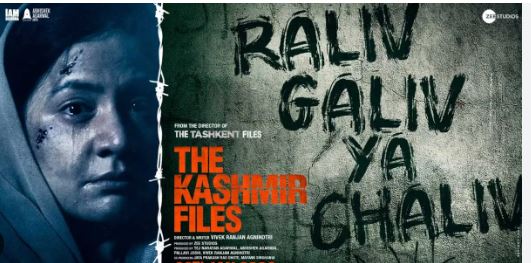 IT was a quietly stunning moment at the IFFI finale on Monday, November 28, 2022. At first it seemed as if nobody understood or were too surprised to react, when Jury chairperson, Israeli writer and film director, Nadav Lapid, said the politically controversial film "The Kashmir Files" should not have been included in the Competition Section of such a prestigious film festival! It was no trick of the ears.
It became clear that for the first time ever at IFFI there was some criticism. Nadav Lapid very categorically said Vivek Agnihotri's "The Kashmir Files" was "sheer propaganda, vulgar movie" and the film had shocked the jury members. He continued to observe with brave dignity that such a politically blessed should not have been included in IFFI or something to that effect. In so many quiet words this was just it.
The right to state a differing opinion is okay in a democracy – but maybe not at IFFI, for the issue has boomeranged over social media and even the daily newspapers reported it the next morning. The Times of India correspondent Gauree Malkarnekar reported it as did the other papers. It was curtains down on yet another IFFI in Goa but this time there was some excitement other than the usual whistling and cheering by fans, especially for megastar Chiranjeevi — he got the Indian Film Personality of the Year award – here was some deafening adoration from the upper galleries in the indoor stadium. Reportedly, the popular star who made a foray in politics returned to films after some years and is a much respected philanthropist with several charitable projects courtesy his bankrolling.
The bestowing of IFFI awards were cone by Chief Minister Dr Pramod Sawant, Union Minister of State for Information & Broadcasting L Murugan and Union I&B Minister Anurag Singh Thakur. Hosts of the glamorous evening were actors Samir Kochhar and the cheerful Gitikka Ganju Dhar who really knows how to save a irksome moment, when some of the awards got mixed up with wrong background clips being screened. To cap again this year's IFFI saw the screening of 282 films (183 international, 97 Indian) from 78 countries, there were about 20 master classes which were jam-packed, as also the conversation sessions.
Alongside there was the presence of yesteryear and current film personalities in red carpet events at the INOX complex every evening of the nine-day festival of the best films from the world over. Who was present for the concluding entertainment evening? Yesteryear's jubilee star Asha Parekh (all of 80 years although grape vine says she is more like 88 going on 89 and still a woman to reckon with), and amongst those recognised by cine fans were Akshay Kumar, Ayushmann Khurana, Isha Gupta, along with them those who got felicitated were Rana Dagubati, Manushi Chhillar, Sharman Joshi, Prosenjit Chatterjee.
Present were the star cast of the Israel televisions series "Fauda" which had the premiere of its fourth season at this year's festival and interestingly in the audience of celebrities and special invitees was Israel's ambassador Naor Gilon (who when later queried by media people expressed his disappointment with Jury chairperson Nadav Lapid for airing his opinion about the competition entry "The Kashmir Files." That bit of discretion, if one wants to call it that, has caused considerably embarrassment all around regardless of whether it was justified or not.
International Competition film jury listed Israeli film director Nadav Lapid, American producer Jinko Gotoh, French film editor Pascale Chavance, French documentary filmmaker and film critic Javier Angulo Barturen and Indian film director Sudipto Sen. The Jury viewed about 15 films in a hectic viewing schedule.
An excellent change at this year's IFFI: The screening of the inaugural and concluding films in the early afternoon and before the evening gala of presenting IFFI awards and entertainment, entertainment and entertainment! This just means that nobody gets stressed out rushing from venue to venue to see inaugural or concluding films. The inaugural film this year was the Austrian-German film directed by Dieter Berner, "Alma & Oskar." The concluding film was filmmaker Krzysztof Zanussi's Polish film "The Perfect Number." Both films must have been cerebral shockers in their own way for conservative, religious-minded Indian viewers at IFFI.