IFFI HONORS ….. Actress Isha Gupta gets her award from Goa CM Dr Pramod Sawant, popular 'padman' Akshay Kumar is happy, Actors Jackie Shroff, Remo D'Souza, Karan Kundra, Amruta Fadnavis at the red carpet and Rajkumar Rao with 'Fauda' creators Lior Raz & Avi Issacharoff
By Asma Torgal
THE 53rd edition of the International Film Festival of India (IFFI) Goa came to alluring close on Monday, November 28 at the Dr Shyama Prasad Mukherjee In-door Stadium at Bamboli. Information & Broadcasting Minister Anurag Thakur, Chief Minister of Goa Pramod Sawant, Information & Broadcasting Minister of State L Murugan, actors Chiranjeevi, Akshay Kumar, Esha Gupta, Ayushmann Khurrana, Rana Daggubati, Sharman Joshi, Prosenjit Chatterjee, Manushi Chhillar, and veteran actor Asha Parekh were there in the front rows to enjoy the glamorous evening.
The coming-of-age Spanish dramatic film "I Have Electric Dreams" won the Golden Peacock award. Best Director award went to Nader Saeivar of "No End.' Special Mention for a debut film of a director went to Praveen Kandregula's "Cinema Bandi."Best Debut Feature Film Of A Director was Asimina Proedrou's "Behind the Haystack" and finally Special Jury award Award – Lav Diaz, "When The Waves Are Gone." Vahid Mobasheri and Daniela Marin Navarro got Best Actor awards, respectively. ICFT UNESCO Gandhi Medal went to Payam Eskandar's "Narges."
Telugu megastar Chiranjeevi a lot of applause and whistles when he was given the Indian Film Personality of the Year award. An overwhelmed Chiranjeevi responded, "I bow my head and thank every one of you. If anybody has the idea of coming to the cinema industry, please do come, this is a corruption-less profession, you will have no guilty conscience, if you have talent, you can project it, and you will grow sky-high." There were broad smiles around when he said this.
Union Minister for Information & Broadcasting and Youth Affairs & Sports Anurag Singh Thakur observed, "IFFI opened up a nuanced world of cinema for audiences across the region, both young and old, new delegates and festival veterans. IFFI not only entertained but also educated us. IFFI tickled our humour and refined their senses."
Chief Minister Pramod Sawant observed that the State government strives to provide the best necessary arrangements for the film festival every year, so that guests may have a memorable experience, and the government of Goa also endeavours to add new dimensions to the festival with every year of another IFFI.
Actress Esha Gupta said Goa was her favourite shooting destination, "I am also happy celebrating my birthday in Goa, attending IFFI with some of the best people in the industry and across the world." During the course of the closing ceremony the team of the internationally acclaimed Israeli television series "Fauda" on Netflix were felicitated by Union I & B Minister Anurag Singh Thakur. The series are developed by Lior Raz and Avi Issacharoff, who draw on their experiences with the Israel Defence Forces. Avi Issacharoff acknowledged it to be great honour that Fauda Season 4 premiered at IFFI, while Lior Raz said that they feels connected with the people of India and it feels great to know that "Fauda" is watched and loved by Indians.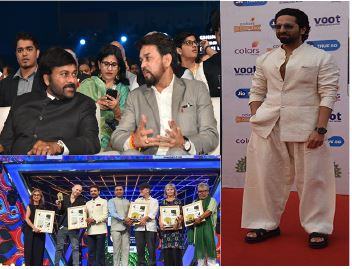 Festival jury head, the Israeli filmmaker Nadav Lapid created a minor alarm when he expressed his concern over the movie "The Kashmir Files." He said, "We saw seven films in the debutant competition, and 15 films in the international competition — the front window of the festival. 14 out of them had cinematic qualities and defaults and evoked vivid discussions. All of us were disturbed and shocked by the 15th film, "The Kashmir Files." It is a propaganda, vulgar movie, inappropriate for an artistic competitive section of such a prestigious film festival. I feel comfortable openly sharing these feelings here with you at this stage. In the spirit of this festival, can surely also accept a critical discussion, which is essential for art and life," Lapid said in his speech.
The remarks have sparked a huge row with many accusing the filmmaker of being insensitive towards the suffering of Kashmiri Pandits, who were forced to flee the Kashmir valley at the height of the militancy violence in the 90s. Later, speaking in an interview with media people, Lapid, defended his opinion, "The claim is there that the dimensions of the event are hidden by intellectuals and media and it is always the same — there is a foreign enemy and there are traitors from within." Lapid stressed that he felt it necessary to speak up. "In countries where people are increasingly losing the ability to speak their mind, someone needs to speak. When I saw this film, I couldn't help but imagine its Israeli equivalent doesn't exist but could exist."
A uniqueness at IFFI this year:
Special arrangements were made for Divyangjans to enjoy the festival. NFDC wanted IFFI to be accessed for everyone. Successful efforts were made to make the films accessible to the differently-abled and promote a spirit of inclusivity at the International Film Festival of India this year. "The Storyteller" directed by Ananth Narayan Mahadevan, premiered in the "Divyangjan" section of the festival.
Richard Attenborough's Oscar-winning "Gandhi" has been audio-visually equipped with embedded audio descriptions and subtitles for screening.
The special screening was audio-visually equipped with embedded audio descriptions and subtitles. The audience could listen to the same, and the content of the film conveyed to the audience, which is otherwise not accessible.
Masterclasses and In Conversation sessions have become most popular. There were more than 20 Masterclasses and In Conversation sessions at this IFFI and it saw the participation of noted film personalities which included Asha Parekh, V Vijayendra Prasad, A R Rahman, Sreekar Prasad, Shoojit Sircar, Anupam Kher, Prasoon Joshi, Aanand L Rai, R Balki, Nawazuddin Siddiqui and Pankaj Tripathi, "Baahubali" actor Rana Daggubati and others.
Books to Box Office: A new book adaptation program, books to the box office, has been introduced as an initiative to tide over between good stories printed in books and good films that can be made by adapting books. Many publishers were present to sell the rights of the books which could be turned into lively on-screen content. There were three hosts this year for the various events of IFFI. Karan Singh Chhabra who is a well-known Bollywood actor hosted the prestigious red carpet with celebrities and filmmakers from across the world. The actor received immense love from the audience for his sharp wit and humour. Then there was Roopali Suri, former Miss India interacting with guests like Cheeranjeevi, Sharman Joshi and "Fauda" actors Lior Raz and Avi Issacharoff who made several stars under the spotlight respond to quirky questions and answers. Rebecca Watkins made the star-studded event more zestful by asking interesting questions to a bevy of Hindi cinema small and big stars.