GLIMPSES OF THE FOOD & DRUGS ADMINISTRATION `EAT RIGHT MILLET MELA' IN PANAJI…the chief guest was Health Minister Vishwajit Rane who took in the various exhibits at the various stalls accompanied by FDA Director Jyoti Sardesai, Directorate of Agriculture Director Nevil Alphonso , GCCI President Ralph de Souza and various Tourism and Hospitality dignitaries.
By Tara Narayan
MY efforts to find the kind of food I want to eat are endless. Don't ask me why but the A to Z of all this is I no longer cook what I want to eat at home most times, I don't have the energy levels to cook differently for two different patients! One patient eating wilfully for his medicines and me, the other patient, eating as wilfully in search of weight loss and kinder adventures in the autumn of life (autumn or winter depending on how fit one is to live in mind and body, heart and soul, not necessarily equally).
Of course I went to the Directorate of Food & Drugs Administration's "Eat Right Millets Mela" put up at the INOX Courtyard on Sunday, March 25, 2023 to learn some more about millets, how to recognize them and how to cook them — but not in the usual unhealthy manner in which most of us cook our food! I've been asking myself what's the point of switching over to a healthier, non-industrialised millets diet if we're going to carry on cooking even the half-a-dozen little or big millets we are familiar with to death, overcooking, seasoning, tempering the same old recipes with oodles of oil or some such fat…salt, sugar, various real and unreal masala?
Oftentimes it is not only that we do not know how to eat but also how to prepare food for better nutritional values…a constant repeat I hear nowadays from healthy food professionals is "But people don't like healthy food!" What do you expect if our taste buds have already been spoilt over half-a-lifetime or even a lifetime, when it is hard to perceive "healthy" as — no oil, no sugar, no refined flour or cereal, and just a trace of sea salt/rock salt/pink Himalayan salt/black salt/ whichever salt you have just discovered as the healthiest!
The story is that it is the generous amounts of refined oils and oils we consume in our junk and processed foods which majorly harden our arteries and the "tiles" of our epithelial cells where the evergreen magic of nitric oxide is produced to keep us happy…and so on and so forth. If want nitric oxide to return to the temple of body beautiful first learn how to define "healthy!" Healthy does mean, right…no oil (no refined oil at all, no hydrogenated fats, no dalda, no vanaspati, not even oodles of extra-virgin olive oil or coconut oil coming from organically cultivated olive trees or coconut trees…fats are fats even if the best diet of them all today for obese fatsos is, indeed, the fat-based keto diet.
Keto is tricky because what it means ideally you want your digestive system to be on slow fat-burning mode and not on fast glucose-burning mode (go read up some more about it!). There is so much primary, secondary and tertiary fundamentals to all this to appreciate exactly how one may arrive at a healthy body beautiful which will endure on the happiness index till we're in our woeful years of the 80s and 90s and to touch a century plus if we so wish. Many I know don't want to live longer than they already have not so much because they are sick in body but they are sick in mind and soul. There's just nobody out there who'll turn up for them in the middle of the night to hold their hand…and the rest of it.
AT THE `EAT RIGHT MILLETS MELA'
BUT to return to the highlights of the latest millet celebration – the "Eat Right Millets Mela" – it was mostly a five-star sponsored affair what with several five-star hotel currently incorporating a millet menus in their restaurants beginning with the Marriot Resort…joining them now is the Taj Convention Centre and Taj Vivante Panaji, along with the Fortune Miramar, other hotels will undoubtedly and hopefully follow. I've long since stopped patronizing the myriad selection of millet ladoo range (doped with sugar and ghee north-Indian style, too much healthy jaggery is equally cloying!) and there was lots of confectionary too made of finger millet (nachne/ragi) and foxtail millet…sweet cake, cupcakes, pancakes, other interesting and not interesting sweet something bon bons.
Most of it was very ornamentally and decoratively displayed because the chief guest was Minister of Health & Agriculture Minister Vishwajeet Rane (who in response to a query promised me he is going to introduce a millets menu at the Goa Medical College & Hospital, hurrah!). Accompanied by FDA's very fastidious Director Jyoti J Sardessai and other dignitaries he inaugurated the new FDA Mobile Testing Van which is going to go around offering to check food samples. Discerning consumers may also take suspicious food samples they come across for checking if they wish to. What I wish is the good director of F&D would also take up the issue of food being packed in plastics and the widespread, illegal use of staple pins in the food takeaway business in town! It is most unsightly for a food take-way packet to be so cluttered with staple pins, first of all it takes forever to delicately open the picked-up or home-delivered food parcel at home. Worse, on occasion these zinc or aluminium tiny staple pins fall in the food and while eating one may bite into them…seniors with poor vision are the mist vulnerable. In any case it is illegal to use staple pins in food packaging but so many food vendors small and big are oblivious or pretend to be oblivious about it and merrily staple away. Please Jyoti bai do the needful!
Yes, it is illegal to use staple pins in the booming take-away and home delivery food business which became such a hit post-Covid19 lockdowns, people still like to sit at home and eat and so everything is delivered to their home. Once the hubby ordered mashed potato and garlic bread for Rs200 something doorstep delivery and I was so mad, the packet came stapled all over with clips. The right thing to do is to use a bit of tape, not oodles of tape but just enough to seal intelligently. Don't know about you but when I go out to pick up food I take my own stainless steel dibba now and some of the food eateries are so gratified that I do it! Copy me, please and give yourself a pat on the back if you are doing it too…look, ma, no collection of takeaway plastic containers to chick in my kitchen now, like that!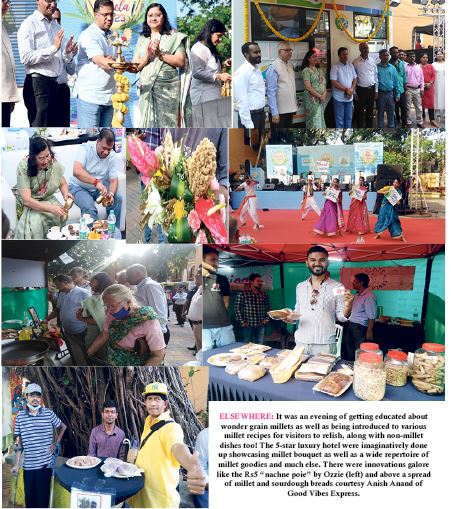 What else? I was very impressed and rejoiced with the number of millet bread on exhibit and sale – Ozzie had a perfect nachnyacho poie selling at Rs5 each, this is real entrepreneurship. Elsewhere too there was nachne or mixed millet loaves, even sourdough French loaf-styled bread…the Fortune Miramar was offering a super millet meal deal and thanks to general manager Ricardo here I got to eat some of the "bisi bili huli anna" made of jowar, deliciously redolent of tamarind and though a little spicy I took home some for the hubby, who has an old love for "bisi bili huli anna" …served with fresh curd, whatever spice may be cut toned down. Spicy, aromatic and flavorful. Jowar bisi bili huli anna…take a bow fortune Miramar chefs! They have a Rs450 millets menu buffet promotion going on at the Fortune Miramar currently if you're interested (my favourite Fortune Miramar recipe is really fish cakes with aioli/ sautéed veggies, mashed potato and garlic bread, ten on ten for the mashed potato!)
But you see what I mean? With the large scale and year long promotion of India's hardy country grains…the price of millets is up from Rs40kg just six months ago to the current Rs150kg plus, plus! To my delight I finally discovered and bought a desirable jowari bhakri from a hospital kitchen (Rs30 each large jowari bhakri and I'm not telling you from which hospital canteen I got it). Anyway, cook Ankita here explained to me how the ivory or cream coloured jowar (sorghum millet) comes in "barik" (small) to "mota" (big) grain, she buys the best big grain to mill into flour, then the flour has to be bound with warm water, patted or rolled out to desired bhakri size, before cooking it on a seasoned terracotta or good iron plate…likewise with all the other millet bhakri, I presume. Making millet bhakri takes practice, skill, patience and love!
AT DDHYANA WELLNESS IN PANAJI…

ALL THIS also reminds me only last week I re-discovered this wonderful haven and garden of paradise in the heart of Panaji – the Ddhyana Wellness Centre run by Cristabel Menezes-Pinto. It's truly a peaceful cool garden retreat down a Panaji lane and I was surprised to see what a lovely large modern kitchen they have. They are also doing a millet thali meal deal but it is available on order only, they also have a normal Ayurveda veggie thali meal deal…anyway, when I enquired, Cristabel told me they do "jowari chappati" and I went off to buy some. These jowari chappati are superlatively good and so much like phulka, that I think the cook here must have used a mix of jowar and rice flour to arrive at the lightweight jowari chappati. I took a shine to them and was happy to find a source to buy jowari chappati on a regular basis.
On order the Ddhyana Wellness Centre kitchen can do much for you, go check it out. They also offer Ayurvedic package stays here and I believe the rooms are very good, haven't seen them yet. I dare say it is the best Ayurveda Wellness retreat in capital smart city Panaji; haven't tried out any of the treatments though, must go explore some more and check out massage rates. The veggie thali is very good for Rs200 or so but you have to call and order it in advance.
I wish Ddhyana Wellness was a little more activated though…it's a kind of laid-back place intentionally or not, at least like if I am passing by I could stop over for breakfast or tea-time – for a plate of jowari upma, tulsi or ginger or lemon grass tea, maybe Darjeeling green tea! The gentle Cristabel smiled and humoured me, said I was welcome to drop by any time and soon an entire menu will be there for anyone to choose from, or something like that. I will take her up on this for it's rarely I want to go to a place over and over again, and that too in central Panaji. Ddhyana Wellness has potential and I want to visit it more often for my own wandering heart's desires or something like that!
ON a final note my favourite person to read up on the subject of a healthy life is always the good Dr Shiva Ayyadurai, of the runaway successful online TurthFreedomHealth.com movement. This US-based inventor of Email, scientist, engineer electrical and mechanical, systems biologist – educationist- entrepreneur extraordinary…looks at health and politics in USA and around the world from very close up. You need to listen to him, catch up with his latest talk on acute radiation syndrome (ARS) and coronavirus symptoms, his CytoSolve molecular systems analysis are amazing and needless to say he is much followed and loved around the world!