A memorable and heart-warming tribute from a daughter to her mother at the final rites of eternal farewell at the Don Bosco Church in the presence of family and friends….
By Karen Dias
CAROLINE de Fatima Moraes Dias was mother to Steffi and me, sister to Cesar, and wife to my father Stephen. But that was only a very small part of who she was. We are gathered here to say farewell, but also to celebrate the life of an extraordinary woman. Simply put, she stood out. Where ever she went. Even when her legs failed her due to her illness, she stood out.
She topped her school in the board exams and in a time when many families were not even educating their daughters, she moved across the state to go to college in Dhempe's.
And that reminds me of one of her only failures… Her favourite subjects were Maths and Organic Chemistry. She tried to convince me and later Steffi that both are really easy. In this she failed completely.
However, my mother did succeed in passing on her other interests to us. She was a voracious reader and Reader's Digest India has now lost probably one of their longest running subscribers. She was an avid researcher long before Google came along and she used to go through the Encyclopedia Britannica. Her love for knowledge and stories she did successfully pass on to both Steffi and me.

She lived at the Dhempe hostel first and later with Mrs Bertha Barros and her family and loved them as her own. That's around the time her love for this Don Bosco Shrine grew. Forty-two years ago she stood here as a bride and this is where she brought us for mass all through our childhood. I'm glad she gets to see it one more time, even if only to say a final farewell to the shrine.
It's hard to imagine in the current climate of job-switching, but her first job at 21 was with NIO and she stayed with them until mandatory retirement at 60.
NIO gave her many opportunities to travel and see the world, and she gave back a lot to the National Institute of Oceanography (NIO) too. She was the first woman in the Chemical Oceanography Department (COD) and one of the first women to go on oceanographic cruises and for field work to out-of-the- way locations in a male dominated field. In this she was ably supported by her family, cousins, parents, brother and of course — my father Stephen Dias, and they all pitched in to look after me as a toddler and later on Steffi too. My mother loved her work and her colleagues who were also her family for many years.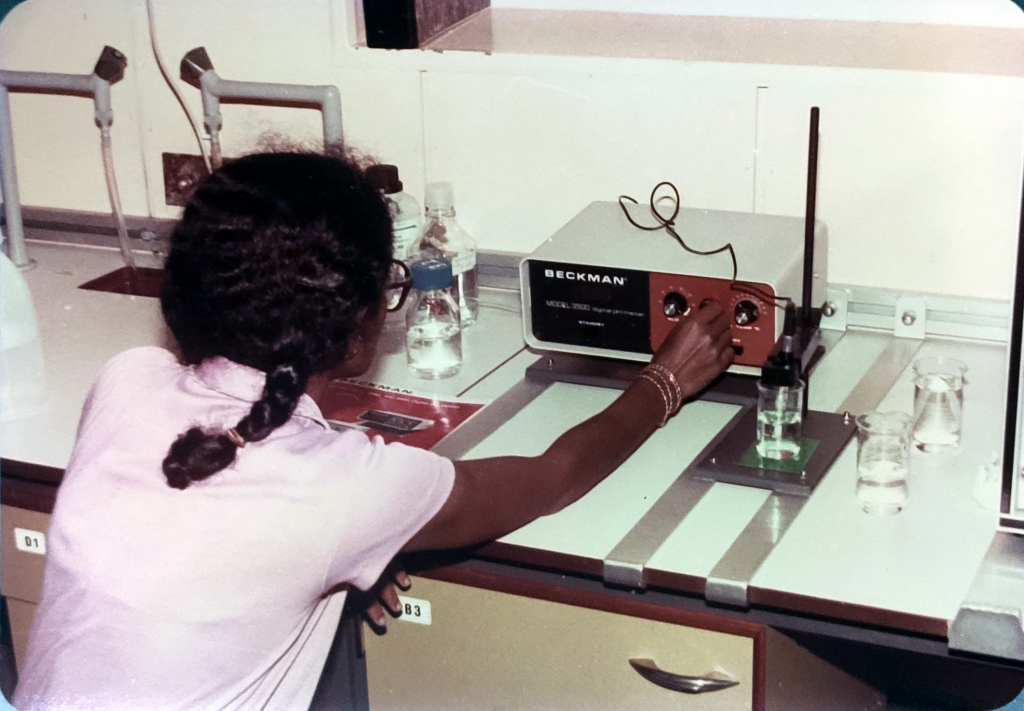 I spoke to some of mum's colleagues and friends and in their own words…
"She was an inspiration to all. Anyone who came to chemistry would be introduced to her first as she was the mentor for all who came after her. The head Dr Reddy, used to tell the new freshers to go to Moraes as he called her for guidance on all steps, even as to how to apply for casual leave. "
"From day 1 she was a friend. She had a naughty streak and her mischievous grin would be the only give away. Everyone used to gather at her desk and work was fun, and often noisy. But no one could complain as the work used to get done with her constant rigour and discipline. She was meticulous. Nothing was slipshod. She was at the centre of all the analysis on chemistry and ensured that work was always up to standard. "
"We would call her the mother of the lab… She would go out of her way to help anyone. She felt a sense of ownership for the full lab to the extent she would try to fix instruments secretly when Dr Reddy was not around."
Everyone who knew her knew of her rock-steady faith. She never once wavered, not even when she first fell sick in 1996. It's hard to comprehend the blow this was to her. As a child she loved climbing the hills and trees near her home to gather kandna, chunna and other berries. She played badminton and tennikot and even had some trophies we would tease her about. As an adult she was extremely active both at work and outside. And yet she faced losing her mobility with her usual smile and cheerfulness. Never once did she ask "Why me." Even her doctors were amazed at her spirit.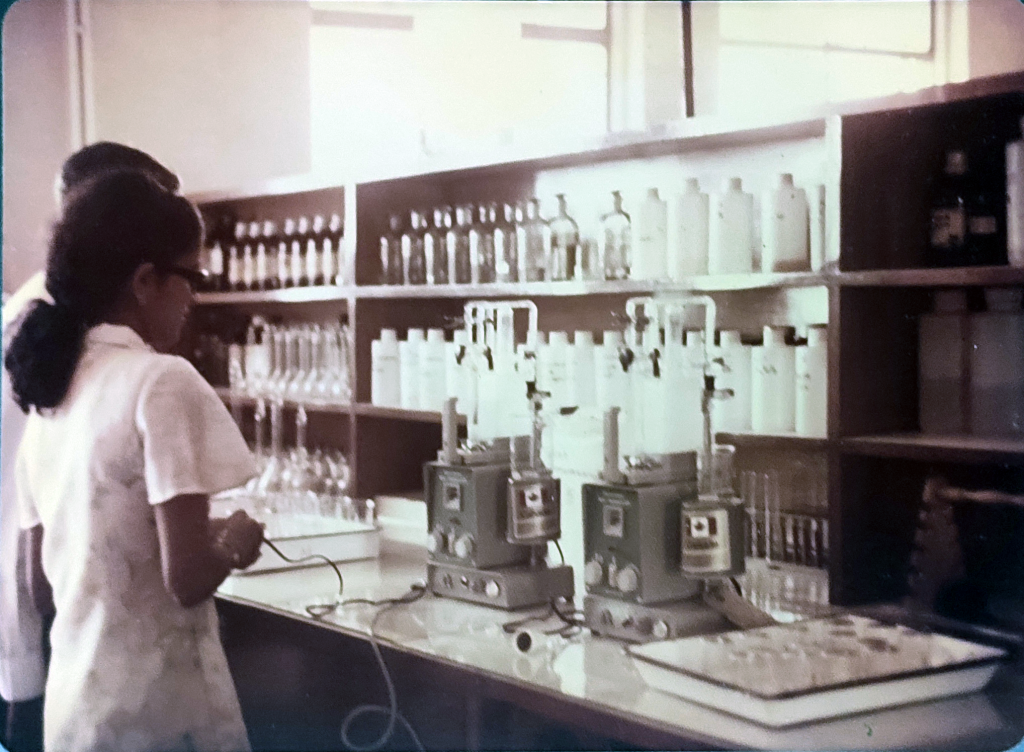 My mother recovered fully the first time but we always knew that the disease would strike again and again and it would be harder to recover each time. And yet she took it in her stride and never let it stop her. Even with her difficulty in walking, looking back now it's hard for even me to believe it, but she used to get on a bus and come visit me in Pune. Dad would put her on the bus at this end and I would pick her up at the other end. And she made it seem like it was the most natural thing in the world for a mother to do, visit her daughter wherever she was.
She knew the little things that mattered to people and would be the person they needed her to be. For instance she knew Steffi would not have breakfast if left to her own devices. So she would make it a point to wait and have breakfast with Steffi. Her legs might not have worked but she had strong hands and would give us head massages often.

For the last six months she has been fighting her biggest battle yet, and while I cannot name everyone who came forward to help — there are just too many — I must give my everlasting thanks to all who came forward to donate blood and platelets. Some of you came not just once but twice. Some are personal friends, some complete strangers. Well, you are not strangers for us now. You gave us precious additional days with her and you will forever be part of our family.
Thank-you to all who sent Mummy loving messages this past month of March. We played your messages for her, often more than once. They were a comfort and very touching.
Thanks also to our supportive friends and family who have been there when we asked them to. These troubled months have unexpectedly led to some friendships deepening in many ways. Nelson Cabral was a support to my father in small ways and big. Last but not the least, there have been some doctors and nursing staff and others at the Manipal Hospital who went above and beyond to make my mother's treatment there easier. The nursing and other staff are too numerous to mention here but they made mum's life comfortable and they always treated her and us with dignity and even affection.
Among the doctors, Dr Milind, Dr Rufino and Dr Nimisha stand out in memory. Each fought to keep Mum alive and gave us hope to carry until next day. Dr Nimisha was a valiant champion in the ICU fighting for Mum and for us. Dr Milind joined the battle a bit later than the others but he was available almost 24/7 and seemed to live at the hospital. Dr Rufino gave us support, hope and courage when we had very little to hope on, and we will be forever grateful to all three of them. It is thanks to their joint efforts that my Mum made it out of the ICU at Christmas time, allowing us to spend one last precious Christmas together and again now in March, so we could have these last precious weeks with her.
She was never alone these past few weeks. One of us was always with her day or night entertaining her with endless stories of our pets, especially Sam, her favourite, who I think made her smile more than I ever did. We had been reading through a mystery series with her and I was holding her hand and reading from book 4 when she slipped away, peacefully and ever so gently. She's finally free to run and climb her favourite hills again and I am happy she has finally found peace.