GHUMTACHE!
IT'S the season of springtime and many – good and bad – have been happening, my dears! Sometimes I think my life has become a carnival of mixed fare, despair and hope.
Well, the good things first. The quintessential drum of old, the ghumott, is set to make a comeback courtesy a band of worthy Goans – Fr Santana and a host of folk from Timoteo Fernandes (Goa's first King Momo who popularised folk dancing during the carnival) to Marius Fernandes, Pandurang Phaldesai, Prajal Sakhardande, Rajendra Kerkar, Roland Martins and of course the ghumott family of Ramakant Shet from Usgaon.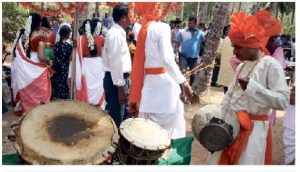 There was an all-day Ghumtache festival at the picnic venue on the cliff beachside of Siridao on Sunday, February 26, 2017. I went for but I much prefer the natural drum beats, flute melodies, guitar strumming, singing of black and white piano keys, violins searing the soul with their fever pitch crescendos, and the warm passionate blues of an old-fashioned jazz band – Bob Dylan with his mouth organ and raspy voice, or the highs and lows of golden trumpet, or sarod. Give me more of all that!
I stay away from any of the electro bands of today where celebrity DJs mix loud tin can music with hypnotic trance that grate on the nerves. It's killer music for a killer generation, if I may say so. But when I heard like-minded Goan friends were thinking of reviving an interest in Goa's traditional drum at a picnic, I went for it. Traditionally it's a monitor lizard's skin which makes for a sensitive ghumott beat, but hunting the giant lizard is banned now for it's an endangered species. Now they use goat skin which is a perfect replacement for the soft ghumott beat.
All friends of the ghumott were at Siridio on a hot summer or spring day and what a day it was! Community joi de vivre flowed, the drumming of the ghumott got under way courtesy professionals and amateurs yearning to learn. Even young women now want to play the ghumott!
Pandurang Phaldesai recounted the instrument's history, artist Alexyz was there doing his sketching. It was a delight to hear students of Dhempe College, Mirmar performing Chaniache Rati ('Moonlit Nights', a Konkani song by Adv Uday Bhembre which I love). On the sidelines children played and women cooked on a wood fire, red slightly salted chonne was distributed generously and soon everyone was popping this in their mouth; familiar Konkan fruit like the exquisitely yellow and flushed red caju apple, fragrant flowers like bakul and surnali, wild berries like the karvanda (Konkan cranberry which may be put to a wealth of good usage apart from turning into a pickle!), baby green mangoes, etc, were on display. A lunch of country red rice, spicy prawn curry, chepnim water mango slices and mango pickle, and kismur (dry prawn-onion relish) was served on eco-friendly leafy platters and chunks of glistening red watermelon made the rounds.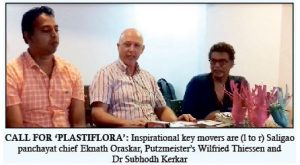 It was truly an intoxicating mix of sun, sea and coconut grove paradise, niz Goenkar peace, harmony and friendship. Let's have more please!
FROM PLASTIC TO ARTWORK!
IF you can't get rid of plastics convert them into artwork! It's a novel idea. Artist extraordinaire Subhodh Kerkar has decided to do exactly this. He is using his genius for installation art to convert a vacant paddy field in Saligao into a colourful garden of plastic bottle flowers to focus on an issue which irritates us all: discarded plastic bottles.  
At a February 27 press conference organised by Verna-based Putzmeister Concrete Machinery Ltd and Museum of Goa, Putzmeister's Wilfried Theissen and Subhodh Kerkar spoke of the urgent need to focus on the mountains of discarded plastic bottles in Goa. Presumably they make up the bulk of our plastic garbage because Indian business is putting just about everything into plastic – food, drinks, medicines – without thinking of the consequences.
Around 1,50,000 plastic pet bottles have been collected to be artistically crafted and painted into flowers and soon 'Carpet of Joy' (as it is being christened) will be an attraction for locals and tourists alike. Hopefully it may inspire us to think about how to deal with our plastic bottles mindfully. In Germany, Mr  Theissen confided, "I can say 99.9 per cent we have succeeded in dealing with our plastic bottles."
The eloquent Beaula Knauf, who takes care of the company's corporate social responsibility, wondered about how conscientious Germans are about not littering as they "carry their litter in a bag with them for days looking for a place where it is welcome!" I wish some German good sense would rub off on us Indians!
Look out for MOG's 'Carpet of Joy' coming up in Saligao on a 2,000 square metre field. Around 3,000 students are working on it and it will be on view March-May 2017. The project costs `13,00,000 or more, said Subhodh bab. It's inspiration is Israeli artist and architect Uri de Beer who put up a similar artwork installation in front of Israel's Parliament in Tel Aviv.
But then doesn't Israel have a dry desert climate? He agreed, their 'Carpet of Joy' installation will be dismantled before the arrival of the monsoon. In the meantime it will drive home an important message to the people of Goa and Saligao where he resides, "Saligao is going to become the cleanest village in Goa!"  Beaula Knauf appealed, "You media people don't discourage us, please!" Why should the media discourage such a worthy cause? May all the barren fields of Goa turn into carpets of joy, "as you never know, one of these days we may have to eat plastic flowers".
On that melancholy note it's once again avjo, poiteverem, selamat datang, au revoir, arrivederci and yeta vachun here for now.
– Mme Butterfly