PICS BY SYED NASSERUDEEN
By Our Special Correspondent
THIS year's Government Polytechnic fashion show was titled Gourmandise! It was creatively inspired by the food we eat and confided senior lecturer (a designer herself), Rahila Khan, "We've been around for the last 19 years and this was our 17th fashion show organized by students…as usual we were wrecking our brains on a theme when one of the students said, `I'm so hungry! Can we have food as a theme for this year's fashion show?' And I thought, why not?"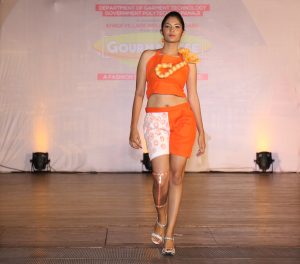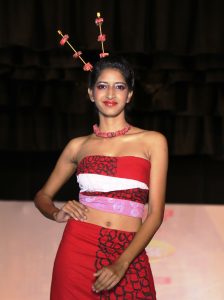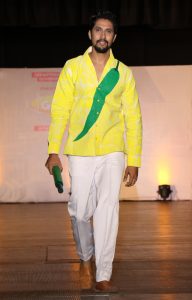 Thus, was born Gourmandise! It was presented with merriment at the Dinanath Mangeshkar Kala Mandir at the Kala Academy in Panjim on April 1, 2017. The
"delicious" garments modeled by professional as well as student models covered four categories: Starters, Salads, Main Course and Desserts. Needless to say the food-inspired fashion show must have made many a mouth water in the audience comprising of parents, students and supporters of the Government Polytechnic (run by the Department of Garment Technology, Government of Goa), and interested visitors from the garments and fashion industry which is booming.
It was hilarious but nobody whistled! The models walked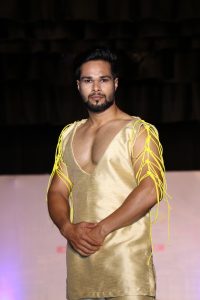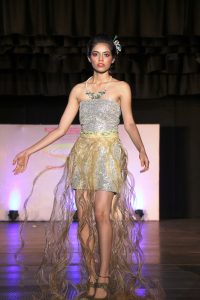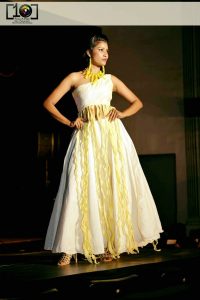 their bit of food…here was a design reminiscent of a veggie wrap or a goat cheese purses, French fries or fruit chaat, a samosa! If Satyen paraded as a vegetable sandwich , Akshay modeled as a Gujarati dhokla…Suraj was a crab cake. Someone else was a noodles dish and there was one exquisitely green outfit offering a vegan bean taco fill…love the chicken kebab, and so on and so on. It was a cat walk fashion show like no other…was that Manisha as Spanish salad, someone whispered, and a squeal, "That's Tapasya, she's a strawberry short cake!" And so on and so forth, there were 23 foodie items in each of the four categories and the event rolled out smoothly, no hitches.
Starters and Main Course came and went and soon arrived the "walking desserts" which included an amazing rossogolla, bebinca, cassatta, even an ice-gola. A mood of hilarity ruled but this here were proper outfits  in various textiles – some of the color co-ordinates were brilliant. In fact, you may do a course in garment technology at the Government Polytechnic if you're interested.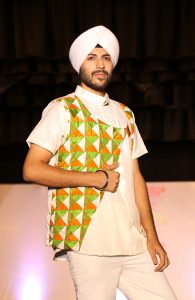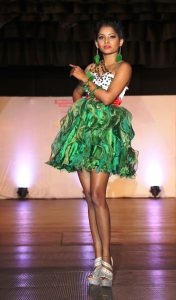 Interestingly, the garment technology course is the first and only such course being offered in Goa. The Government Polytechnic started it from 1996 and it has become popular. It is offered to students after they've done their 10th standard and is a three-year course of six semesters costing about Rs10,000 per semester. The course is designed to enable students to learn the elements of garment technology and later on work in the garments industry or be self-employed.
The curriculum includes the basics of stitching, knitting,  embroidery, yarn manufacture as also weaving, drafting, cutting on machines, computer applications, size charts, specific charts…markers, designing and industrial subjects such as fashion merchandising, quality control, entrepreneurship, business management. The program is run in the Extension Wing (Women's Wing) of the Government Polytechnic in Panjim.
Not least of all there is the fun part: Presenting a fashion show annually. Needless to say this year's show – Gourmandize! – was exceptionally memorable and a huge success. Folk who guided the show behind the scenes were co-ordinator Rahila Khan, along with Nyesa Vas, apparel construction was handled by Roopa Mulgaonkar and Jane Fenandes, make-up and hair was by Kanchan Beauty Parlour, stage sound and lights by  Assis D'souza, photography and videography by Sanjay Dafre and CMYK Academy.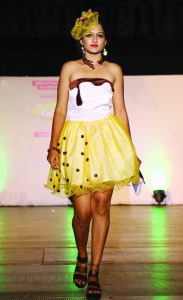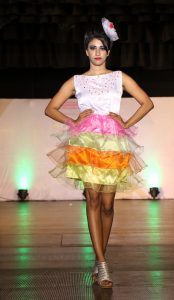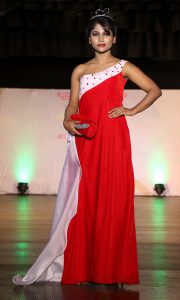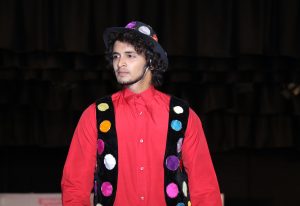 The show was compered by Sheryl Afonso e D'souza and choreographed by none other than Goa's celebrated fashion designer Monty Sally. Those who may take a bow  are the students whose enthusiasm pulled off such a fun theme for a memorable fashion show. According to Rahila Khan, "The fashion show certainly inspired some in the audience to come up afterwards to order for outfits they liked!" The outfits modeled at the fashion show are all very wearable.