SARASWATI SAMMAN: This annual award for outstanding prose or poetry literary works in any of 22 Indian languages is named after an Indian goddess of learning and is considered to be among the highest literary awards in India. This is the first time a Konkani work has been selected for the award
By Our Special Correspondent
IT'S another feather in the cap of Konkani literature! The `15 lakh Saraswati Samman, instituted by the K K Birla Foundation in 1991, goes to Mahabaleshwar Sail of Goa for his novel `Hawthan' (2009). This is the highest literary honour in the country and is given every year to an outstanding literary work written in any of the Indian languages mentioned in Schedule VIII of the Constitution of India by an Indian citizen and published during the last 10 years.
According to Goa's most active and visible writer, Damodar Mauzo, the selection for the Saraswat Samman is made by a high level Chayan Parishad presided over by Justice A S Anand, former chief justice of India. Some eminent literary persons from various parts of the country and coming from varied literary background are  involved in the process of selection. Books published between the years 2006-2016 were extensively discussed by 22 language committees and they recommended one book each from the 22 languages to five Kshetra Samities for further selection. Out of these 22 books five books were recommended for final selection.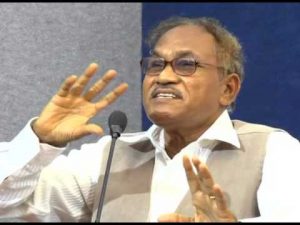 Of the several works shortlisted for the award were Hawthan (novel, Konkani) by Mahabaleshwar Sail; India 1948 (novel, Tamil) by Ashokamitran; Ullanghane (novel, Kannada) by Na. Mogasale; Shabdbodhmimansa (Sanskrit) by N S Ramanuja Tatacharya; Baidi Dengkhw Baidi Gab (Poetry, Bodo) by Brajendra Kumar Brahma, and Kabhie Kabhie in Dinon (poetry, Hindi) by Ram Darash Mishra. Finally, Mahabaleshwar Sail was selected for the 26th Saraswati Samman 2016.
The very prestigious Saraswati Saman award has already been awarded to  25 recipients.
Something about Mahabaleshwar Sail and his award-winning novel: He hails from Shejebag Majali, Karwar, Karnataka, and writes equally creatively in Marathi and Konkani. Many of his works have been translated in English and various regional languages.
Hawthan is rooted in the cultural map of the miniscule kumbar or traditional potters community of which is fast dying out. Eschewing any extraneous commentary on  events  or personae portrayed in his novel he yet succeeds in driving home the shocking story of a people on the verge of destitution. They face a bleak, uncertain future as the need for traditional pottery wanes in society.
Interestingly, "Hawthan" is the traditional fireplace or pot-baking pit of the potter and Sail underscores the significance of this sacred area, weaving in his narrative with various motifs of beliefs and superstitions, rites and rituals, customs and folklore, practices and improvisations which are intrinsic to the community of crafts-people and how they face the additional doom of a dam being planned which will take away a nearby lake on which they depend for their livelihood.
The helplessness, frustration and depression which sets into their lives is the subject of Sail's concern and sympathy. Perhaps the novel needs to be more widely read in Goa's literary circles and the award will surely ensure this.
RECIPIENTS OF SARASWATI SAMMAN
1991 – Harivansh Rai Bachchan – Dashdwar Se Sopan Tak
          (Hindi/Autobiography)
1992 – Ramakant Rath – Radha (Oriya/Poetry)
1993 – Vijay Tendulkar – Kanyadaan (Marathi/Play)
1994 – Dr Harbhajan Singh – Rukh Te Rishi (Punjabi/Poetry)
1995 – Balamani Amma – Nivedyam (Malayalam/Poetry)
1996 – Shamsur Rahman Faruqi – Sher–e–Shor Angez
          (Urdu/Literary Criticism)
1997 – Manubhai Pancholi `Darshak' – Kurukshetra (Gujarati/Novel)
1998 – Prof Sankha Ghosh – Gandharba Kahita Guccha (Bengali/Poems)
1999 – Dr Indira Parthasarathy – Ramanujar (Tamil/Play)
2000 – Manoj Das – Amruta Phala (Oriya/Novel)
2001 – Dr Dalip Kaur Tiwana – Katha Kaho Urvashi (Punjabi/Novel)
2002 – Mahesh Elkunchwar – Yugant (Marathi/Play)
2003 – Prof Govind Chandra Pande – Bhagirathi (Sanskrit/Poetry)
2004 –  Sunil Gangopadhyay – Pratham Alo (Bengali/Novel)
2005  – Prof K Ayyappa Paniker – Ayyappa Panikerud Kritickal (1990-99)
           (Malayalam/Poetry)
2006 – Dr Jagannath Prasad Das – Parikrama (Oriya/Poetry)
2007 – Dr Naiyer Masud – Taoos Chaman Ki Myna (Urdu/Short Stories)
2008 – Dr Lakshminandan Bora – Kayakalpa (Assamese/Novel)
2009 – Dr Surjit Patar – Lafzan di Dargah (Punjabi/Poetry)
2010 – Prof S L Bhyrappa – Mandra (Kannada/Novel)
2011 – Dr A A Manavalan – Irama Kathaiyum Iramayakal (Tamil/Work)
2012 – Sugathakumari – Manalezhuthu (Malayalam/Poetry)
2013 – Govind Mishra – Dhool Pandhon Par (Hindi/Novel)
2014 – Dr M Veerappa Moily – Sri Ramayana Mahanveshanam
          (Kannada/Epic Poem)
2015 – Padma Sachdev – Chitt–Chete (Dogri/Autobiography)
2016 – Mahabaleshwar Sail – Hawthan (Konkani/Novel)