FAKES: The consignment of artificially ripened bananas at the fruit wholesaler premises at Mapusa yard
THRASHED: FDA officials destroyed the confiscated artificially ripened bananas at the Mapusa Municipal waste disposal site
The FDA confiscated 350 kgs of bananas that were artificially ripened using the chemical 'Ethephon' at Mapusa market yard
By GO Staff
THE Officials of the Food and Drugs Administration conducted a surprise surveillance drive during the early hours of April 28, 2017 at the Mapusa Municipal market as well as Mapusa Market yard to detect the availability of artificially ripened fruits.
Officials found that Mapusa based fruit wholesaler, Mr Jayaram Laximan Naik, was conducting artificial ripening of bananas in the yard using 'ethephon', a liquid chemical.
Ethephon is a plant growth regulator agent which can have a detrimental effect on fruit quality. Some environmentalists worry about toxicity due to use of ethephon.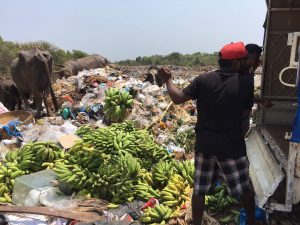 FDA officials confiscated the entire banana consignment along with the bottles of chemical found at the site, which were being used to conduct the ripening process.
The officials of the FDA, who were also accompanied by the officials from the FDA Food Testing Laboratory, conducted spot verification test of the exposure of residual chemical on the fruit for verification, which gave positive test of the usage of the said chemicals for artificial ripening of bananas.
The entire consignment of 350 kgs of artificially ripened bananas valued around `18,000 was confiscated and later the said consignment was destroyed at the Municipal disposal site at Mapusa.
A case under the Food Safety and Standards Act, 2006 has been booked against the concerned fruit wholesaler.
The FDA team comprising of designated officer, Shri Richard Noronha, assisted by Senior Food Safety Officer, Shri Rajiv Korde and other Food Safety officers Shri Atul Desai, Madhav Kavlekar, Shruti Pilarnekar and Asst chemist Pundalik participated in this surveillance exercise.