Cesar Menezes, Derrick Menezes, Siddharth Satardekar and Hemant Arondekar interacting with media at the 75th Knots Masters Regatta in the city
Pics by Bindiya Vaval Naik
THE sailing season has begun with fair weather back in Goa! The veteran greats of Indians sailing are here at the Cidade de Goa hotel and resort for the prestigious 75th Knots Masters Regatta taking place off the sea at Dona Paula, Panaji, from Oct 11 to Oct 13, 2018. Present for the event are grand old man of Indian sailing Adm Manohar Awati (the driving force behind Indian sailors sailing around the world), former national champion windsurfers Deepak Dikhit, Mark Butt, Derrick Menezes, Remy Fernandes and Gulshan Rai (one of the first Indians to sail around the world).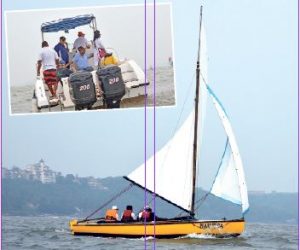 Those in action in the ongoing regatta include Surinder Mongia, Capt Soli Contractor, Capt Homi Motiwala – all legends in their own right having won medals at various national and international sailing events in various classes. It's quite a distinguished fraternity with the sea in their blood and also in action are those who spent decades coaching young sailors — Cyrus Heerjee, Sheri Bamboat and Goa's very own Umaji Chowgule.
But the grand finale on Saturday will be a felicitation of Cesar Menezes of the CMM business group for his 50 years of contribution to Indian sailing. Mr Menezes who celebrates his 75th birthday on this occasion is also president emeritus of the Goa Yachting Association which he founded in 1973 along with others like Dr Erlich Menezes with whom he shares a passion for sailing.
It was the GYA, one of the oldest sailing clubs in the country, which played a key role in encouraging and offering opportunities to Goan youth to take up sailing as recreational pass time as also participate in competitive sailing. Adm Manohar Awati was GYA's first president, with Dr Damodar Bhounsulo as secretary, Cesar Menezes treasurer and Anil Madgavkar joint general secretary.
As sailing as an outdoor hobby, sport and adventure flowered and tempted more young people to take to it as outdoor adventure, the Board Sailing Association of India and Sports Authority of Goa started organizing boardsailing/windsurfing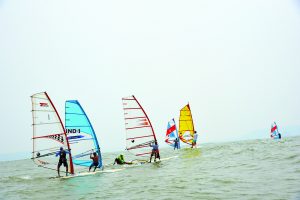 nationals, and they have been doing so for the last 30 years.
In the current ongoing regatta more than 90 veteran sailors and windsurfers are registered to participate; the backdrop also has a CII-organized seminar in nautical tourism from 9am to 1.30pm on Saturday, Oct 13, 2018, at the Cidade de Goa Resort in Panaji. This is to say the Cidade de Goa beachside or Dona Paula jetty is the place to be if you love sun, sea and wind right now!