ALL AGES: Fans of all ages were in for a treat at the Fatorda Stadium on Wednesday, October 24, 2018. The Gaurs came together beautifully as a team against a sloppy Mumbai City
By Karen Dias
Coro has company finally, and coach Sergio Lobera is a happy man. Last year, most post-match discussions centred around Coro, although Sergio kept insisting that wins and losses are a team effort. No team wins or loses on the basis of one man. Well finally the team proved his point, with Coro's opening penalty followed by a brilliant team effort — Jackichand Singh slotting home a beautiful cross from Seriton Fernandes, Edu Bedia pulling off a beautiful performance in the mid-field and scoring a world class goal, and substitute Miguel Palanca scoring a brace at the end.
It's comparatively early in the season for the Gaurs. Coming into Wednesday's showdown— the first in Goa this season —they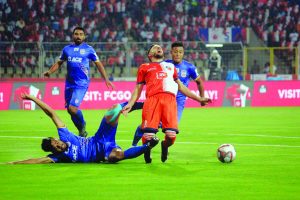 had played just two games against Mumbai City's three. However they were the favourites and not just because they had the home ground advantage. They came in on the back of two brilliant games. Yes, they had a draw in their first game against Northeast United but if not for an early mistake by goalkeeper Mohammad Nawaz they would have probably had a win. In their second away game they beat Chennai in front of their home crowd 3-1! (See box for details of their journey here.)
Mumbai had a very different run up to the game. They started with a 2-0 loss to Jamshedpur FC in front of their home crowd at the Mumbai Football Arena. Then in the second game, an away game at at the Jawaharlal Nehru Stadium in Kochi, it looked like the game was going to belong to the Kerala Blasters who got a deserved lead in the first half, but the Islanders as they are often called, fought back in the second half and a brilliant strike in the 93rd minute saw them opening their score sheet for this season.
Wednesday at Fatorda saw a large number of empty seats. Perhaps it was because it was a weekday, but it did raise questions about whether Goans have become disenchanted with FC Goa since it's lost its Goans roots. If they have, then this game must serve as a wake-up call. Goan football fans should rally behind this team that is weaving its own brand of magic and is looking like it could go the distance!
The game started out with both teams playing attacking football. However, the first big opportunity was Mumbai's, when Mumbai captain Paulo Machado set up Subhasish Bose with a cross in the 4th minute that the defender failed to convert from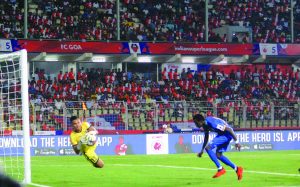 ten yards out. A failure that would come back to haunt the Mumbai team and was just the first of many missed chances.
Just minutes later, the Gaurs did not make the same mistake. Souvik Chakrabarti brought down Ferran Corominas inside the penalty area and Coro did not let the chance go to waste. His penalty sent goalkeeper Amrinder Singh diving to his right as the striker slotted one straight in, sending the fans into a frenzy.
The rest of the first half saw both teams keep up the pressure without quite putting in that extra flair to actually convert any of the attempts into goals. At half time, although FC Goa was up 1-0, no one was relaxing.
The second half saw the Gaurs on a rampage. Their onslaught bore fruit quickly when Seriton Fernandes, did a brilliant run down the right flank to cross the ball to Jackichand who made no mistakes with it. And hey presto, Goa now had some breathing room.
Six minutes later, just minutes after being brought down, Edu Bedia scored one of the most beautiful goals of the tournament so far. He received the ball in midfield, and flicked it to Coro who played it right back to him. Edu took a shot with the outside of his left-foot, and smacked it into the left top corner of Amrinder's goal. The goalkeeper had no chance at all.
The third goal probably sealed Mumbai's fate though they tried vainly to salvage some pride. Gaur goalkeeper Mohammad Nawaz, who is just 18, earned his keep as Mumbai kept him busy for a bit. Unfortunately he got called out for time wasting. His third yellow card in three games!
Play got a bit rough and coach Sergio finally took Coro off giving new transfer Miguel Palanca Fernández a chance to play on home ground.
Palanca replaces Manuel Lanzarote at FC Goa after Lanzarote joined ATK this season. Lanza who scored 13 goals and effected six assists, was more importantly known for his partnership with Coro. He was signed by ATK after differences with coach Sergio Lobera.
For fans mourning Lanza's loss, Palanca's performance was a huge boost. Barely two minutes after coming on, he got a very unselfish cross from substitute Manveer Singh (who came on less than 10 minutes before) and slotted it straight home into a virtually empty net, defeating Mumbai City's substitute goalkeeper Ravi Kumar who had just come on after Palanca.
The Gaurs weren't done for the day. As the 90th minute drew to a close Jahouh pulled a magnificent move in midfield, sliding in to win the ball from Mumbai and playing a stunning cross Palanca, who yet again, made no mistake slotting the ball past Ravi, who was helpless.
The Gaurs don't have long to rest with their next match coming up immediately on Sunday, October 28th. With only three games in Goa in the league stage this year, fans will be hoping that the tough schedule does not play spoilsport on Sunday. The Gaurs will take on Pune City who are currently at the bottom of the table with just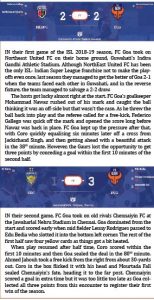 one draw and two losses so far.