Souza loved his Goa: Landscapes make up some of his best cherished artworks…(above) `Rice paddy in Goa' and `Women on a path'; far left pic has Progressive Artists Group founded by Souza in the 40s, recognize Raza, Souza (with cigarette in mouth), Gaitonde, Ara, Abbasey, Husain, Tyab and some more, this is a 1947 picture
By Our Special Correspondent
IT'S arguable. Who is the most famous, or most controversially likeable or dislikeable artist of them all with roots in Goa? There may be other contenders for that crown of thorns, but discerning art collector, patron and philanthropist, not to mention niz Goenkar, Raj Salgaocar, may be tempted to say …Francis Newton Souza of course!
Souza's life and times and the genius of his art flowered and struggled to breathe and be recognized through the '40s, when the Progressive Artists Group was born courtesy a group of artists in Mumbai-that-was-Bombay during the turbulent freedom-seeking final years of the British Raj in India. A young Souza may have hailed from Goa but he grew up in Bombay at the J J School of Art during its heydays (amongst other fascinating tidbits the artist was expelled for preferring to join Mahatma Gandhi's Quit India Movement of 1942).
Souza remained a rebellious stormy petrel throughout his life and perhaps that's why he earned both censure and praise — some accused him of misogyny for his love of sketching and painting nudes female and male, no doubt influenced by his tryst with the Khajuraho sculptures. Never mind that his nudes err on the side of stretching gross reality rather than be suitably complimentary to meet society's conservative taste in art.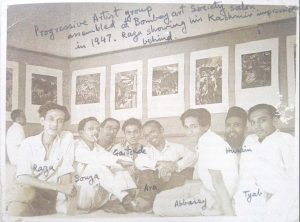 Souza's life and times were presented at the opening of an exhibition titled `Souza in the 40s' (London, Goa, Delhi at the Sunaparanta Goa Centre for the Arts at Altinho, Panaji, on December 16, 2018. The exhibition is courtesy a collaborative initiative between Saffronart, Sunaparanta and Grosvenor Gallery and the evening's presentation witnessed a lively talk by Conor Macklin (Grosvenor Gallery), visual show and Q&A interaction moderated by Dinesh Vazirani (Saffronart).
Sunaparanta's godparents, Dipti and Raj Salgaocar, were present with daughter Ishita Salgaocar, who confessed to a query that her early exposure to the art world was courtesy her father. Earlier Mr Salgaocar welcomed the gathering comprising of the who's who of the art world from in and out of Goa and art lovers in general. He shared some of his insight into the artist from Goa whose work caught the eye of the art world in Bombay, London, New York.
Mr Salgaocar said his own family's temple is in Saligao from where Souza hailed. In fact, his own roots too are in Saligao from where comes his surname Salgaocar; he quipped that he would buy a home in Saligao if he could find one! Raj Salgaocar, who apart from taking an interest in art yesterday, today and future, has his own private collection of artwork with includes several Souza originals, would like to see a permanent art gallery or a Souza Museum dedicated to Souza's works in Goa at least.
Needless to say Raj Salgaocar is a passionate and generous patron of the arts, but that's not news in Goa. He has been championing and hosting the cause of art and artists for many years now and set up the Sunaparanta, Goa Centre for the Arts, to aid, promote, build a platform to showcase artwork from Goa and offer Goans a wider, keener exposure to the best art from across the world.
One of these days go up to the Sunaparanta to catch `Souza in the 40's' which is on show till March 5, 2019. There's also a handsome, painstakingly put together catalogue tracing Francis Newton Souza's life and works, available for visiting art lovers. It's priced `2,000 but worth buying if you seek to understand and appreciate Souza's art and the forces which inspired his artistic sensibility and creativity. Perhaps not so well known is that the artist was also a creatively honest writer!
Excerpted from 'Words and Lines', Souza's autobiography:
'I was born in Goa in 1924. My grandmother and grandfather were both chronic drunkards. Godfather was a principal of the village school in Assolna, Salsette — a school his forefather had founded. My father, as a reaction to their bibulousness, never touched other liquid than water. He became a chronic teetotaler. On his wedding day the toast wine was poured over his head since he would not drink it. But it is said the progeny of bibulous progenitors are highly imaginative people. By atavism, it seems the visions of a tipsy grandfather, pink elephants and the rest of the menagerie every hour transfer to the grandchildren, who see similar visions without being tipsy. You've only to see my paintings to see whether this is right or wrong.
`My mother, only twenty-three at the time, became a widow, with two kiddies and debts and mortgages. In the following year my sister died too. My mother, my aunts, my grandmother and all my relatives mourned bitterly, saying God should have taken away the boy and left the girl: she was so beautiful, so intelligent for her age, so loving. As for me, I was a rickety child with running nose and running ears, and scared of every adult and every other child. Better had I died. Would have saved me a lot of trouble. I would not have had to bear an artist's tormented soul, create art in a Country that despises her artists and is ignorant of heritage.'
(Courtesy 'Souza in the 40's' catalogue, chapter titled Early Years, 1824-1937)