Glimpses… Shigmo troupe, curtain durbar, teaching little one to dance, nine-piece string orchestra band and Sunita Rodrigues as mistress of ceremonies
BY TARA NARAYAN
LIKE it or not, my dears, nobody lets you forget it's New Year and it is time to put your hair down to live it up! For some years now I've stayed away from New Year gala celebrations at starry, starry hotel venues, preferring to stay at home thinking wicked things about all the New Year revellers who went to party and got stuck in traffic jams in the wee hours of New Year's day, unable to get home — after they've imbibed all the good life of too much premium liquor, too much food and the nice part, dancing their shoes away to heart's content. Except that most of us don't dance, we just stomp away on the dance floor gently or wildly!
This time around too I was in my usual to-go-or-not-to-go moon mooning mood, when a friend said come along with them and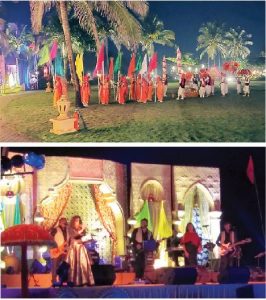 so in his car we found ourselves driving a long, long route, via Ponda (to escape traffic knockouts) to get to the Taj Exotica Resort & Spa down south Goa to Benaulim beach. An almost two hour long ride but very smooth, I'm always happy doing long, long rides down countryside Goa anyway, it's the best way to catch up with some talking and we had a couple from London with us who were visiting.
The Taj Exotica retains its elegant ambience and warmth and Christmas-cum-New Year cheers greeted and welcomed us right from the resort's gates, lots of tea lamps flickering away in the long, long lobby with large Christmas trees … silvery starry lanterns festooned all the way down to the lawns where the party venue too was a bit of fairyland-cum-oasis combined.
We settled down at our table and soon I was listening to the gorgeous, lithe beauty Sunita Rodrigues, easily being mistress of ceremonies, coaxing everyone to stop being lazybones and get on to the floor when such a nice band was playing (a nine-piece string orchestra)… she was giving away holiday gifts to exotic Taj Hotel destinations too! That got folk on the floor alright, the idea being to build up a tempo of collective frenzy on the dance floor as midnight zeroed in! It can get quite chilly out in the open and soon the cold hit us and had us snuggling against each other and every now and again I mused over the large silvery star lanterns swaying in the breeze, when the band took a break one could hear the waves thundering on shore close by…take a walk to the very nicely rigged up washroom.
Don't know how they do it but the most genial GM of Taj Exotica Resort, Vincent Ramos, was happy to clue me up. He was present to overseer the New Year eve party and found time for a bit of chat, he said they've been doing this outdoor night gala party for the last so many years, almost 20 years…and no, so far nothing untoward has happened, "except once it rained!"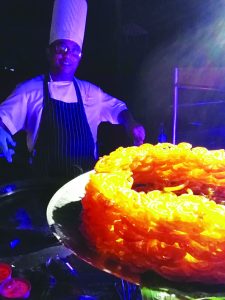 What about wind factor coming in November-December onwards? He laughed and told me to stop anticipating tragedy, their beachside venue is stable with protection designed in.
Still I imagine partying under the naked night sky takes a lot of preparatory hard work. Also, this I love, Vincent tells me the Taj group of hotels have brought rates down to earth to offer more for less this year! Otherwise come Christmas/New Year and most hotels put up killer rates and insist their in-house guests pay and attend the parties…such compulsions never go down well with many guests, he says, and many guests check out just to escape the tyranny of compulsory registration. Even the 5-stars have been going quarter to half empty this season.
But the 100 odd beautifully set up tables at the Taj Exotica lawns were doing very well and I was amused to find all kinds of whistles, glitzy caps, sequined hats, golden and silvery masks…and what do you know — marigolds by way of floral decoration, I cannot resist stealing a marigold flower to inhale its scent and turn its petals to silky orange confetti. Utterly mindless thing to do.
LEAVING hubby and friends to entertain each other I wandered off to look at the madness of the food buffet spreads. From Goan suckling pig to the best of Goan, Chinese, Japanese, Italian, German, Lebanese and more food was laid out with long line-up of desserts Western and Indian which took my breath away, even as I vowed that I was touching none of them. Checking my will power. I helped myself to my constant favourites of hummus, baba ghanush, pita bread, wonderful sushi with pickled ginger/wasabi sauce, dumplings of roesti (shallow fried herb-infused roasted mashed potato cakes), Mediterranean salad with feta cheese…various little crusty bread loaves, and returned to table to see how much I
could eat because I was hungry, and because I didn't want to waste anything.
Such is life even while partying at a New Year eve's party getting steadily tipsy on a rather mature Cabernet. So much for my will power! In the end I did go and collect two hot, fat golden jalebi swirls, just to re-discover the taste of jalebi, and a round ball or two of bitter chocolate…and watched disgustedly as one of our English friends polished up a tall glass packed with gadbad ice-cream, wanting to know the nitty gritty of what it was, whatever it was, it was so…ooooo delicious.
The coconut trees have grown up at the Taj Exotica and some were studded with ripening fruit, it was too dark for me to go explore their collection of trees new and old. So I stayed put till the cold air caught me and I noticed how the temperature had dropped with drafts of chill setting in, made me get up to go walking some more, around the venue with its exquisite series of Rajasthani-styled curtain darwaja — against which everyone wanted to pose for photographs. Some put on the glitzy paraphernalia on their table before posing and then went off to the dance floor to do their footwork…several women dancing sported these amusing battery-lit satan horns, satan horns?
And after we'd heard all about Goa's Shigmo courtesy Sunita and a performance recounting Shivaji Maharaj's life and times,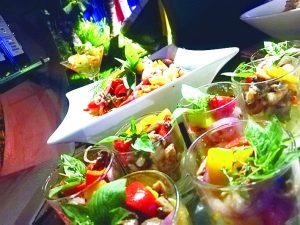 some holy kirtan really…and the non-stop dancing afterwards to Punjabi and other songs, came the usual swaying countdown to 2019. Fireworks painted the night sky, it was a merry-go-round of wishing each other happy new year, a better year please! Some went looking for hot coffee or cappuccino or more desserts and I looked for our driver to hustle us back home to Panaji.
This time we took the normal Margao-Zuari bridge route back and it was a clear ride all the way home; but we had done the right thing earlier doing the longer via Ponda route to get to the Taj Exotica at Benaulim. The last time I was there it was when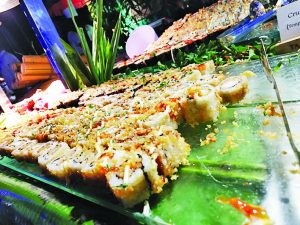 Prime Minister Vajpayee was there and I remember listening to him while he sat out on the lawns watching sunset….everything about him came across as warmly cordial, he had no problems answering any question the paparazzi asked him.
SO that was my New Year celebration this year around, my dears, and on that note it's avjo, selamat datang, au revoir, arrivedecci, vachun yeta here for now. The new year is still very young and I'm keeping my fingers crossed for a lot of good things to happen in 2019!
— Mme ButterflySTARRY,
New Year's Gala Eve menu AT TAJ EXOTICA SHIGMO UTSAV
Antipasti…
Peppered salmon confit
Nustache Salad (Tuna flakes with olives and peppers marinated in toddy vinegar)
Kishmur (Dried shrimp mixed tempered with coconut, chili and curry leaves)
Yam won Sen Talay – glass noodle salad with mixed seafood
Pastrami wrapped mozzarella cheese
Musk melon wrapped parma ham
Yum Nau (Spicy beef tenderloin Lab Gai (Minced chicken with fresh mint & shallots)
Watermelon & feta skewers with basil & cracked black pepper reduction
Pears, cheese and rocket leafs
Button mushroom with balsamic onion, sun dried tomato & basil
Pickled lotus stem salad
Insalata caprese – of ripe tomatoes, fresh mozzarella and slices of red onion are tossed in olive oil
Hummus (chick peas- tahina dip)
Baba Ghanouj (charred egg plant with garlic, olive oil)
Tabouleh (parsley- crack wheat salad)
Dahi bhalle
Som Tom Thai (Young raw papaya with crushed peanuts with haricot beans)
Salad Idalinha (Bean sprouts mixed with peppers in a coriander marinade)
Caesar Salad – Live
Hearts of Romaine lettuce tossed in a classic creamy caesar dressing
With garlic croutons, cracked black pepper, anchovies, fresh lemon
and shaved parmesan cheese
Bowls of garden fresh leaves
Ice Berg / Lolo Russo / Frizzy / Rocket
Cold cuts and cured
Milano salami/ Mortedella/ pepperoni/pancetta/Parma ham
Selection of International cheeses
Edam, Gouda, Brie, Cheddar, Mozzarella, Parmesan with walnut raisin bread, exotic fruits and nuts
Soup tureen
Goan seafood soup
Golden corn soup, coconut and lemongrass emulsion
Boulangerie counter
Rustic corn baguette/organic millet rolls/gluten free breads/German dark rye/Pumpernickel/seven grain/Danish oat/Khoubz/Eish baladi
Mnaish bi zatar
Live mix grills
Seafood & Meat selection
Grilled Arabian sea lobster lemon butter
Rosemary & garlic marinated sea prawns
Grilled sea bass
Crab xec xec
Calamari picante
Wahoo darne peri peri
Herbed tenderloin steaks with red wine jus
Veg grills
Mexican corn on the cob
Roesti with fresh basil & cream sauce
Spinach and ricotta cheeses crepes
English vegetable shashlik bbq sauce
Accompaniments
Saffron Mash/Asparagus/Creamed Spinach/
Almond Broccoli/Glazed Carrots & Grilled Baby corn
Indian cuIsine
Tawa station
Pao bhaji (Mumbai speciality)
(a spicy curry of mixed vegetables (bhaji) cooked in a special blend of spices and served with soft bread pav shallow fried in butter)
Paneer kurchan on tawa cottage cooked with onion capsicum and Indian spices
Tawa Subz Taka Tin (Exotic marinated vegetable pan grilled with sweet and sour mild spiced curry
Stuffed peppers, stuffed tomatoes, okra, baby brinjal, colocassia & broccoli)
Tandoori Khazana: Spice Market Buffet
Zaffrani murgh tangri kebab (Chicken drumsticks stepped in blend of yoghurt, saffron, garam masala, chili and charred in clay oven)
Tandoori vegetable
(Cauliflower, potato, broccoli)
Tiranga Bharwan paneer (Tri-layered cottage cheese)
ChaAt Counter
Puchka/sev puri/dahi puri/papdi chaat/fruit chaat/bhel puri
Ragda Pattice (Pan fried potato cakes with spiced pea masala & tamarind chutney)
Buffet
Chicken dum Peshawari (Chicken morsels bathed in rich brown onion, cashew gravy infused with pomegranate seeds)
Dahi lal mirch ka gosht (Tender lamb chunks cooked in a blend of onion, yoghurt and Kashmiri red chilies)
Shahi Navratan Korma (With assortment of nine vegetables, saffron and nuts)
Paneer makhani (Cottage cheese cooked in rich tomato gravy with tangy spices)
Dal Makhani (Black lentils and kidney beans cooked together with tomato and butter)
Indian Breads
(Naan, Roti, Missi Roti, Laccha Paratha)
Biryani
Bohri Dum Ki Biryani (Aromatic layered basmati rice cooked on Dum scented with lamb, saffron, whole spice essence & clarified butter)
Subz Sofiyani Biryani
(Exotic vegetables & rice preparation with aromatic spices & saffron)
Steamed rice – Fragrant Basmati rice
Raita & Breads
Chaunka Laga Raita (Tempered spiced yoghurt)
Subz Raita – with cucumber, tomato, onion & split green chillies
Goan cuisine
Roast Station
Suckling Pig station
Suckling pig with sausage pulao
Cafreal pot roasted baby chicken with baby root vegetables
Tawa
Tender coconut chilly fry
Mushroom balchao
GOAN Buffet
Samarachi kodi
Dry and fresh prawns in coconut, Jaggery and dry mango
Beef Assad
Goan style braised sliced tenderloin
Pork Vindalo
Local delicacy cooked in thick gravy of onion, brown vinegar & dry red chilies
Kaju and mushroom xacuti
Button mushroom & cashew nut cooked in a blend of roasted Grounded spices & coconut
Tarkarachem Hooman
(Traditional mixed vegetable coconut curry)
Pumpkin Temparado
(White pumpkin prawns and coconut curry tempered with mustard)
Goan rice
Oriental cuisine
Chinese carving station
Roast duck with plum sauce
Sliced pork – char sui sauce
Asian bowl food
Teriyaki chicken with udon noodles
Shredded lamb – hoisin sauce
Stir fried vegetables on fried rice with chilli bean sauce
Pan tossed tofu on rice stick with black pepper sauce
Mediterranean cuisine:
Station Paella
Seafood paella
Vegetable paella
Pasta counter
Ravioli chicken/vegetable /penne /spaghetti / fettuccine spinacci
Sauces
Bolognaise /arrabbiatta/pesto/alfredo
Bar-be-cued Sausage Station
German sausage bratwurst with BBQ sauce
Beef sausages
Smoked chicken sausages
Kids counter
Chicken Lollypop
Fish Nuggets
Vegetable Hakka noodle
Vegetable Manchurian
German Frankfurters tossed with ketchup
Accompaniments
Tartar Sauce
Tomato Ketchup
Mayonnaise\