(l to r) Four of Dr Sequeira's daughters were present at the occasion, Dr Lilia Sequeira Sukhija, Manuela Sequeira, Theresa Sequeira Mehta, Margarida Sequeira Fernandes
Inputs from Elvidio Miranda
Wednesday, January 16th saw the installation of a bust of Dr Jack de Sequeira, widely considered to be the father of the Opinion Poll, at Vaddi Merces . TCP Minister Vijai Sardesai unveiled the bust in the presence of RDA Minister Jayesh Salgaocar, family members of Dr Sequeira and others.
It is an irony that while Salcete played a major role in determining the outcome of the Opinion Poll, till today it does not have a statue of Dr Sequeira installed anywhere in the taluka. In fact, the figures say it all. The final margin of victory for the anti-merger forces was 34,021 votes. The combined contribution of Cuncolim (9,080 votes), Benaulim (10,140 votes), Navelim (7,334 votes), Margao (3,916 votes), Curtorim (11,671 votes) and Cortalim (9,035 votes) in favour of a separate entity for the two leaves symbol, accounted for a total of 49,402 net votes which undoubtedly was the clinching factor for Goa, Daman and Diu being retained as a Union Territory . However, none of the Salcete politicians have taken the initiative of installing a statue of Dr Jack de Sequeira anywhere in Salcete, which is a dereliction of duty on their part.
Hoping that TCP Minister Vijai Sardesai would keep his word and install the statue in his own constituency Fatorda at least, senior citizen and activist Stephen Dias spoke a few words and handed over a memorandum to Vijai Sardesai on behalf of everyone with the permission of the organisers and also Vijai.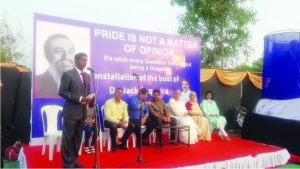 Looking around the congregation he regretted that there were very few of his age present and reminisced about personally taking part in the anti-merger struggle along with colleagues from Taleigao, Merces, Panjim and St Cruz. The group consisted of at least 600 people with motorcycles, jeeps and other vehicles, directed by Dr Jack de Sequeira himself through his well-known organizer for such activities, the bar owner of Bar Barreto, who financed them when they braved the odds by going to a pro-merger rally in stronghold areas at Banastarim and Ponda. The group ended up having to fight a pitched battle against the pro-merger group, but they knew that they had to convince people of the difficulties that Goans would face if the merger went through. Goans may have had to travel to Maharashtra for any simple documents, like birth certificates, marriages and even funeral certificates.
He ended by saying that fortunately, the Opinion Poll was a success for the anti-merger group, and we can see all politicians now working hard to help Goa achieve the No. 1 position among all the other states in India.
His memorandum (with an attached table of voting patterns) reminded Vijai that he had failed to have a statue of Dr Jack Sequeira installed at the new Secretariat and called on him to make amends by having one installed at a prominent location in Fatorda, considering the prominent role South Goa played, perhaps on the occasion of the 104th birth anniversary of Dr Sequeira on April 20, 2019.