NECK AND NECK: Modi and Rahul Gandhi are currently neck and neck in Goa. The entry of Priyanka Gandhi Vadra into politics will add a new element to the mix although it remains to be seen whether she would take over as PM candidate for the Congress
By Harmeet Shah Singh
Though Manohar Parrikar has been ill with pancreatic cancer and Goa has been functioning like an orphan he continues to be the most popular choice for the chief minister's post though his rating came down from 36% in September 2018 to 32% this year
Goa's ailing Chief Minister Manohar Parrikar is less popular than before but remains the voters' most preferred choice as the state's next chief minister, the latest Political Stock Exchange (PSE) poll shows.
Forty-six percent of the respondents in the survey, conducted by Axis My-India for India Today TV, believe he is in good shape — at least in the BJP's eyes. Another 40 percent said the state government would collapse if Parrikar stepped down.
Twelve percent feared the BJP would lose its allies in the event of the chief minister resigning.
RAHUL vs MODI
Voters in Goa are almost equally divided over PM Narendra Modi and Congress president Rahul Gandhi as the next prime minister.
Forty-one percent prefer Modi as the next prime minister, up from 40 percent in September-October. Forty percent support the Congress chief for the role, compared to 37 percent three months ago.
PARRIKAR POPULAR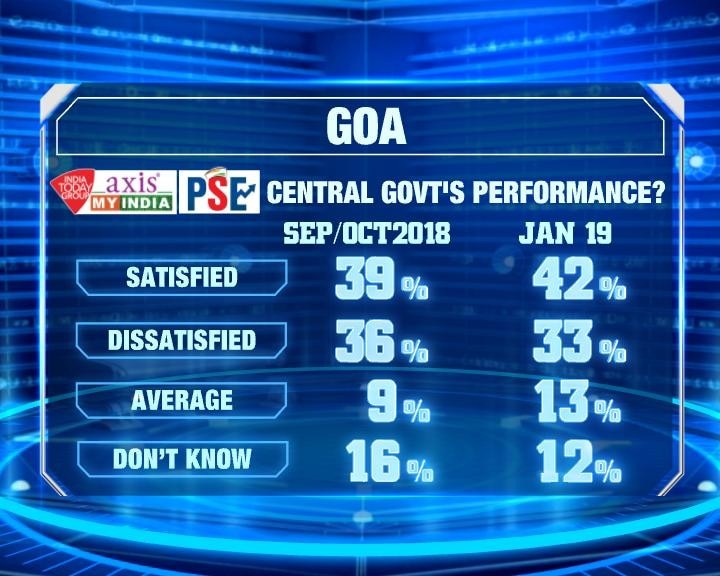 Parrikar's popularity as Goa's next CM has come down from 36 percent in September-October to 32 percent now. But he still remains at the top, with Congress leaders Digambar Kamat trailing at 21 percent and Pratapsingh Rane at 9 percent.
Rane, who showed up at the third place, was nowhere in the reckoning in the last PSE survey over the question of Goa's next chief minister.
Public satisfaction with the Parrikar government remains the same as September-October, at 38 percent, the PSE showed.
Dissatisfaction levels, on the other hand, have come down from 41 percent to 38 percent.
RAFALE AWARENESS
Thirty-six percent of the respondents ticked the "yes" box when asked whether they were aware of the controversial Rafale fighter jet deal. Twenty-two percent didn't know about it.
Of those aware, 18 percent suspected corruption in the aircraft purchase. Another 15 percent saw none of it while 67 percent stayed non-committal.
CENTRAL GOVERNMENT
Public satisfaction with the central government has gone up from 39 percent in September-October to 42 percent now, the PSE showed. A less number of people are dissatisfied with the BJP-led administration at the Centre — 36 percent then to 33 percent now.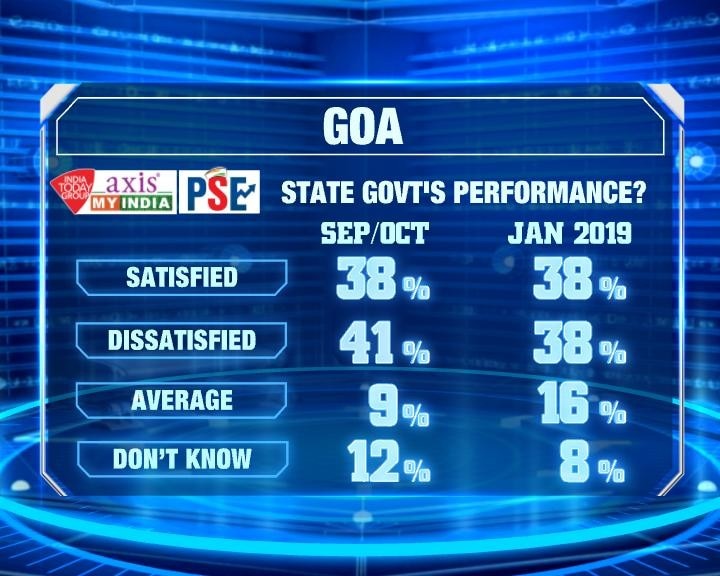 LOCAL ISSUES POLITICIANS NEED TO ADDRESS
Employment opportunities have emerged as the top concern for Goa voters (32 percent) followed by price rise (24 percent) and sanitation (16 percent).
(The PSE survey in Goa was conducted across the state's two Parliamentary constituencies via telephone interviews. It had a sample size of 354.)
Courtesy: IndiaToday