According to a study by ADR the proportion of MLAs with a criminal record has increased after the results of the current election. The majority of those with the criminal record are those from BJP. So much for its claim to be the party with a difference
Among the newly elected Lok Sabha MPs, 43% have declared criminal cases against themselves, according to an analysis by Association for Democratic Reforms (ADR) and New Election Watch, which looked at the affidavits of 539 of the 542 MPs (the affidavits of three MPs were not clear, the two organisations said in a statement).
Of the 539 winners analysed, 233 (43%) were found to have declared criminal cases. In 2014, out of 542 newly elected MPs analysed, 185 (34%, or one-third) had declared criminal cases against themselves. In 2019, out of all 543 winners, 162 (30%) had declared criminal cases. Since 2009, the increase in the number of MPs with declared criminal cases is 44%.
Of the 539 MPs in 2019, the statement said, 159 (29%) have declared serious criminal cases relating to rape, murder, attempt to murder, kidnapping, crimes against women etc. This increases from 112 of 542 (21%) in 2014 and 76 of 543 (14%) in 2009. In other words, the count has more than doubled since 2009.
One Congress winner, Dean Kuriakose from Idukki constituency, has declared 204 criminal cases against himself, including cases related to committing culpable homicide, house trespass, robbery, criminal intimidation etc.
Eleven of the MPs have declared that they face cases under IPC section 302 (murder), the statement said. These are: Horen Sing Bey (BJP, Autonomous District, Assam); Nisith Pramanik (BJP, Cooch Behar, West Bengal); Ajay Kumar (BJP, Kheri, UP); Sadhvi Pragya Singh Thakur (BJP, Bhopal, MP); Chhatar Singh Darbar (BJP, Dhar, MP); Atul Kumar Singh (BSP, Ghosi, UP); Afzal Ansari (BSP), Ghazipur, UP); Adhir Ranjan Chowdhury (Congress, Baharampur, West Bengal); Naba Kumar Sarania (Independent, Kokrajhar, Assam); Bhonsle Shrimant Chhatrapati Udayanraje Pratapasinh Maharaj (NCP, Satara, Maharashtra); and Kuruva Gorantla Madhav (YRCP, Hindpur, Andhra Pradesh).
An analysis of wealth found that the BJP, with the highest number of MPs, also has the highest number of crorepatis (116 of 301 analysed) but the Congress has a much higher share of crorepatis (43 out of 51).
(Source for data and graphs: ADR and New Election Watch)
Politicians accused of terror, murder ride massive majorities into Lok Sabha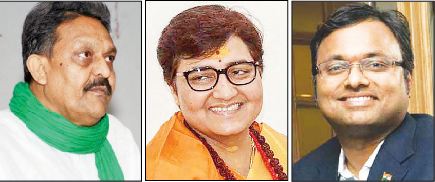 The Lok Sabha election results seem to indicate that corruption and criminal records of candidates were not an issue for the voters this time.
Candidates accused of graft, money laundering and even terrorism in cases registered with the Central Bureau of Investigation, Enforcement Directorate and National Investigation Agency, have won by margins running into lakhs of votes.
Terror accused
The most controversial candidate this election was the BJP's 'Sadhvi' Pragya Singh Thakur, a key accused in the 2008 Malegaon blast case, in which six people were killed. Thakur, who is facing trial on terror charges, contested against senior Congress leader Digvijaya Singh from Bhopal in Madhya Pradesh, and won by over 3.6 lakh votes.
This is the first instance when a national party has given a ticket to a candidate accused of terrorism. Thakur has also figured in investigations into several other cases of alleged Hindutva extremism.
According to the Anti-Terrorism Squad charge sheet, Thakur was part of meetings of radical activists from 2006 onwards, where plans to target the Muslim community were discussed. Thakur allegedly took charge of finding a person to execute the Malegaon attack. The charge sheet also mentions that the motorcycle in which the bomb in Malegaon was planted belonged to Thakur.
Corruption-accused
Karti P Chidambaram, son of senior Congress leader P Chidambaram, contested from Sivaganga in Tamil Nadu against BJP's H Raja, and won by over 3.5 lakh votes.
Karti is being investigated by the Enforcement Directorate in a Prevention of Money Laundering Act (PMLA) case, for allegedly receiving kickbacks to ensure Foreign Investment Promotion Board (FIPB) clearance for the Aircel-Maxis deal in 2006, when his father was the union finance minister. He allegedly also facilitated the payment of bribes.
According to the ED, Karti's company Advantage Strategic Consulting Pvt Ltd received Rs 26 lakh for getting an out-of-the-way FIPB approval.
Similarly, former telecom minister Dayanidhi Maran of the DMK, a key accused in the Aircel-Maxis case, who contested from Chennai Central against PMK's S.R. Sam Paul, won by over 3.1 lakh votes.
The charge sheet filed in the case accused Maran of criminal conspiracy and making illegal monetary gain for himself in the deal.
According to investigators, it is alleged that Maran entered into a criminal conspiracy with T. Ananda Krishnan, owner of the Malaysian company Maxis, and coerced C Sivasankaran, owner of Aircel, to sell his shares to the former, allegedly in return for investments in the Marans' Sun Direct TV Pvt Ltd.
Two other DMK leaders who had been accused of corruption but were acquitted — A. Raja and Kanimozhi — have also won by big margins. Raja, one of the main accused in the 2G scam who was acquitted in 2017, won by over 1.2 lakh votes from the Nilgiris constituency while Kanimozhi, who was also acquitted in the 2G case in 2017, won from Thoothukudi by over 93,000 votes.
The CBI had alleged that there was a loss of Rs 30,984 crore to the exchequer in allocation of licences for the 2G spectrum, which were scrapped by the top court on 2 February 2012.
Murder-accused
Afzal Ansari, a candidate of the SP-BSP-RLD alliance in Uttar Pradesh and brother of don-turned-politician Mukhtar Ansari, won the Ghazipur seat in UP by over one lakh votes, defeating union minister and sitting MP Manoj Sinha.
While his brother Mukhtar, who is currently in jail, has over a dozen cases of murder, extortion and kidnapping — including the 2005 killing of BJP MLA Krishnanand Rai — against him, Afzal too has a criminal record.
According to his affidavit filed with Election Commission of India, Afzal has five cases of murder, criminal conspiracy, assault on public servant, and attempt to murder registered against him. He, however, has not been convicted in any case.
Meanwhile, in what was touted as a battle between the wives of two musclemen in Bihar's Siwan, Kavita Singh, wife of Ajay Singh, defeated Mohammad Shahabuddin's wife Heena Shahab by 1.1 lakh votes. Neither Kavita nor Heena have any criminal cases registered against them.
Geetika Sharma suicide: Gopal Kanda charged with rape, unnatural sex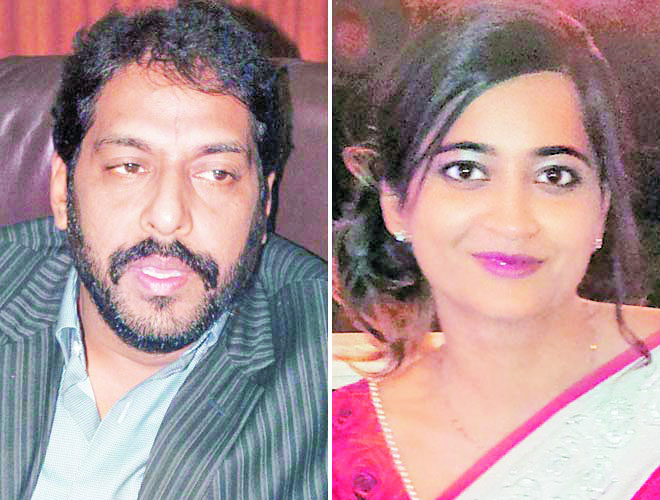 The sordid saga of Big Daddy Casino owner, Gopal Kanda remains unresolved. A Delhi court in 2013 framed charges of abetment of suicide and conspiracy against former Haryana Home Minister Gopal Kanda and paved the way for his trial in the ex-air hostess Geetika Sharma suicide case.
Along with 46-year-old Kanda, his close aide and employee Aruna Chadha, 40, also faces trial for similar charges.
The court also on its own framed charges under section 376 (rape) and 377 (unnatural sex) of IPC against Kanda.
Chadha was also charged under section 376 and section 109 (abetting of commission of offence) IPC.
The charges of rape, unnatural sex and its abetment were framed against Kanda and Chadha by the court on the basis of material on record even though the police had not booked them under these penal provisions.
They have also been charged with offence of forgery with intention to cheat and harm the reputation of the victim.
"I hold that prima facie charges under sections 306 (abetment of suicide), 120B (criminal conspiracy), 468 (forgery with intention to cheat), 469 (forgery with intention to harm reputation), 466 (forgery of record of public register) and 471 (using forged documents as genuine) are made out against Gopal Kanda and Aruna Chadha," District Judge S K Sarvaria said.
Geetika, a former air hostess, who was earlier employed with Kanda's MDLR airlines, was found dead on August 5 at her Ashok Vihar residence in North West Delhi. In her August 4 suicide note, she had said she was ending her life due to "harassment" by Kanda and Chadha.
Kanda was forced to resign from his post of minister of state for home in Haryana following the registration of the case.
The court, while framing charges, said that incriminating materials placed by the police, prima facie established that Kanda has "repeatedly committed rape" upon the deceased during her employment with MDLR and this fact was reflected by her behaviour of leaving the organisation again and again.
"The prosecution, in my view, has prima facie established that accused Gopal Goyal Kanda has repeatedly committed rape upon deceased victim from time to time during the period of her employment with MDLR without her consent which fact is reflected by her behaviour of leaving MDLR again and again to escape from clutches of the inhuman sexual exploitation by the accused," the court said.
It further said as the victim was "pressurized" to come to office, "the presumption is that her sexual exploitation was possibly done by accused Gopal Goyal Kanda in the office of MDLR and/or any other place within his special knowledge." Lending credence to postmortem report and other facts, including the victim's suicide note dated August 8, 2012, the court said that Kanda also indulged in "commission of unnatural offence" with the victim while she was employed with MDLR.
Six months later, Geetika's mother, Anuradha Sharma took her own life, blaming Kanda and Chadha for her death.
Anuradha's husband, Dinesh Sharma appeared before the court and said his wife took the step due to the "harassment and torture meted out to her at the behest of Gopal Kanda and Aruna Chadha". He had further submitted that despite being in custody, Kanda and Chadha used their "money and power" to harass and torture his wife, due to which she was "compelled" to end her life.