By Our Special Correspondent
We celebrate Chovoth in Goa, Ganesh Chaturthi in Maharashtra and also Goa. Different vocabulary, same festival winding up the holy month of Shravan and ushering in Bhadrapad and a slow countdown to year-end Hindu calendar festivities in religious time and memory of a myriad gods and goddess of Hindu mythology…take them seriously, take them with a pinch of salt, up to you.
As far as the beguiling Lord Ganesh story goes it is something like an elephant head transplanted on the son of Lord Shiva and Goddess Parvati — an incident it was off with his head, a domestic fight, eventual peace with restoration of life. That's all there is to it but we remember Lord Ganesh to this day as the harbinger of good times, auspicious times, good luck, all that. No puja would be complete until Lord Ganesh's myriad names are invoked first.
Coming to the sweets prepared in honour of Lord Ganesh's birthday in Maharashtra in may be steamed modak (cone-shaped fluted rice dumpling stuffed with a mix of freshly grated coconut and dark jaggery, a hint of cardamom, anointed with shudh home-made ghee), but in Goa it is a line-up of nevryo which rule — these ivory crescent-shaped crunchy pastry puffs filled with a mixture or choon of sesame seeds, caju, poppy seeds, dry coconut bits, raisins, powder jaggery/sugar, cardamom, semolina) are deep fried golden and much loved by children and adults alike. Sometimes the filling is of soaked, cooked, sweetened moong dal or chana dal choon.
There are even savoury nevryo (also nevreo, neuri, neurio). Of course modak of all kind are also out there in homes and mithai shops — of sweetened mava, caju and almond paste, even dairy chocolate or bitter-sweet dark chocolate! But in Hindu Goan homes you'll find steamed pattoleo for Nag Panchmi and definitely deep-fried nevryo for Chovoth. Whatever is made is first served to Lord Ganesh idol installed on a decorative centrepiece pandal (platform), beneath a grand as possible matoli. Only in Goa we see these wondrous bounty of a matoli canopy made up of the fruit of the earth, vegetables, wild flowers, herbs, tubers, pumpkins, gourds, whatever else inviting attention…making us realize anew that Mother Earth still has much to offer us to live in peace and harmony.
But to stay with popular Chovoth sweet nevryo here are a few recipes for you offer your family and friends this festive season, also a few other simple recipes for the good health of both Lord Ganesh, his devotees, fans, well-wishers. Whatever recipe catches your fancy, do make it at home!
NEVRYO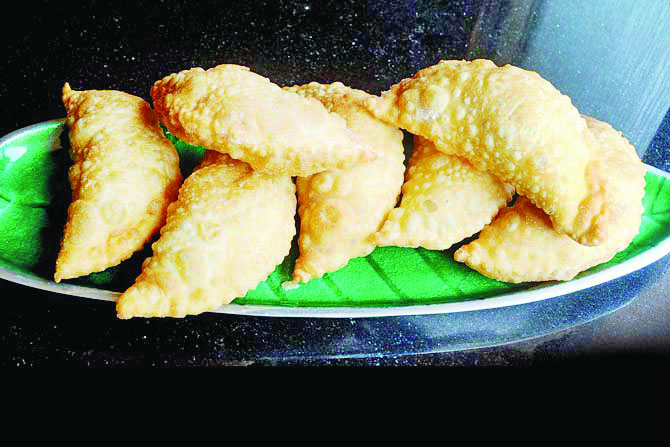 (Makes 25 pieces)
Ingredients: Half kg flour, 2 tbs ghee, oil to deep fry, water (for kneading dough), pinch of salt. Filling 1: coconut grated fine, half cup water, caju chopped fine, quarter tsp cardamom powder, half kg sugar, 2 tsp ghee; raisins chopped fine, oil for frying. Filling 2: 1 cup gram dal, 1 cup castor sugar, quarter tsp cardamom powder.
Method of Preparation: For Filling 1 — Heat sugar and water to make syrup. Add coconut, nuts and ghee. Keep stirring. As mixture dries, add raisins and cardamom powder. Set aside when fairly dry and thick. For filling 2 — Grind the dal to a powder and mix with sugar. Place in a heavy pan and roast lightly. Add cardamom. Set aside.
Mix flour, salt, ghee and with enough water knead into a soft smooth dough. Cover with wet cloth and set aside half an hour. To reduce use of coconut you make it half coconut and half semolina. Divide the dough into small balls using dusting flour and roll out into thin puri, place spoon full of either filling in centre and fold into a semi-circle, sealing edges with bit water or fluting. Deep fry nevryo till light gold. They should be crunchily soft instead of hurtingly hard to bite into! It's the addition of semolina/rava which ensures softness. Nevryo may be stored in an airtight container and served whenever desirable.

SWEET POTATO NEVRYO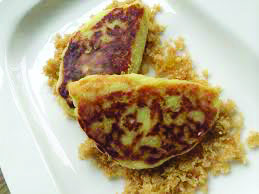 An unusual nevryo recipe
Ingredients: Take eight medium size sweet potatoes, 4 cups grated coconut, jaggery, and salt to taste, half tsp cardamom powder.
Method: Mix coconut, jaggery, cardamom powder and salt well. Stir fry in a pan till slightly dry. Set aside. Pressure cook sweet potatoes without water (three whistles). When cooled, peel, grate and knead to a stiff dough. Form into small balls and flatten into rounds of 3 inch in diameter on a greased banana leaf. Put coconut mixture on one half and fold over. Press edges. Shallow fry in a frying pan with a little ghee. Caju bits and roasted sesame seeds may also be added to the coconut filling. Serve dabbed with pure ghee.
MODAK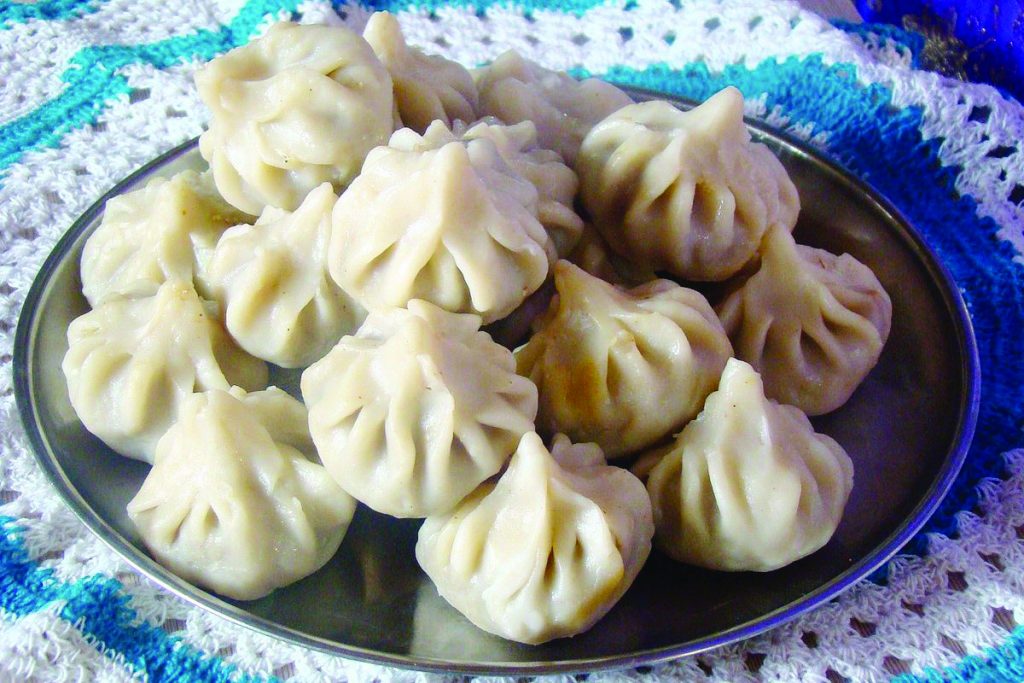 (Coconut and jaggery-filled rice dumplings, 20-25 modak)
Ingredients: One-and-half cup parboiled rice/ukda/sela chaval; half tsp ghee; a pinch salt; oil for greasing hands.
Filling: One-and-half cup grated fresh coconut, three-quarter cup grated jaggery/gud; half tsp powdered green cardamom/chhoti elaichi.
Method: Wash rice and soak in water for about 15 minutes. Drain well and spread out on a clean piece of cloth for an hour to dry. Grind the rice fine. Run the ground rice through a sieve.
Boil one-and-quarter cups of water in a pan over moderate heat. Add ghee and salt. Slowly sprinkle ground rice, stirring continuously to avoid lumps. Cook over low heat, stirring continuously, till the mixture thickens to a semi-solid consistency. Remove from heat and keep covered for 15 minutes or till cool enough to handle. Spread a little oil on your palms and knead the dough till soft and pliable. Cover with a damp cloth and set aside.
Mix coconut and jaggery in a pan. Place over low heat for 1-2 minutes, till the mixture turns golden. Stir in the cardamom. Remove from heat and set aside till cool.
Make large, marble-size balls of dough and flatten each into a 2-inch disc. Place a spoon of filling in the centre of each disc. Fold the dough over the filling to cover it completely, and press the top to seal, using a little water if required. Shape into a round ball that has a peak on top to resemble a fig. Steam the modak in a steamer for 10 minutes. Serve with a drizzle of hot ghee atop each modak. These modak are prepared for Ganpati puja in most Maharashtra Hindu homes.
BESAN LADOO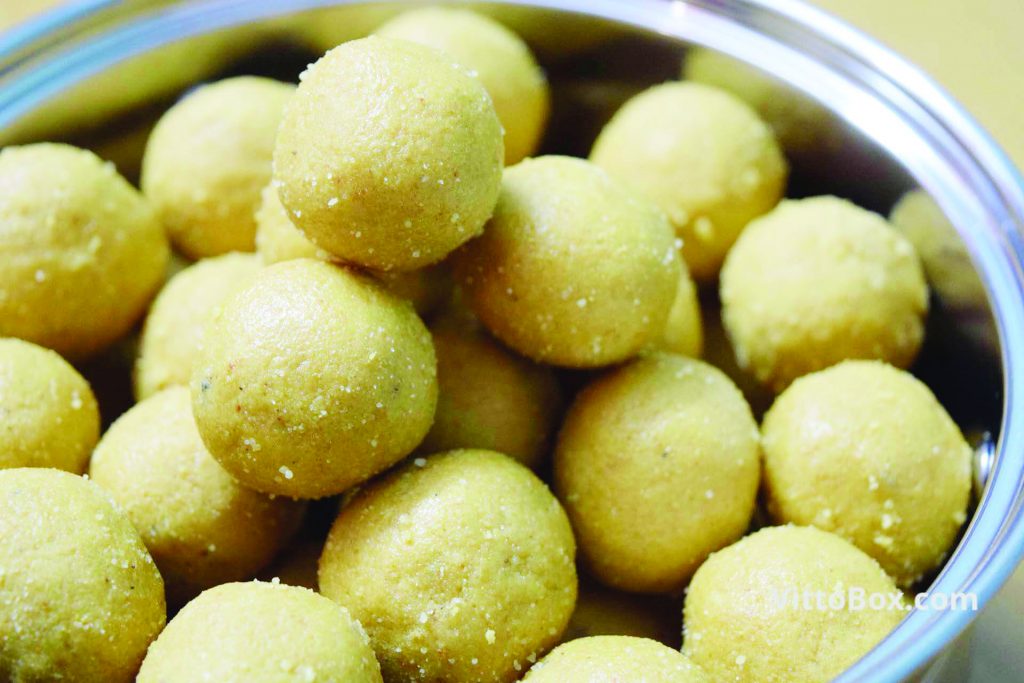 (Much loved ladoo of them all, nutritious and delicious)
Ingredients: 2 cups good quality besan (chana dal flour); 5 tbs melted pure ghee; 4 cloves, pinch nutmeg; a cup powdered sugar or less if you like it less sweet; golden raisins.
Method: Roast besan in a thick pan without burning. Add a tablespoon of ghee and roast some more till raw besan aroma is gone. When besan is golden brown allow to cool. Fry cloves and nutmeg in half tsp ghee and powder it. Once besan cools completely, add masala powder and powdered sugar as per taste. Add remaining melted ghee gradually to get a granular consistency. Adjust ghee as desired to enable binding. Shape into ladoo and press a raisin on each. Your ladoo are ready to be relished.
FRESH COCONUT BARFI
(A delicately flavoured coconut sweet, 18 pieces)
Ingredients: 500 g freshly graTed coconut; 350 g powdered sugar; 350 ml milk; 30 g sliced almonds; 1 g saffron (kesar) soaked in a tbs of water; 10g cardamom powder. For Garnishing: 20 g crushed pistachio and few saffron strands.
Method: In a thick deep non-stick pan combine coconut, sugar and milk and mix well. Cook on medium fire for eight to 10 minutes, stirring continuously. Lower the flame and cook till coconut mixture is sticky and forms into a ball. Remove from flame and keep aside. Add almonds, saffron and cardamom powder and mix well. Set aside to cool. Transfer the coconut mixture into a flat wooden base and roll out into a slab of 1-inch thickness and cut 1-inch x 1-inch square pieces with a sharp knife. Garnish with pista, saffron strands and serve.