At the Source-Destination Consultation meet on human trafficking for commercial sexual exploitation: Inaugural speakers (l to r) are Juliana Lohar, Jivba Dalvi, moderator Levinson Martins, Rahul Parab, Vivek HP, Premila Fernandes e Braganza (superintendent of State Protective Home)
By Our Special Correspondent
The centralized and organized red-light district of Baina in port city Vasco da Gama may have been demolished by former Manohar Parrikar government but the exploitation of young women from Maharashtra, Delhi and West Bengal continues unabated in Goa in more sophisticated ways courtesy digital technology and Internet access. Police in tandem with ARZ (NGO Anyay Rahi Zindagi) representatives may conduct raids on beauty and massage parlors and hotels to arrest these vulnerable sex workers, who have fallen prey to traffickers painting a rosy employment picture for them.
It is traffickers violating the laws who now pull the strings from another city, state or country who go unpunished more than ever! This came across clearly in ARZ's latest report on prevention, protection, and rehabilitation of the victims of commercial sexual exploitation in Goa. The report was released at a Source-Destination Consultation workshop for various stakeholders at the International Centre Goa on September 17 and 18, 2019. Speakers at the inaugural program included key people Chokha Ram Garg (IAS, Secretary, Women & Child Development, Goa), Pranab Nanda (IPS, Director General of Police, Goa), Thomas (Executive Director, ECPAT, Luxembourg), Deepali Naik, (Director, DW & CD, Goa) as also from the police Jiba Dalvi and Rahul Parab, Sub Divisional Magistrate Mr Vivek HP (IAS), Premila Fernandes e Braganza (DW&CD), superintendent of State Protective Home, ARZ ' Juliana Lohar with Deputy Magistrate Levinson Martins moderating the inaugural session.
According to ARZ Director Arun Pandey, "The scene is worsening in Goa. Our data of five years in the report throws light on a network which exists between states with West Bengal, Delhi and Maharashtra, playing a big role in sourcing young vulnerable sex workers. Most of them are 21 to 30 years old and the image of Goa is being projected as a tourism state of beaches, liquor, casinos…" A natural corollary would be to patronize young sex workers if they can be discreetly exploited for a price, much of which would go into the pockets of traffickers and perhaps their political bosses!
The internet commercial sex exploitation business is huge and it is a bigger challenge to catch the human traffickers in Goa; ironically, sex workers themselves prefer more comfortable destinations like Goa to ply their profession. In the old days we called today's sex workers prostitutes but the word has now been euphemistically replaced by sex workers and although the profession itself is legal it is the peddlers or traffickers who hoodwink, kidnap or sell a rosy dream to young village girls, many of them minors, who can now be put away under the Immoral Traffic Prevention Act (ITPA, 1956) and subsequent laws like the Goa Children's Act of 2003 which has various provisions to protect children from commercial sex exploitation.
Many young girls from the impoverished belts of Maharashtra, West Bengal or Bangladesh get drawn into the human traffickers net out of economic needs, oftentimes both parents and family are in the know about how their daughters are earning a livelihood in sex destinations like Goa, but turn a blind eye as long as they repatriate money home regularly. The ARZ report based on a study of 400 sex workers notes the phenomena and trends of trafficking girls (minors) and women for commercial sex activities during the period 2014 to 2019.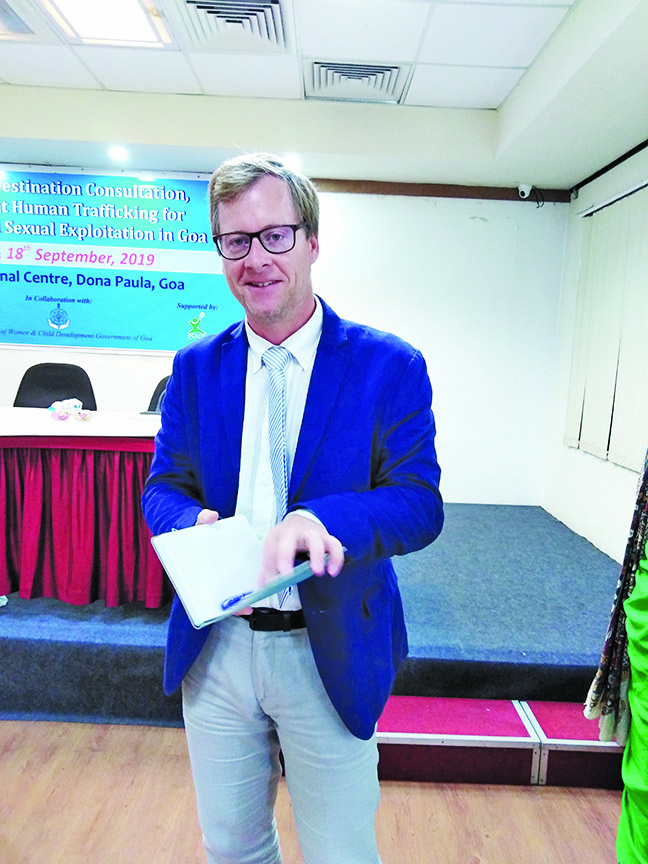 From the sound of it there has been a reduction of trafficking from the North East states of India such as Manipur, Assam, Nagaland and Mizoram. But trends have been changing and the new trend is luring girls from Maharashtra and West Bengal which are top sources, followed by Delhi, "The NCR (National Capital Region) is developing as a source area for Goa. Apart from the camouflage provided by Internet operations it is also true that sexual activities in recent years has shifted from hotel and massage parlors to residential flats in big housing society complexes where residents turn a blind eye to what is going on in flats leased out to sex workers full time or part time.
Pranab Nanda in his brief talk said in India human trafficking of minors for commercial sexual exploitation is an important and sensitive issue and has an ugly face, and continues to flourish as a major crime. Unfortunately, such sexual exploitation is also very profitable so new, smarter players get into the business and police have to acquire skills to combat the highly organized sex networks operating in Goa — now a hot spot with something like eight million tourists visiting it annually.
In 2015, 180 traffickers were caught, 376 victims taken in out of which 300 arrested – but the glaring truth is few get convicted in court. Speaker Chokha Ram Garg dwelled on the need for closer co-ordination between police agencies and NGOs and also follow-up with young women rescued and repatriated to their home states. The real challenge is to make sure they do not return to the mercy of their former traffickers out of economic need. It means the state must offer more dignified options to these exploited young and not so young women to earn a living for long-term rather than short-term goals in which they are trapped and have to cope with children without a father.
According to Rahul Parab in recent raids 14 arrests were made with 26 accused, but in cases where the sex workers are experienced, hardened sex workers they remain tight-lipped and do not part with valuable information which can facilitate prosecution of traffickers and their conviction. From the sound of it is a well-entrenched network of demand, culprits and victims because this is an organized crime. The ARZ consultation saw delegates from several states and provided a platform for exchanging notes and understanding the complexity of human trafficking for commercial sexual exploitation in Goa and elsewhere in the country.
According to ARZ' Juliana the NGO has been supporting police working in the crime rackets of sexual exploitation for over 18 years and they not only counsel and facilitate many of the rescued girls/women but also help repatriate them to their home state if they desire. Interesting, ARZ also has a Swift Wash Laundry which is a rehabilitation unit at Sancoale, Vasco. A visit was organized for representatives from out of Goa who were interested.
A summary from ARZ' A Statistical Analysis (2014 to 2019), Trafficking of Women & Children for Commercial Sexual Exploitation in Goa: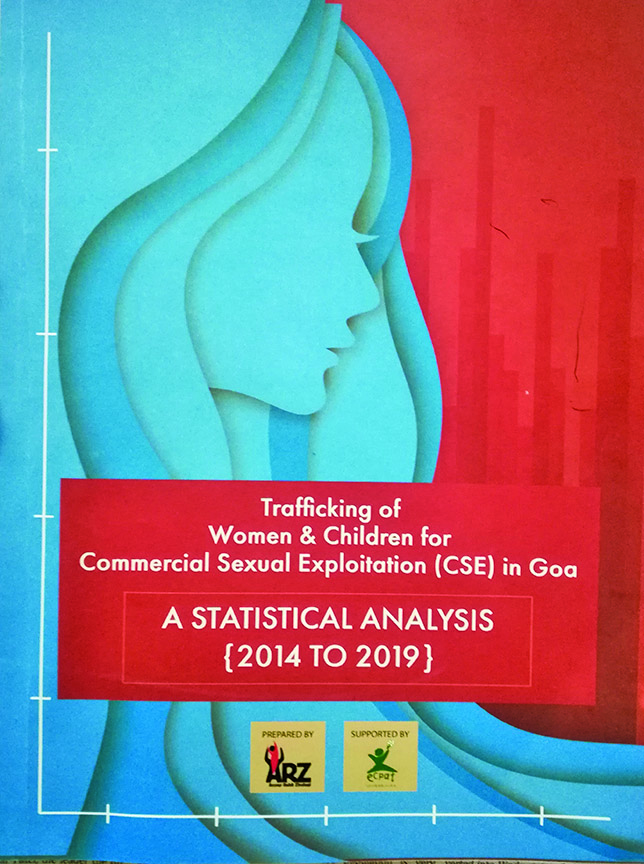 • Goa is one of the major destinations in India for trafficking related to commercial sexual activities.
• Here has been reduction in the last five years, in trafficking of girls and women I to Goa from Nepal, but a substantial increase in trafficking from Bangladesh.
• He girls who were trafficked to Goa were found to be mostly those who have been exploited for a long time for commercial sexual activities in other places and before sending them to Goa the pimp was confident that the girls would not approach the law enforcement agencies for assistance or reveal details about the traffickers.
• One of the major contributory factors for Goa being one of the major destination was that it was easier for the girls and women to get permission from the family members to visit Goa. A majority of them come to Goa after informing their family members that they were going to Goa for a holiday with friends. Some of them made excuses of event, catering and/or dancing assignments to travel to Goa.
• In majority of the cases the victims traveled to Goa by flight and the trafficker booked their flight tickets and hotel rooms.
• A majority of the girls felt that the conditions for commercials sexual activity was better in Goa compared to other parts of India. They felt that in Goa stay, food, money, clients, transportation was better compared to other parts of India.
• The pimps/agents made fake Aadhaar cards, voting pan card, Nikah Nama and driving license of foreign nations. The foreign nations use these documents as identity proof for travelling, checking in hotels, opening bank accounts, purchasing sim cards, etc.
• The commercial sexual activities dominated in the coastal belt of North Goa, with maximum rescues by the police being conducted by Calangute Police Station jurisdiction, followed by Anjuna police station jurisdiction. The During this period it was also found that commercial sexual activities were limited to North Goa coastal belt, but has spread to Bicholim, Verna, Vasco, Margao, Ponda , which are not tourist hubs.
• The usage of internet/online services for commercials sexual activity is on the increase in Goa. Platforms such as websites, Facebook, Locanto are used for advertising sexual services. The traffickers/perpetrators are using the internet for recruitment, soliciting, receiving payments, etc.
• Online advertisement has increased the reach of pimps to customers. It has also created anonymity for the pimps and clients.
• A majority of clients are domestic tourists. The main form of commercial sexual activity is hotel and lodge-based, followed by passage parlor and flat/bungalow-based.
• A majority of the women rescued in Goa were found to be major in age, ranging from 21 to 35 years. Most of them were victims of domestic violence; they were either separated from their husband or divorced.
• A large number of women rescued in Goa have not completed SSC (Xth stand). It was found that a majority of them got married when they were minor and became mothers at a very young age. Due to early marriage they could not get any formal education or vocational skills and when their husbands did not financially support them or left them, they were left with the responsibility to take care of themselves and their children. In the absence of formal education or vocational skills and the need to earn money to support the family and children, they became vulnerable and the target of the traffickers, who lured them in the name of various kinds of employment and forced them into commercial sexual activities.
• Goa is not the first destination for induction of women and girls for commercial sexual activities. The girls trafficked from Central Asia are first trafficked and commercially exploited in Delhi and then sent onwards to Goa, whereas, girls from Bangladesh are first trafficked to Maharashtra and then to Goa.
• The girls and women from India or foreigners are inducted in commercial sexual activity outside Goa and when the victim has accepted CSA as "no other choice" or is under the "control of the trafficker" she is trafficked to Goa.
• The women trafficked to Goa on a contract of 10 days to 1 month and after the contract they are sent back. The traffickers regularly rotate the women that are sent to Goa.
• The victim is usually paid 10% to 25% of the money received from the clients. The remuneration is fixed for the contract period with the condition that she will entertain a fixed number of clients per day. In case the clients are below that number, the clients serviced by her on that day are not counted and she loses money for the day.
• Due to increase in online commercial sexual activities, the traffickers have become faceless. The modus operandi in Goa is as follow: the agents/pimps and advertise the number online for girls. Once someone calls on the number they verify about the person, by asking about Aadhaar card number and hotel details. Once the pimp is sure that the person who has called is not a police decoy and is a genuine client they pass the phone number to the woman and ask her to contact the client. The woman then contacts the client and visits him at the address provided by him. She is expected to collect the money from the client and then either deposit it in the account of the pimp, or transfer it by Paytm or the trafficker sends her person and collects the money.
• In case the girl is rescued by the police, the traffickers switch off their mobiles and change the SIM. It has become increasingly difficult to arrest the persons involved in the exploitation of the girls.