'Today's Clinician' is a palliative care special
By Our Special Correspondent
THE latest issue of Today's Clinician' (a quarterly) is out and packed with a lot of useful knowledge you may want to know about world hospice and palliative care. Hospice and palliative care of patients is now the fastest growing healthcare segment even in India with its ever growing ageing population. Such care is not limited to seniors alone naturally for all patients young and not so young need professional caring if they are suffering from critical illness. In the special issue's Editorial note oncologist surgeon Dr L J de Souza notes that we admit a patient in an intensive care unit or ICU when the patient is critically ill, "This is because they need 24-hour intensive care of their illness given by a team of specialists with all advanced facilities to control the illness and increase the chances for survival of the patient. In much the same way, a terminally ill patient, with advanced cancer, needs 24-hour care with intensive palliative care to control their pain and distressing symptoms and to bring peace to their body, mind and spirit. If this can be done at home, it is the very best place, but if there are no trained carers or facilities available to give this care, then the best alternative is thehospice' which is an intensive care unit for palliative care."
He adds that hospice differs from an active treatment ICU geared to add days to live by all possible means i.e. to prolong and sustain life. Hospice care on the other hand aims at "adding life to days that are remaining" with 24-hour intense palliative care. He is not for terminally ill patients being admitted in an active ICU because the aim is not to prolong life and suffering that goes along with it in the case of terminal illness. If you have a terminally ill patient at home do not seek to put him or her in an active ICU to be all alone for the end. He says, it is far better for such patients to be with family and friends at home for a peaceful goodbye to loved ones.
FESTIVALS
Navratri & Durga Puja festivals are ongoing this week: Catch the auspicious spirit of a more joyful India at various temple and community halls! While Gujarati community fasts for nine in memory of the goddess Amba (and her various personifications), Bengalis focus on warrior goddess Durga. In Panaji the Mahalakshmi temple plays a leading role in Navratri garba and dandiya dancing in the evenings, while Bengalis are attending the 39th Sarbojanin Durga Puja Festival at Gomantak Maratha Samaj Hall in Panaji from Oct 4 to 8. All are welcome to offer floral puja and participate in the programs at respective venues.
EVENTS
Jumble Sale: Anchor of Hope's annual jumble sale with great deals, amazing prices, plus delicious refreshments. Open to all freely. Venue: Ground floor, primary classrooms, Don Bosco High School, Panaji. Date: Sat/Oct 5 & Sunday/Oct 6. Time: 5pm to 7pm/7am to 7pm, respectively.
Vibrant Goa Summit: You want to rev up your business take note of this first Vibrant Goa summit coming up. As of now the summit organizers have disclosed that 160 stalls have signed up with an additional 60 promoting Khadi Village Industries Corporation products. Summit focuses on construction, information technology, information technology, electronics and hardware, agro and food processing, building materials, real estate, education, entertainment, finance, IT, light engineering, pharma and biotech (a pharma pavilion with 60 stalls), ship building, tourism, wellness, etc. Government as well as all prominent companies are coming together to showcase Goa like never before. Venue: Shyama Prasad Mukherjee Indoor Stadium, Bambolim, Panaji. Date: Oct 17-18.
LANGUAGE
Learn German: These courses are conducted by the Indo-German Education & Cultural Society Goa (IGECS) and there are regular, intensive, weekend courses and private tuition too. Get international Goethe certification for A1, A2, B1, B1+B2.1 for adults and Fit 1 & 2 for young adults below 15 years. Course structure, study material and evaluation and examination follow guidelines of Goethe Institute/Max Mueller Bhavan, under Common European Framework of Reference for Languages. Venue: Garden Central Music Studio, Panaji. Date: Oct to February 2020. Details: Register/email for details at igecsg.language@gmail.com
ART/CRAFT
Sculpsit, Between Thought & Action: An exhibition of drawings and sculptures curated by Sasha Altaf, inaugurated by Ms Bunty Chand (chief executive officer, Asia Society India Centre); the show is hosted by patrons Dipti and Dattaraj V Salgaocar in collaboration with The Guild Art Gallery. The show opens on Sat/Oct5 at 11.30am and will include conversation with the artists. Venue: Sunapaanta Goa Centre for the Arts, Altinho, Panaji. Date: Ongoing Oct 4-5. Time: 10am to 8pm. Details: at info@sgcfa.org
Into the Vault: A new exhibition of art opens in collaboration with the Goa Art Collective, featuring 12 Goa group artists. Paintings, sculptures, objet de art, other works of art. Venue: Museum of Goa, Pilerne Industrial Estate, Pilerne. Date: Sat/Oct 5 onwards. Time: 6.30pm
GARDENING
The Margao Kithen Gardeners' Market: Get whatever you need to feed your gardening passion here. There's compost, panchgavya, potting soil, coco peat, handy garden tools, veggie seedlings (lettuce, gourds, beans, mustard greens, chillies, ladyfinger, more), also fruit tree plants, pest repellents. Venue: Arjuntree One, near Fatima Convent School, Margao. Date: Sat/Sun/Oct 5 & 6. Time: 10.30am to 6.30pm (lunch break between 1-2pm)
SALES
Tarang: A baazar organized an entrepreneurial group, featuring some 50 stalls offering a range of products and produce ranging from organic, gourmet products, to designer attire, skincare products, home appliances, handcrafted artefacts, more. Also, there's a recycle space where waste is collected, mainly E-waste, dry waste, old clothes, donations. Free entry. Venue: BPS Sports Club, AC Hall, Margao. Date: Sat/Sun, Oct 5/6. Time: 10am to 8pm.
Kashti Award for Capt Nitin Dhond!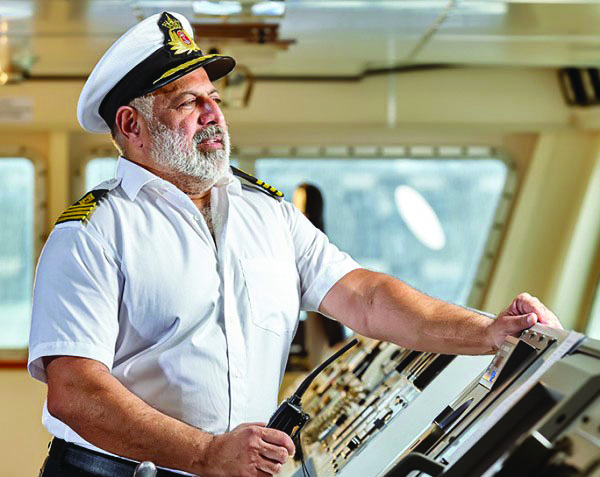 It is in the fitness of things of course. The Kashti Award 2019 has been given to veteran seaman Capt Nitin Dhond of Angriya Cruises. The awards honour Indian maritime industry stalwarts and there is a rigorous process of application and jury selection. The awards were initiated by Capt Kamal Chadda, editor of Maritime Media Pvt Ltd in 2005.
The awards ceremony took place in New Delhi on Oct 1, 2019, and was graced by Union Minister of Shipping Mansukh L Mandaviya, Director-General of Indian Coast Guard Krishnaswamy Natarajann and other shipping and non-shipping industry dignitaries and magnates to offer an interactive platform stakeholders of shipping industry, sea adventures and cruises.
In toto 30 awards were presented out of which almost one-third were to women in three categories — Kashti Ratna, Kashti Vibhusan and Kashti Bhusan. The awards are given to individuals who have excelled and not companies — hence, they enjoy the hallmark of personal accomplishment. Capt Nitin Dhond gets his Kashti Vibhusan (Treasure of Shipping) award for his invaluable contribution to innovation in the Indian maritime sector and ship development over the last four decades. Capt Dhond not only successfully launched and operates the country's first domestic cruise liner 'Angriya' with an all Indian crew and hospitality team; he also rejuvenated the dormant, commercially important Goa-Mumbai passenger route, infusing life into domestic tourism cruising.
Another feather in his cap: He conceptualized and supervised the first floating terminal at sea, 800 meters from domestic cruise terminal in Mumbai Port Trust. The terminal is manned and operated by his company Angriya Sea Eagle from October 2018, it is the first of its kind in Indian waters and can berth vessels up to 140 meters length with draft of six meters and displacement of 7,000 tons.
Capt Nitin Dhond also has an emotional bond with the country's first finest private forest sanctuary to protect over 700 acres of the Western Ghats forests in the Sahyadris. It is over two decades old and one of these days if you're a wilderness lover make it to his Wildernest Nature Resort — it has won award after award and is considered an exemplary resort in the interests of promoting sustainable eco-tourism in India.