THE students of the Goa Institute of Management are conducting a panel discussion in the Pascoal & Maria Menezes series on Substance Abuse. According to a press release received from GIM's Tanmoy Kangsabanik the discussion has been organized by GIM in collaboration with the Human Touch Foundation and is the first ever Goa State Consultation on Drug Abuse under the Pascoal & Maria Menezes Seminar Series with the theme of "Fostering Collective Action."
The consultation-cum-discussion which takes place on January 21, 2020, at the GIM Sanquelim Campus in Poriem, Sattari, aims to evolve into an internal consensus of what needs to be advocated and done to expand the further address and redress the growing and serious issue of drug abuse and its fall-out in Goan society. Speakers at the discussion include Shobit Saxena (IPS, SP, Anti-Narcotic Cell, Goa Police), Rajesh Menon (resident editor of Times of India, Goa), Dr Angelica Gomes (Goa State Aids Control Society, Dr Shivanand Bandekar (dean, Goa Medical College), Dr Joseph Perreira (founder, Kripa Foundation) and Peter F Borges (founder and CEO of Human Touch Foundation). Dr Devasheesh Mathur (assistant professor at GIM) will moderate the discussion.
It is hoped that the consultation will result in integrated efforts by all stakeholders, with a well-articulated approach based on evidence and commitment of resources. "A good state drug policy and a plan of action would address our concerns and provide a fresh and lasting impact of the government's effort to drug abuse," says Peter F Borges, whose foundation works on primary prevention in drug abuse in Goa.
The consultation is the initiative of students of Health Care Management led by Sushma Rajagopalan, who are executing Give Goa Health Project with Human Touch Foundation and its staff. Needless to say drug use and abuse is at all-time high in Goa today with the police tracking down drug peddlers almost every day along the coastal belts and even in urban interior areas where schools and colleges located. More and more young Goans caught in the network of substance abuse think drugs like cigarettes and alcohol are recreational things to indulge in and rarely realize how much trouble it can get them into, by the time they realize they're addicted they are in need of medical treatment and counseling at a qualified facility.
WWF-INDIA CELEBRATES GOLDEN JUBILEE!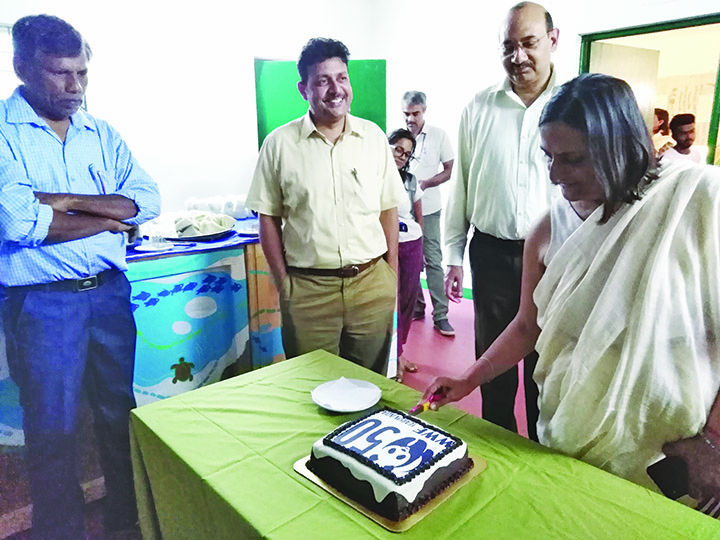 The WWF-India is doing very good work saving the wildlife of India! To celebrate its golden jubilee it decided to put up Arribada – a gathering of stories, cultures and interactions with sea turtles.' It's an exhibition like no other, comprising of the collections of turtle artefacts of three turtle fans, namely Dr Sejal Worah (currently program director at WWF India), Kartik Shanker (of Dakshin Foundation, author ofFrom Soup to Superstar' which traces the history of sea turtle conservation in India and several children's books) and Aradhana Seth (engaged in many forms of visual art and is a turtle aficionado).
The exhibition is up at the WWF-Goa premises adjoining Goa Science Centre from February to April, 202. After the inauguration of the exhibition by Principle Chief Conservator of Forests in Goa Subhash Chandra (IFS), various speakers spoke eloquently about the difficult life and times of marine turtles, and for a finale piece de resistance there was a cake-cutting moment, followed by a quiz on turtles.
Make a date with this exhibition one of these days to find more about the marine turtles of the world – in India and Goa wild-lifers may be familiar with Olive Ridleys, Flatbacks and Greens, but there are also Leatherbacks and Hawksbills, Loggerheads and Kemp's Ridleys….do you know that human beings have been fascinated by sea turtles for millennia and across the world turtles are represented in mythology (including Hindu mythology when the turtle is said to be the second avatar of Lord Vishnu, the "kurma" avatar remember) and various cultural contexts.
Turtles have evolved around 100 million years ago and remain mostly unchanged to this day, they provide valuable insights into the Mother Earth's past. There is turtle iconography – history, biology, culture, conservation and people associated with sea turtle research in India – at this `Arribada' (meaning collection of turtles) exhibition which has been meticulously organized and put together as a travelling WWF-India exhibition, testifying the invaluable role marine wildlife plays in human life.
The exhibition has finished viewing in Delhi, second stop is in Goa, and moves on to Bengaleru in April. Interestingly, WWF-India has grown from strength to strength and works in 75 locations across 20 states which the mission of "building a future where humans live in harmony with nature." This is to say there much to be learned from the life and times of the turtles of the world. Make time for this WWF-Goa exhibition!