Old favourite Pastry Cottage in Panaji… celebrating 25 years of glorious sweet something! That's Gauri Karkal helping out at the oldest Dr Atmaram Borkar Road outlet and taking time out to smile a welcome, advising on what is the latest, their popular bol de larange and just arrived custard eclairs! There is Pastry Cottage at Caranzalem too and this is a cool retreat to catch up with a friend over a bite!
By Tara Narayan
I ADMIT I get excited easily even at my age which is close to 70 going on 17 these days and I know a lot of folk who like to fudge their age for Lord Ram or god Krishna or mahadeo or whichever God knows best. The world has many gods to fight over although seriously we do not know if there is a God at all and I'm convinced there is only now and today and may be even no tomorrow! There is only Mother Earth and Father Sky for me! My real parents!
This said on to more mundane matters like what to do when a birthday comes along. I find it is only when birthdays come along that I dither around about whether to make or buy Western sweets or Eastern as in desi sweets – for the birthday song and dance about "muh meetha karo" and all that. I mean, just because I no longer have a sweet tooth it doesn't mean others should not have a sweet tooth!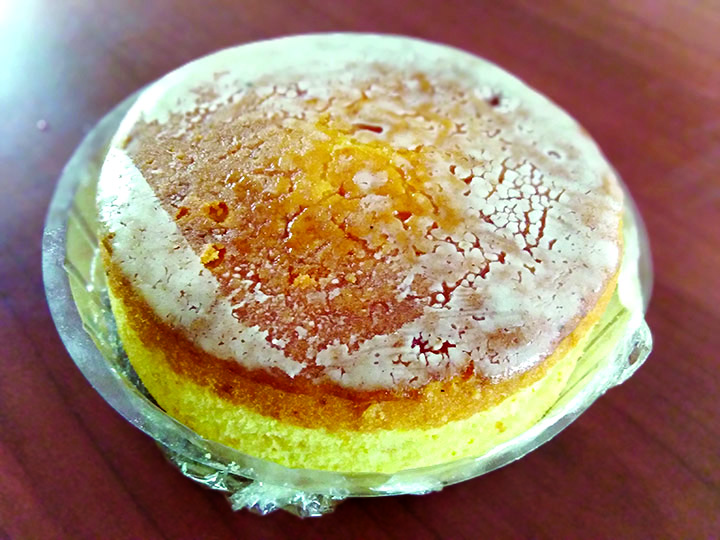 Except that Goa has a large repertoire of sweet something to offer and the dilemma is should I get cake or some mithai to die for like this piece de resistance besan-ki-barfi I tasted and was carried away by at…er…wherever. For a recent birthday I ended up getting both cake and besan-ki-barfi (which I put away in the fridge and forgot to serve!) for an impromptu birthday tea-time special.
These days for any special occasion I've got into the habit of dropping by at old favorite Gauri Karkal's friendly Pastry Cottage (now bakery and bistro, there's some moving space to sit and moon moon at all her three outlets in Panaji town) to see if their bol de laranja had arrived. Don't ask me why I've become terribly fond of this pretty luscious orange pound or sponge cake without any frills, it reminds me of the exquisitely tasty plain cake which I once loved and which came all the way from famous Kayani Bakery in Pune (along with other desirables like whole wheat bread, ginger/wine/Shrewsbury biscuits). During my Mumbai-that-was-Bombay years I'd order Kayani Bakery favorites every time friend went off to holiday in Pune or thereabouts!
I WOULD say Gauri's Pastry Cottage comes closest to Pune's Kayani's Bakery, although comparisons are always odious. Let me say Pastry Cottage down the Campal promenade and Caranzalem has a better setting. In any case biscuits, cakes, pastries, whatever gooey sweet something…one may indulge in occasionally as on birthdays or marriages! Hey, Gauri was there when I'd dropped in at Pastry Cottage and she drew my attention to the custard eclairs she has introduced newly….they looked so inviting I bought a box full, wondering if they'd be as memorable as those Lucie Mason used to put out at Patisserie Delicieux when it was here at Miramar beach in Panaji (long since shut down and gone somewhere else, maybe at Ashwem beach, I'm not so sure, but the croissants and crème éclair here were superlatively best). Is Delicieux still around somewhere in Goa?
But this is to say I returned to Pastry Cottage the next day to see if there were some more custard eclairs! Wanted a friend to taste them because the previous day's lot had got over too quickly and the friend didn't turn up. I've been happy going on a spree buying bol de laranja and custard eclairs and the good part is they're available right here in Panaji where I live. There's something very airy fairy delightful about crème eclairs or custard eclairs…they're flavorful in the mouth and light in the stomach. I think I can linger over a thick wedge of bol de laranja or a custard éclair at Pastry Cottage for over an hour, testimony if how long I want to stretch rare finds in life!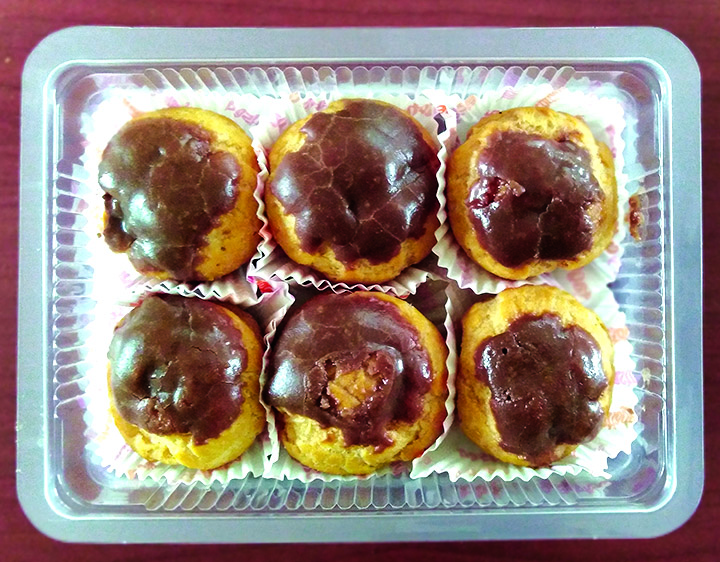 WHICH reminds me, Pastry Cottage is celebrating 25 years of life and times and Gauri Karkal I imagine, is one of the very few women I know who has excelled in the art of baking Western-styled confectionary, she surely has the largest range of slab cakes in her shop — her fruit cake is much appreciated and now there is my favorite bol de laranga. Sometimes I also pick up the whole wheat loaf of sliced bread and wish she would do sourdough bread! When I asked Gauri she said, "Oh we do non-glutten on order, but I've no desire to go too expensive for my clients!"
Of course remember Goa's admirable roll call of patisserie and confectionary is all mostly refined flour, butter/vegetable fat, sugar, salt, other itsy bitsy flavorings natural or unnatural (introduced to give color or what patisserie chefs call "a feel") — basically no no's if one is eating to live and not the other way around. (Sigh) Problem is we grow up being treated to sweet something and along the way acquire a sweet tooth because sweet something is presented as a treat (never mind that treats are meant to be sensible, occasional, and not daily indulgences). I can never forget a dear friend of mine who once confided that to get her to sleep as a young child her aristocratic grandmother used to put a chocolate in her mouth last thing every night! The friend has gone with the wind but sometimes I think of her sadly.
THE truth is I wish Goa's any number of bakeries upmarket and not so upmarket would expand their sensibility to be more health-conscious– how about also retailing luscious salads, chutneys, dips, roti of all kinds be they of whole wheat, bajra, jowari or nachne! Or a range of dosa, appam, idli…the shelf life of this fresh food stuff is quickly over though so they have to be daily pick-ups. Easy to want, hard to do on a commercial scale I suppose.
Still I think there is a steadily growing market for a more health-conscious range of food for daily consumption. Come on, come on, think out of the box if you are unemployed and broke, age no problem! These are hard times and I swear just about everyone who has no time to cook at home is looking for trustworthy, clean food and snacks. I also prefer glass bottle packing, my own tiffin dibba, or what comes in eco-friendly containers – increasingly that's my strong incentive to buy or not to buy. If I'm not buying this da da da because it's in deadly plastic packing, I tell myself, I'm saving money I need to save!