GOBI MANCHURIAN AT VASCO SAPTAH!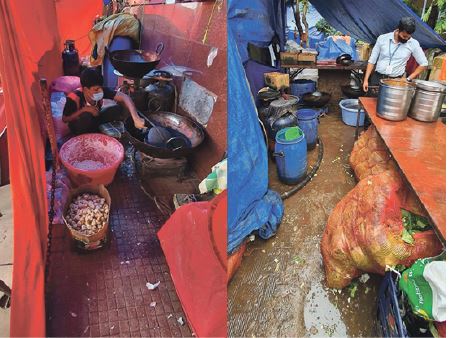 A TEAM from the Directorate of Food & Drugs Administration carried out a drive on food stalls operating at the recently held Vasco Saptah. The directorate had earlier issued instructions to the Mormugao Municipal Council, not to permit cooking activities at the temporary food stalls set up and to restrict the operation of stalls selling Gobi Manchurian — as such stall operators engage in preparing the food item behind the stall area in unhygienic conditions and with no proper sanitation.
Reportedly, despite the directives the Gobi Manchurian stalls were doing brisk business at the venue of the saptah and the several attempts of the officials to coordinate with the local body to restrict such stalls were futile! So strict enforcement action was initiated by FDA and Gobi Manchurian vendors were booked under the Provisions of the Food Safety & Standards Act 2006, the cases will be registered with the Adjudicating Officer ( Collector South) to penalize such vendors.
Then further investigations revealed a curious detail! It was revealed that some vendors produced the Municipal allotment slip indicating their trade as "readymade garments" while they were actually operating Gobi Manchurian stalls. Since no proper conditions like suitable washing area, enclosed structure, proper access and disposal of potable water were provided to these stalls by the Municipality, the conditions were not conducive to permit cooking activities.
For future reference the FDA is moving a proposal to restrict the operation of food outlets at such zatra, exhibitions, festivals, to a confined area designated as a food court or food zone and here the appropriate facilities will be provided and sanitation rules will be observed. Also local organizers will allot stalls although they fail to ensure proper facilities for the vendors! Hence, the burden of enforcement falls on FDA.
BJP SET BACK
THE BJP which toppled the Congress government in Bihar has lost the state because Chief Minister Nitish Kumar decided to choose the RJD as a new partner. The RJD was started by Lalu Prasad Yadav and his son Tejaswi Yadav. A new government is likely to be formed with an RJD leader, Lalu Prasad's son Tejaswi Yadav. This will also definitely spike the ambitions of Narendra Modi to get another term in the 2024 elections. Though BJP may have toppled Udhav Thackeray in Maharashtra there is every possibility that he may return to power!
WATERFALL SPREE
FOREST Minister Vishwajit Rane would now like to set up waterfalls across the state with lifeguards on duty so that no unruly events may take place. This must be a joke because what is making the rounds is videos of sections of Zuari bridge turning into waterfalls when it rains heavily. Such Dudsagar mini-waterfalls spring up in the ghat areas and attract a lot of visitors from Karnataka and Maharashtra. But alas, those who get fascinated by these impromptu waterfalls and want to dance in them, leave their litter of broken liquor bottles and plastic bags of leftover food in them behind – much to the ire of locals who have to clean up after the so called waterfall tourists have departed. Rane may want to think again about creating a series of waterfalls.
BAR CAPITAL LOLIEM
THE largest number of bars in Goa must be in Loliem, the last village bordering Karnataka. Virtually every house here has a bar and all of them attract customers. This is because the excise duty on liquor in Goa is much lower than in neighbouring Karnataka and Maharashtra. We know of colleagues buying crates of scotch to take back home across the border, though in theory you can take only two bottles and that too with permit. The permit is a farce and is issued to anyone at for Rs5!
POLITICAL KIDS IN FRAY
OUR politicians clearly believe that the best career for their children is in politics. The place to start off is the Panchayat elections where the constituency is small and ranges from 600 and 1,000 voters. In Varca, Sharon, daughter of Churchill Alemao is contesting. In Benaulim, Viola, wife of former tourism minister Mickey Pacheco, has joined the battle. In Parra where Dalilah is MLA, their son Daniel is the candidate. Laurence and Perpertua are brother and sister-in-law of former Agnelo Fernandes and form part of the political KG class of 2022.
PATOICHEM FEST, MADKAI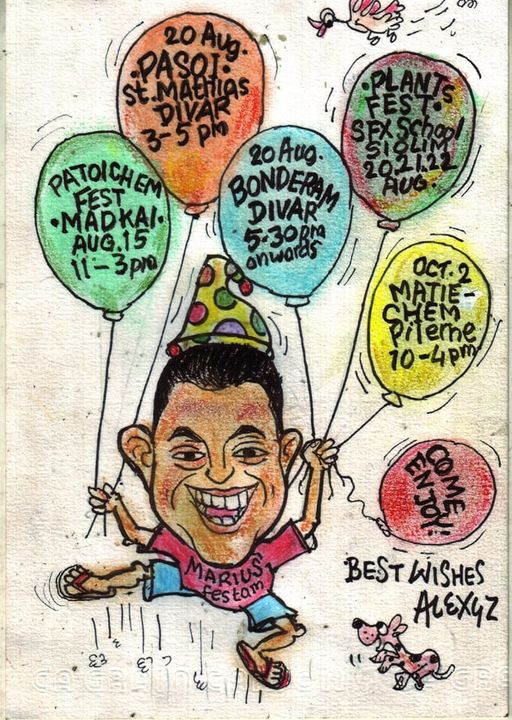 MOST everyone we know is busy imbibing some "azadi ka amrit mahotsav" (although we think it should be "azadi ki amrit mahotsav") with bike rally and all kinds of fests. It is also the nation's 75th Independence Day and one of the celebrations happening is the patoichem fest at the Peaceful Society grounds in Madkai on August 15 from 11am to 3pm. Come and experience the amazing journey of celebration of culture, heritage, food, music and cuisine, etc. Say hello to the Goencho Festakar festakar and amigos Alexyz, Miguel Braganza, Prajal Sakhardande and others who you may vibe with over a few leafy turmeric redolent patolyo – queen of all Goan sweets! This is the sweet of Nag Panchami, Independence Day and Ganesh Chaturthi across Goa. Patolyo or paatolyo is a sweet in which freshly grated coconut-jaggery-bit cardamom/nutmeg choon or crumble is packed in rice paste and steam cooked in turmeric leaves, what you get is headily aromatic translucently moon white crescent beauties…enjoy warmly. See your at the patochoi fest!