AT THE GOA CAMPAL HERITAGE FESTIVAL 2022… Foodie delights at the Dr FL Gomes garden which is lit up and offers an evening of rest and recreation to visitors after the day's events of book releases, the importance of heritage talks and much more! Last day November 19, 2022.
By Tara Narayan
IT'S been a killer week with so much happening in town or smart city Panaji. Goa has become one really long merry-go-round of fiestas and festivals and celebrations now that Tulsi Vivaha is over and the marriage season officially on. I was looking for a good quiche and then my friend Nigel da Costa Frias introduced me to the very best ones at Choco Crème and I may tell you they're the best although Rs250 per piece and each can be a meal all on its own with a salad alongside!
Then my friend Zion of Truffaut told me he is also putting out his mini quiches vegetarian and non-vegetarian in his counters along with focaccia sandwiches (all the rage now) and they too look good although I haven't tried them out. Zion's crescent-shaped savoury rissois have also increased in variety and I have also liked them but on my birthday just come and gone all I wanted was to linger over his little hazelnut-studded truffle (Rs100), the hazelnuts roasted and crunchy. Check out the hazelnut long éclair here but it is not the same as the Jilla Bakery eclairs. The cake business is always a growing business and Truffles have some of the best cakes this side of Goa although for New York baked cheesecake I will always go to Carasid.
Everyone's in the business of cakes in Goa of course with Goa itself being a piece of cake at all times with everyone into baking and crafting cakes plain and fancy, small-time and big-time. On my birthday I thought I'd go get Loutalim's Jila Bakery crème custard eclairs but it was not to be. I was happy with the Truffles hazelnut truffles and a box of caju katli which a friend ordered so that he could eat most of it himself in honour of my birthday! It is hard to find low-sugar caju or badam or pista katli in town.
Then I discovered there's a new mithai shop in town from Belgaum and this is Babusingh Thakur Pedha shop which is kind of famous. I had to stop by to taste the special besan ladu (Rs22.40 per piece, Rs640 kg) and fell for their date-badam chakki (Rs800 kg, but this is part of the no sugar mithai which almost all upmarket mithai shops now specialise in. They have all kinds of peda out here, Karnataka specials.
Now that the countdown to Christmas and New Year has begun all the bakeries have already started out putting out early Christmas fruit cakes. I like my fruit and plum cake from Carasid or better still Jilla Bakery…but then of course there are also the five-star stuff from the Marriott and Taj Vivanta cake shops which one may well bank on. Haven't called on them lately.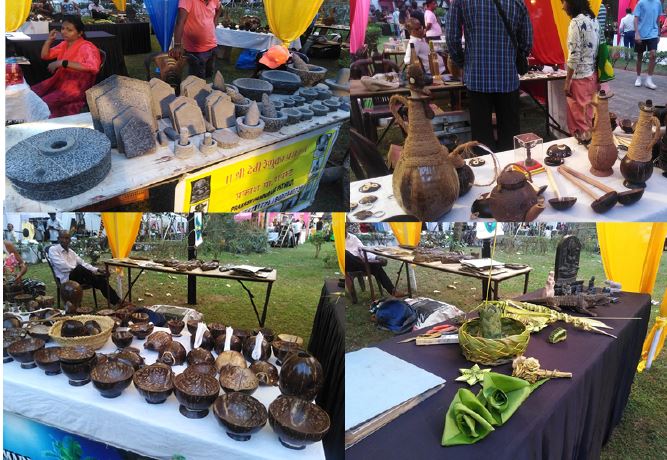 THEN after a long time the Goa Heritage Festival on from November 15 to 19 at the Campal Heritage Precinct with walks and music and dance and literature and poetry…and of course a most charming food courtyard laid out in the evenings at the lovely FL Gomes Garden off the Campal promenade. This is one of our most piece de resistance festivals focussing on heritage homes, art and literature and along with it comes things relevant like a pop-up bazar and evening entertainment of the very best upper crust kind…I found myself dropping in at the garden foodie stations almost every evening to just moon moon and take in the sights of happy people!
Anyway I like the idea of a eco-friendly festival and yes, it was eco-friendly 99% of the time. I found I had to buy a glass if I wanted to quench my thirst at the bar where cocktails were Rs400 plus, plus. I chose a nice olive coloured glass going at Rs50 and preferred to get my drink at this interesting station which offered something more agreeably thirst-quenching…the young couple here were promoting "a new drinking experience" called "hard seltzer" with "natural flavors only." Some kind of an Indian Standard Time "hard seltzer…hard buzz low cal alcohol." Never mind the jargon, when I say the bowl of fresh lemon sections swirling in icy water…I was sold.
But asked what the drink was all about and was told it's just carbonated water with less than 2% alcohol and it comes with lemon sections (or orange or grapefruit flavors) I rinsed out my new olive coloured glass and it was filled up with cheers, it made for a most refreshing drink and no, I didn't get inebriated at all!
There were several food stalls and since I like some of the stuff of Padaria Prazeres – I was happy with a cheese jalapeno berliner (Rs100), they also have a delectable custard berliner and other desirable stuff. Further up Reva was doing vegetarian and had sabudana kichadi, batatavada, some other vada of the nice kind and though cold I packed up some to take home. Lots of other things to tempt the vegetarian soul too of course…imagine poie stuffed with serradurra!
Okay, no more. Bon Appetit. Catch up with the heritage festival if you can on its last day or wait for it to return next year! Read more about it elsewhere here.