RAHUL GANDHI DISQUALIFIED!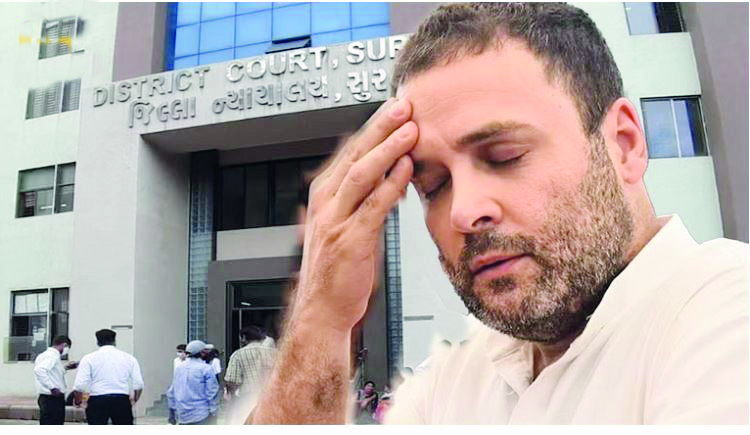 RAHUL Gandhi was convicted by a Sessions Court in Surat for his remarks at a rally in Kolar Karnataka ahead of the 2019 Lok Sabha elections. He was quoted saying, "Nirav Modi, Lalit Modi, Narendra Modi… how come they all have Modi as common surname? How come all the thieves have Modi as the common surname?"
For this impertinence and just a day after his conviction in the criminal defamation case, one of the country's most vocal young parliamentarian face, was disqualified from his Lok Sabha membership. The Lok Sabha Secretariat was swift in putting out a notification saying, "Consequent upon his conviction by the court of Chief Judicial Magistrate, Surat…, Rahul Gandhi, Lok Sabha MP representing Wayanad Parliamentary constituency of Kerala, stands disqualified from the membership of the lower house from the date of conviction." The order came on Friday, March 24, 2023 and was signed by Secretary General, Lok Sabha. Gandhi was convicted under the Indian Penal Code sections 499 and 500 to two years of imprisonment just a day before on Thursday when BJP MLA and former Gujarat Minister Purnesh Modi filed the case in a Surat court Rahul Gandhi's "Modi surname" comment in 2019. The wheels of justice or injustice can certainly move speedily in Indian jurisprudence today!
 GOA MUSIC COLLEGE
THE Goa College of Music originally located at the Kala Academy is now going to get its own building. Interestingly, the college plans to introduce music therapy treatment. For patients suffering from the dementia afflictions like Alzheimer's disease it is now confirmed that musical therapy is affective in tandem with geriatric treatment.
In fact, the suggestion has come that the State government should take the help of the Church which pioneered the imparting of music training on various instruments. Goa has a larger number of organs in the country. Musical Goa's special instrument is naturally the drum called the ghumat which traditionally came with a tight skin of the now endangered monitor lizard. Now of course the skin has been banned and some other similar material is used while making the ghumat. Ghumat orchestras have become very popular at various festivals of Goa with more and more people seeking to learn how to play the ghumat, many young women are learning to play it and there is even an all-women ghumat orchestra which beats out glorious music on a 100 human!
CANCER DEPARTMENT IN GMC
SO far reportedly cancer patients used to go to the private Manipal Hospital in Goa for chemotherapy and radiation at very expensive rates. It will come as a relief to cancer patients that now the GMC has started a outpatients department offering chemotherapy and radiation therapy as required. This facility is being headed by Dr Anupuma Borkar and she will be working in co-ordination with the Tata Cancer Memorial Hospital in Mumbai. This will mean cancer patients will be get relief majorly for the GMC is a public hospital and services are more or less freely available.
PROMOTING HINDU FESTIVALS
AS part of the Hindutva saffronisation movement the BJP State governments are promoting the celebration of Hindu festivals with a lot of dhoom and dham. Since he joined the BJP government even Panaji MLA Babush Monserrate (and we don't know about wife Jennifer) has been visiting temples and organising special events on Hindu festival days. Even Chief Minister Pramod Sawant and his Cabinet ministers have started releasing advertisements on occasions like Gudi Padwa — which marks the beginning of the Maharashtrian New Year. The new year festival is also celebrated across the country — as Ugadi in Karnataka, Andhra Pradesh and Telangana; as Lohri in the Punjab, as Boishakh in West Bengal, Vishu in Kerala, and Puthandu in Tamilnadu…Bohag Bihu in Assam. There are something like nine different new year celebrations across India!
HEAVY VEHICLES BANNED
THE North Goa Collector Mamu Hage has restricted the entry of heavy vehicles into capital city Panaji between 7am to 8pm. This effectively means that heavy loading transport vehicles do not enter Panaji during the entire day. This follows the closure of the Atal Sethu high bridge for repairs and this has aggravated traffic flow and created long traffic jams in a dug-up city. Heavy vehicles will be stopped at Banda Maharashtra and vehicles coming from Banastari towards Panaji will be diverted to the Banastari bridge. This come into effect immediately until further notice.
RETURN OF COVID
THE number of Covid-19 cases in Goa has been going up steadily. On Tuesday, March 21, 2023 there were 24 new covid cases reported, raising the total figure of active cases to 125. The covid variant seems to be mild as the recovery rate is 98%. The worst affected are children and senior citizens. They better stay at home and or take all precautions while stepping out.
RELIEF AT CCP
THE Municipality act is been amended to ensure that if various permissions sought are not approved within a time frame, they will be deemed to have been passed. The Municipality issues a number of certificates including birth and death certificates. The issue of the certificates is deliberately delayed by a Municipal employees for reasons best known to them. The smaller Municipal councils also do not have adequate staff and permissions take a long time to be granted. The worst affected are the residents of Panaji as there are long delays in issuing birth certificates for which there is a rush just before the opening of the schools.